A busy season for Spink's record-breaking coin department continued this week with two exemplary sales - the North East Indian Coins from the Nicholas Rhodes Collection Part I, and Indian, Islamic, British and Anglo-Gallic Coins and Commemorative Medals.
Tuesday's North East Indian Coin Sale featured over 500 coins from a region that has earned increasing interest from collectors. After the success of last month's Tibetan Coins from the Nicholas Rhodes Collection in Hong Kong, which achieved record prices, we had a high number of bidders - in the room, on the phone, and on Spink Live, which allows bidders to participate online and watch live streaming of the sale.
With a number of items selling for many thousands, estimates were surpassed throughout the sale, making for an eventful day and a selection of impressive highlights.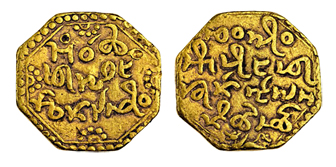 Above: Lot 384
Assam, Gaurinatha Simha (1780-95)
Price Realised: £12,000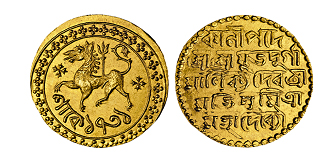 Above: Lot 143
Tripura, Durga Manikya (1809-13), Mohur
Price Realised: £21,600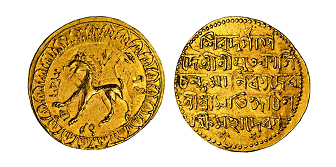 Above: Lot 146
Tripura, Kasi Chandra Manikya (1826-30)
Price Realised: £12,000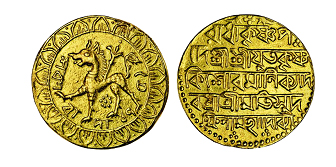 Above: Lot 148
Tripura, Krishna Kishora Manikya (1830-50)
Price Realised: £13,800
Spink coin specialist Barbara Mears said of the sale:
"To hold an auction dedicated to the coinage of the hill states of north-eastern India would have been unthinkable just a few years ago. These coins, beautiful though they are, were interesting only to those who knew and loved the areas in which they were made. Spink has once again set the trend, as the success of both the Nicholas Rhodes Tibetan, and now the North East Indian, coin auctions demonstrates that these coins are rightly becoming collectable worldwide."
"The cover coin, lot 143, featuring an extremely appealing lion of Tripura in mint state, was destined to be the star of the show, selling for £18,000 plus premium. However, many equally attractive gold Mohurs of Tripura sold for under £10,000 and the unique octagonal gold Mohurs of Assam could still be purchased for under £2,000. Nowadays this is a reasonable price when compared with similar coins of some other Indian States, and shows that there is still some mileage in this market. It will be interesting to see if this remains the case for Nicholas Rhodes NE India part II."
Spink also sold some of the best English, Scottish, Irish and Anglo-Gallic coins to come onto the market this year.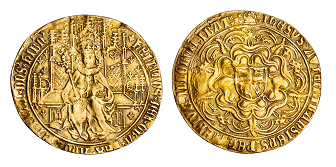 Above: Lot 538
Henry VII (1485-1509), Sovereign
Price Realised: £33,600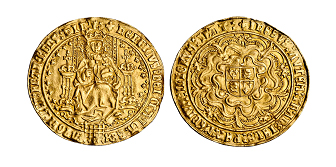 Above: Lot 539
Henry VIII (1509-47), second coinage, 1526-44, Sovereign
Price Realised: £32,400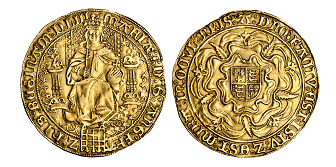 Above: Lot 550
Mary (sole rule 1553-4), Fine Sovereign
Price Realised: £22,800

Above: Lot 651
James II (1685-88), Five Guineas, 1688
Price Realised: £21,600

Above: Lot 735
George IV, proof Five-Pounds, 1826
Price Realised: £20,400
This exciting coin season at Spink will continue next week, on Tuesday the 1st of October, with a wide selection of stunning rare World Coins.
For further press information, please contact: Eleanor Ball, Email: [email protected] or Telephone: +44 (0)20 7563 4009. All images copyright Spink.
Click here for more information on Spink Chairman and CEO Olivier D. Stocker