On the 2nd and 3rd of October, Spink will be holding a major banknote auction featuring over 2000 lots. This will include the Alan Cole collection of Romania, the extensive John Glynn collection of World Notes, and unique Egypt and South Africa collections.
The rarities to be offered at the sale include an original pair of Number 1 notes from the Falkland Islands. One of these, the £1, is the first Government note ever issued in the Falkland Islands.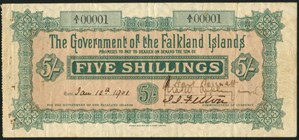 Lot 527
Government of the Falkland Islands, 5/-, 1901, serial number 1, very rare and an amazing number
Estimate: £8,000-10,000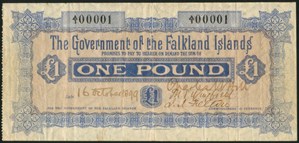 Lot 528
Government of the Falkland Islands, £1, 1899, serial number 1, very rare
and the first Government note ever issued in the Falklands
Estimate: £8,000-10,000
Notes of this type are already extremely rare and to find the number 1's is exceptional. Interestingly, the £1 includes an annotation on the reverse which reads "from J.J. Felton to Mansell Esq. Manager of National Bank of Argentina Port Gallegos". Felton was one of the Commissioners of Currency in the Falklands at the time, and accordingly is one of the signatories on both notes.
Other highlights of the sale include the East African Currency Board 100 florins specimen.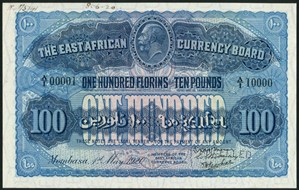 Lot 414
East African Currency Board, specimen 100 florins/ten pounds,
Mombasa, 1920, extremely rare, possibly unique
This rare and stunning note from Mombasa, 1920, is expected to raise £8,000-10,000.
We are also proud to be offering an exceptional consecutive pair of iconic 2 Rupees and 8 Annas from India, and a classic rarity from New Zealand.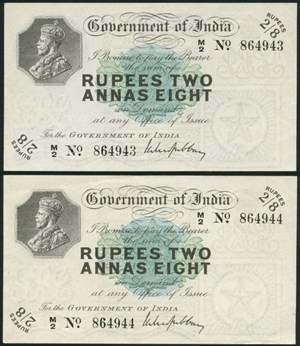 Lot 680
Estimate: £6,000-8,000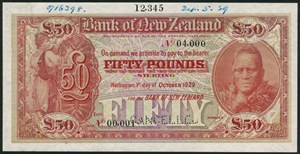 Lot 1173
Estimate: £3,500-4,500
The World Banknotes sale is the start of an eventful month for Spink's banknote department, with two more significant sales to follow on the 4th of October; 'The Ibrahim Salem Collection of African Banknotes' and 'Banknotes of Bermuda - Dr. the Hon. David J. Saul Collection'.
For further press information, please contact: Eleanor Ball, Email: [email protected] or Telephone: +44 (0)20 7563 4009. All images copyright Spink.
Click here for more information on Spink Chairman and CEO Olivier D. Stocker