A collection of extremely rare gold coins, assembled in the 1920s and 1930s, is to come back onto the market in the Spink World Coin auction in London on the 1ST of October.
Among the highlights is a splendid Dodici doppie e mezza (12½-Doppia) of Genoa dated 1638. This coin was known to the compilers of the Corpus of Italian Coins (volume III published in 1912) only through a description in a 19th century sale catalogue, and experts have speculated as to whether the coin really existed or not ever since.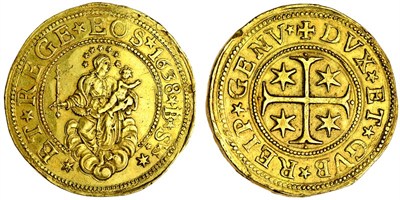 Above: Lot 258
Genoa, da Dodici Doppie e Mezza (12½-Doppia), 1638
Estimate: Estimate £60,000-80,000
No other example is known, and the conclusion has been that either the coin is unique and has 'gone to ground', or the 19th century cataloguers made a mistake. Its appearance at auction, after an absence of over a century, answers that question. Putting an estimate on such a coin however, is difficult. An extremely fine 10-Doppie of Genoa dated 1641 was sold in the Spink London auction in September 2007 for £90,000, and it is possible this price may be matched or even surpassed.
The Genoese coin might not prove to be the most expensive in the sale. Among the handful of Spanish coins is one of the most famous of the whole Spanish series, the 100-Pesetas of Amadeo I. During a very short reign (January 1871 - February 1873) Amadeo sanctioned two gold coins, the 25-Pesetas and the 100-Pesetas, both dated 1871.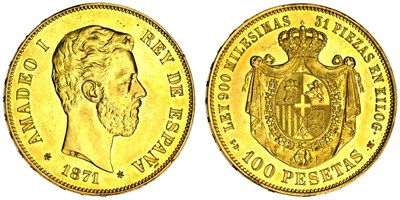 Above: Lot 527
Spain, Amadeo, 100-pesetas, 1871
Estimate: £60,000-80,000
Only 75 of the larger denomination were produced, 50 in red gold and 25 in yellow gold. There is an 100-Pesetas in yellow gold in the collection. The last time an example of this coin appeared on the market was in Madrid in 1995, when it was offered for 15 million pesetas (equivalent to 90,000 euros). Not all the coins on offer will be of such high value. Like all the eclectic collections put together in the early years of the last century there are many ordinary coins jostling among the rarities.
Speaking of this significant auction, coin specialist Richard Bishop said "this full day sale will be the best auction devoted to world coins held at Spink for many years".
For further press information, please contact: Eleanor Ball, Email: [email protected] or Telephone: +44 (0)20 7563 4009. All images copyright Spink.
Click here for more information on Spink Chairman and CEO Olivier D. Stocker