Last month, Spink achieved record prices for the Tibetan coins of Nicholas Rhodes. This month, on the 24th of September in London, we are proud to be selling another one of his eminent collections - coins of North East India.
This is the first half of a huge and comprehensive collection of coins from Tripura, Cooch Behar, Kachar, Manipur, Jaintiapur, Assam and Ladakh. The sale will also include some earlier prototype coins of the Sultans of Bengal.
Highlights include great rarities expected to raise thousands.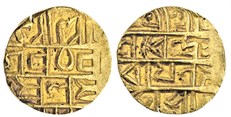 Above: Lot 233
Cooch Behar, Narendra Narayan (1847-63), presentation Mohur, only example outside a museum
Estimate: £1,500-2,000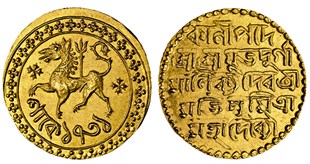 Above: Lot 143
Tripura, Durga Manikya (1809-13), Mohur
Estimate: £5,000-6,000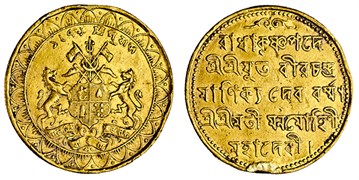 Above: Lot 154
Tripura, Vira Chandra Manikya (1862-96), machine struck Mohur
Estimate: £4,000-6,000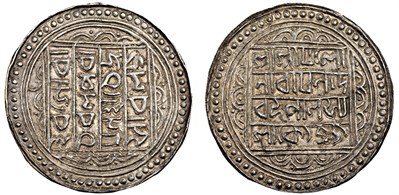 Above: Lot 250
Kachar, Yaso Narayana (1583-1601), Broad-flan Tanka
Estimate: £1,200-1,500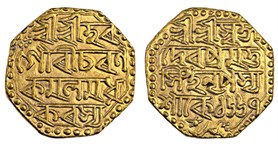 Above: Lot 346
Assam. Pramata Simha (1744-51), Octagonal Mohur, with Assamese script
Estimate: £800-1.000
Nicholas Rhodes (1946-2011) was a celebrated British numismatist. He started collecting oriental coins in 1962, developing a particular interest in Himalayan coins. He was able to nurture this passion early in life, travelling to Nepal after leaving school and discovering the numismatic paradise of Kathmandu.
Nicholas Rhodes lectured extensively on numismatics, published over 200 articles and co-wrote eight books. He was Honorary Treasurer of the Royal Numismatic Society from 1973 to 2002, when he was elected Honorary Fellow. He was also a founding member and Secretary General of the Oriental Numismatic Society.
After the success of Nicholas Rhodes' collection of Tibetan coins, which was sold by Spink China in Hong Kong in August, it is expected that a number of estimates will be surpassed. The collection includes some tremendously valuable pieces from this fascinating and rich part of the world.
Speaking of this exciting sale, specialist Barbara Mears said "it is very rare for an auction to contain such a wide range of coins from these North East Indian states.
"Coins that collectors will have a chance to acquire only once in their lifetime are on offer, many of them unique, discovered and catalogued by Nicholas Rhodes himself. We would expect these items to be hotly contested, but the auction still contains much for the more general collector; a great opportunity to make some interesting additions to their collection".
Click here to view the catalogue and bid online with Spink Live.
For further press information, please contact: Eleanor Ball, Email: [email protected] or Telephone: +44 (0)20 7563 4009. All images copyright Spink.
Click here for more information on Spink Chairman and CEO Olivier D. Stocker