Today in London, 448 lots of British and Foreign Orders, Decorations, and Medals went under the hammer. The sale received considerable international interest, and the morning began with a buzzing room of bidders, as well as countless clients joining us online and by phone.
The sale featured many items of tremendous historical and aesthetic appeal, each one of them telling a unique and personal story of valour, loyalty, and often dramatic military adventure.
Generating the most interest in the run-up to the sale was the unique K.C.H. and Five Clasp Naval General Service Medal Group awarded to Rear Admiral of the Blue Sir Thomas Ussher. The estimate was £40,000-50,000 but bidding on this remarkable medal group climbed rapidly, peaking at an astonishing £138,000 to a round of applause in the room. This price is a new world record for a Naval General Service Medal at auction.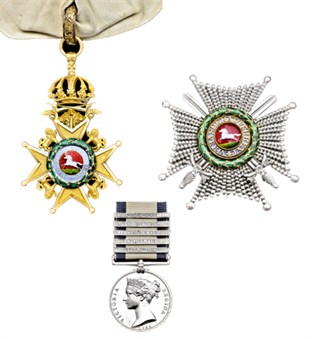 Above: Lot 62
Ussher was renowned for his dashing and daring exploits throughout the Napoleonic Wars, and was rewarded with the honour of conveying Emperor Napoleon himself to exile on Elba.
Also exceeding its estimate after a build-up of interest was the Unique 'Korea, Suez, Aden and Oman' Operations D.F.C. and Bar, A.F.C. and Bar, Air Medal (U.S.A.) Group of Ten awarded to Mustang and Meteor Jet Fighter Pilot, Squadron Leader C.I. 'Joe' Blyth, Royal Air Force.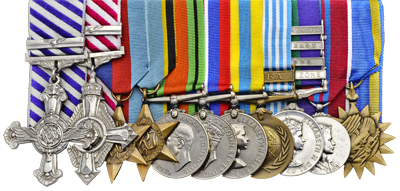 Above: Lot 15
Originally estimated to fetch between £35,000 and £40,000, the group of ten ultimately sold for £69,600.
Other highlights included the Outstanding Second War 'Immediate' 1941 D.S.O., '1940' D.F.M. Group of Six to Hampden and Manchester Pilot, Squadron Leader W.S. "Kip" Herring, Royal Air Force, which sold for £18,000.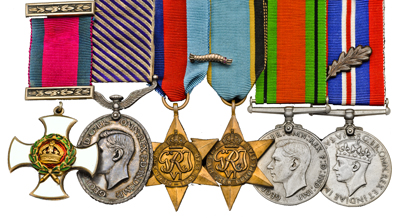 Above: Lot 7
Also comfortably surpassing its estimate was the Unique 1946 'Anti-Terrorist' King David Hotel Bomb Attack G.M. Group of Four to Sergeant E.A. Smith, Palestine Police, selling for £10,800.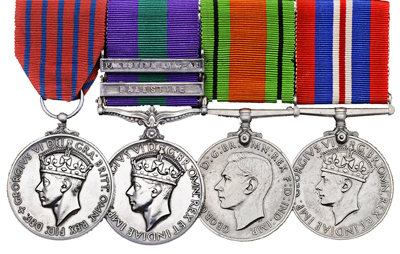 Above Lot 25
Speaking about the word record price achieved for the Naval General Service Medal, Head of the Spink Medal Department Mark Quayle said: "this is probably the finest Naval General Service Medal to be offered at auction to date, and this is reflected in the outstanding price achieved".
Today's auction was also the first to be featured live on our Twitter account, with tweets straight from the auction room announcing the moment the hammer fell on the sale's most impressive prices. To follow us on Twitter, click here.
For further press information, please contact: Eleanor Ball, Email: [email protected] or Telephone: +44 (0)20 7563 4009. All images copyright Spink.