Today was the final sale of the famous David Kirch Collection, the most expansive collection of provincial banknotes ever seen on the market. This collection featured a huge number of fascinating and historically significant banknotes from across the country, and this afternoon's auction was a fitting end to the sales, with several items topping one thousand pounds.
These remarkable banknotes continue to attract nationwide attention, the collection being so vast that collectors were able to find banknotes from almost every town in England and Wales. Today's auction, the fourth and final part of the collection's disposal, contained notes from the North of England, including the counties Cumberland, Durham, Lancashire, Northumberland, Westmoreland and Yorkshire.
A number of items exceeded their estimates, including six extraordinary notes that sold for over £1000.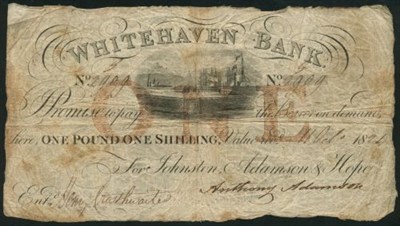 Above: Lot 4026
1824, 1 guinea, Whitehaven Bank
Price realised: £1,200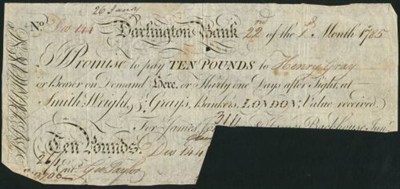 Above: Lot 4049
1785, 10 pounds, Darlington Bank
Price realised: £1,200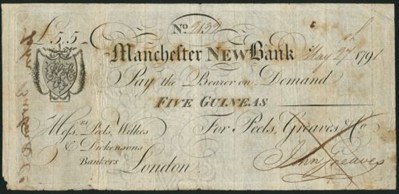 Above: Lot 4137
1797, 5 guineas, Manchester New Bank
Price realised: £1,380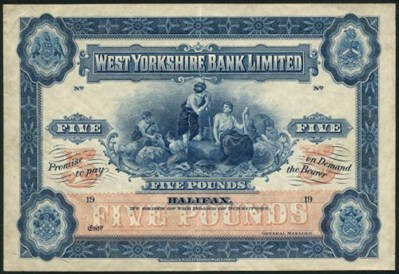 Above: Lot 4345
1911-19, unissued £5,
West Yorkshire Bank Limited
Price realised: £1,200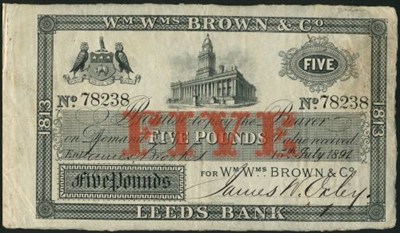 Above: Lot 4478
1891, £5
Leeds Bank
Price realised: £1,740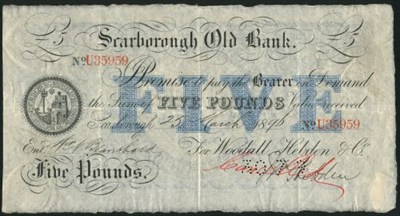 Above: Lot 4586
1896, £5,
Scarborough Old Bank
Price realised: £1,740
The disposal of the David Kirch Collection of English Provincial Banknotes has been described by Roger Outing, author of Standard Catalogue of the Provincial Banknotes of England & Wales, as "one of those landmark events that will influence the collecting market for provincial banknotes for years to come."
Mr Outing added, "viewing these provincial notes indulges the collector with a joyful excess of cerebral pleasures. There is just so much and over such a wide range. And so much that is previously unknown. You could just conceivably ask for more but it would be very selfish to do so."
Spink's high-achieving banknote department is delighted to have sold such a wide variety of notes that have important historical meaning to the towns they belong to. Specialist in charge of the sale, Barnaby Faull, said "the collection was well received and will be used as a reference work for years to come. Although a very specialised series of sales, it was encouraging to see how many new collectors have entered the market"
Each banknote in the collection was sold on behalf of the David Kirch Charitable Trust. Earlier this summer, Sir David Kirch, the collector, philanthropist and businessman who amassed this record-breaking collection, was appointed Knight Commander of the Order of the British Empire (KBE) in the 2013 Birthday Honours.
Spink is confident that this outstanding series of sales has attracted new collectors to this relatively new but increasingly popular field.
For further press information, please contact: Eleanor Ball, Email: [email protected] or Telephone: +44 (0)20 7563 4009. All images copyright Spink.