On the 25th of July 2013 in London, Spink's record-breaking medals department will be selling a wide range of British and Foreign Orders, Decorations and Medals.
These include the unique K.C.H. and Five Clasp Naval General Service Medal Group awarded to Rear Admiral of the Blue Sir Thomas Ussher, the man who conveyed Napoleon to start his exile on Elba.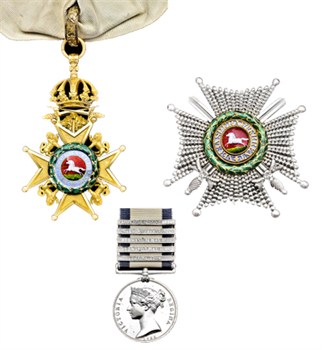 Above: Lot 62
Sir Thomas Ussher was an extraordinary individual. Known for always leading from the front, even when injured and on crutches, he was seriously wounded on a number of occasions, including the "equivalent to the loss of a limb", and was taken prisoner of war.
He was a daring officer who reconnoitred the entire French fleet in Brest Harbour under the cover of darkness in only a rowing boat, gathering invaluable intelligence.
Whilst in command of HMSRedwing, he obliterated seven Spanish vessels with a broadside delivered at pistol shot range off Cape Trafalgar. His combination of action makes his medals unique and his story extraordinary.
Mark Quayle, Head of the Spink Medal Department, said "this is an outstanding group of medals and is arguably the finest of its type to be offered for sale to date". The estimate is £40,000-50,000.
Also included in July's medal auction is the Unique Korea, Suez, Aden and Oman Operations D.F.C. and Bar, A.F.C. and Bar, Air Medal (U.S.A.) Group of Ten awarded to Mustang and Meteor Jet Fighter Pilot, Squadron Leader C.I. 'Joe' Blyth, Royal Air Force.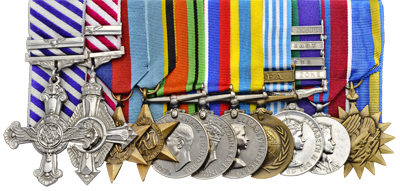 Above: Lot 15
Blyth served during the Second World War with 161 (Special Duties) Squadron, dropping agents and supplies into occupied Europe before being shot down and evading capture.
Attached to 77 (Australian) Squadron in Korea, he flew in over 100 operational sorties and took part in successful air-to-air combats against MiG fighters. He also commanded 7 Squadron (Venoms) against rebel forces in Oman and against the Egyptian air force in the Canal Zone, the squadron destroying at least 43 MiGs on their airfields in the first two days of operation.
These operations from 1951 to 1957 make 'Joe' Blyth arguably the most decorated post-War R.A.F. Officer. The estimate for his remarkable group of medals is between £35,000 and £40,000.
For further press information, please contact: Eleanor Ball, Email: [email protected] or Telephone: +44 (0)20 7563 4009 . All images copyright Spink.