This weekend, Spink China's Hong Kong offices sold the historically important Order of the Blue Sky and White Sun, attributed to Generalissimo Chiang Kai-shek. It sold for an astounding HK$ 8,640,000.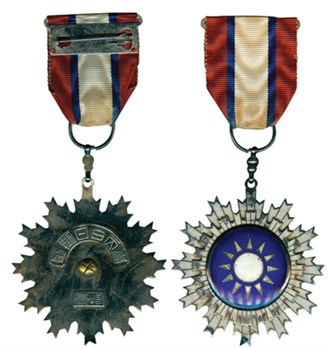 Above: Generalissimo Chiang Kai-shek's Order of the Blue Sky and White Sun, the central medallion portraying the Chinese Sun on a blue background surrounded by a band of gold, the reverse officially numbered in Chinese characters "Special One".
The Order of the Blue Sky and White Sun was instituted on May 11, 1929 as an award of valour to members of the Chinese Armed Forces in times of War, and comes in one class. Generalissimo Chiang Kai-shek's badge, awarded to him in 1930, is unique in that the reverse bears the inscription "Special One" instead of the usual sequential serial number. He was often seen and photographed with it on, regarded as one of his favourite medals.
The Collector's Series Sale on the 6th of July in Hong Kong saw over 700 diverse and remarkable items go under the hammer. Generalissimo Chiang Kai-shek's badge was the first lot of the day. With a flurry of interest from bidders in the room, on the phone and online, it exceeded its presale estimate of HK$ 6,000,000-7,000,000.
Commenting on Spink China's mounting success, Spink & Son's Chairman and CEO Olivier D. Stocker said, "these strong results show the continued demand for the finest collectables. The Chinese collectables market is thriving and is here to stay."
For further press information, please contact: Eleanor Ball, Email: [email protected] or Telephone: +44 (0)20 7563 4009 . All images copyright Spink.