CHINESE BOND SELLS FOR WELL ABOVE ESTIMATE
On the 7th of June, a number of much sought-after bonds and share certificates sold at Spink for well above their estimates. Many of these were from the "London" collection of China, a remarkable series with significant cultural and historical value, several of which have been so far unique on the market.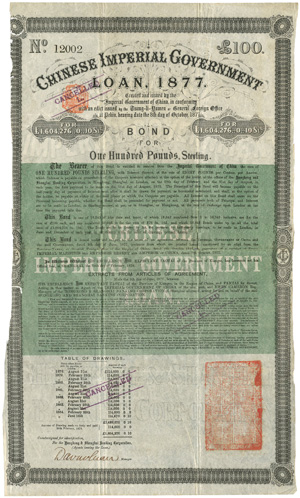 A Chinese Imperial Government £100 bond of 1877 earned considerable interest in the run-up to the auction and despite its conservative estimate of £6,000-8,000, sold for an astounding £48,000 beating the previous record for a Chinese 'foreign' issue bond of £14,000 by a considerable margin. There followed a prolonged round of applause in the auction room. This striking 8% bond for £100 was issued by the Hongkong and Shanghai Banking Corporation in 1877 and like all other loans issued before 1898 was fully repaid. This piece remains the only example extant so far and was purchased by a serious collector in the Far East.
Selling for the highest figure of the afternoon was the Property of H.M. Treasury. A large group of bonds from many different countries, all relating to the War debt incurred during the First World War, had never been seen on the market, although one example in specimen form was sold by us in 2011. There was considerable interest in this lot both from the room and several telephone bidders. The lot was finally sold for £62,000, also to a buyer in the Far East.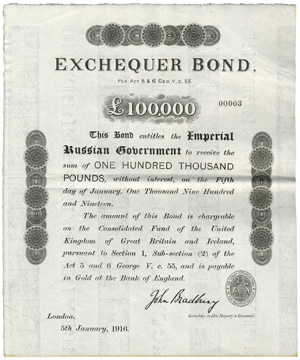 Mike Veissid, specialist in charge of the auction, said "this was an excellent result with over 85% of the lots sold, clearly showing widening interest in this relatively new collecting area".
For further press information, please contact: Eleanor Ball, Email: [email protected] or Telephone: +44 (0)20 7563 4009 . All images copyright Spink.