DESIGN FOR THE COINAGE THAT NEVER HAPPENED

The 26th and 27th of June 2013 Spink coin auction in London, set over two days, will see 875 lots go under the hammer, including a number of historically significant items.
These include the design for a proposed Crown for Edward VIII which was never issued - a unique pair of separate tin strikings of the obverse and reverse designs made in 1936 while Edward was King. It is expected to fetch £25,000-35,000.
The obverse, by T. Humphrey Paget, depicts the famous left-facing portrait of Edward VIII, while the reverse, by G. Kruger Gray, depicts the crowned arms with supporters.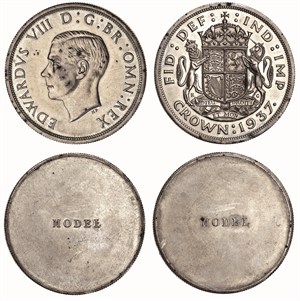 Above: Lot 864
This 39mm design would have been the Crown in the proposed coinage of Edward VIII, who abdicated before his coronation. Edward became King in 1936, but formally abdicated in December so he could marry Wallis Simpson, an American divorcée. Edward's reign was one of the shortest in British and Commonwealth history, ending in the succession of his brother Albert (George VI). As the design was never implemented, this is an exceptionally intriguing item, linked to one of Britain's most controversial royal figures and to the designer, T. Humphrey Paget, who once owned it. Paget went on to design the obverse of the coins of George VI, with the Edward VIII reverse design appearing in the 1937 Crown.
Other items in the auction include one of the most famous and beautiful medal designs of the 19th century - the Zoological Society of London Gold Medal.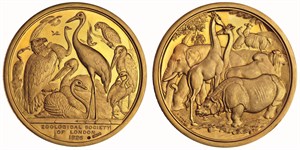 Above: Lot 741
The 77mm medal is in mint state, and being one of only five gold medals ever awarded it is a great rarity. With its graceful depictions of animals, after a design by Thomas Landseer, that include a proud eagle and an elephant uprooting a tree, it is a medal of tremendous aesthetic appeal. It is expected to sell for £6,000-8,000.
Speaking of the sale, specialist William MacKay said "the unique Edward VIII trial strike coin is an intriguing insight into the efforts being made in 1936 to introduce coinage in Edward's name. This trial strike has the added value of its connection with the designers who once owned it and is an insight into the turmoil caused by Edward's abdication.
"The Zoological Society medal is considered one of the greatest nineteenth century medals. Examples in gold are exceptionally rare and almost never appear for sale. The historical and aesthetic appeal of these two lots is expected to generate much interest".
For further press information, please contact: Eleanor Ball, Email: [email protected] or Telephone: +44 (0)20 7563 4009 . All images copyright Spink.