RARE TIBETAN COINS AT SPINK

Spink are delighted to announce the auction dates for the remarkable and historic Nicholas Rhodes Collection. The collection features a number of extremely rare items, some of which are expected to reach record prices.
Nicholas Rhodes built a collection of coins, banknotes and stamps concentrated on the core areas of Tibet, Assam and Nepal. The first part of this extensive collection, the Tibetan coins, will be auctioned by Spink in Hong Kong on 21st August 2013. The collection contains many rare coins previously unknown in private or museum collections. Many different die-types and varieties of great academic value are also being offered at lower prices, with 556 lots to choose from.
Nicholas Rhodes was a founding member and Secretary General of the Oriental Numismatic Society. His collection was a life-long interest for him and is universally acknowledged as being one of the best in the world. Nicholas's reputation as an author and scholar, his close relationship with British Museum and other respected numismatic associations, gives his collection an unquestionable authenticity. This unrivalled provenance will add value to any coins purchased.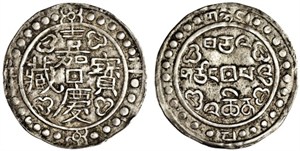 Above: Sino-Tibetan, Chia Ching (1796-1820), 1-Sho, year 2.
In 1792/3, four denominations of coins were struck with the intention that these would replace the Nepalese Mohars that previously circulated in Tibet. However, the smaller denominations were not popular with Tibetan traders and they were later replaced with the Sho of 3.8g. The Rhodes collection contains several of these rare low-denomination coins, but the 1-Sho of year 2 of Chia Ching is one of the scarcest coins of the series; the finest of three known examples.
Est: US $10,000-$15,000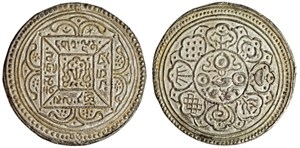 Above: Tibet, 10-Tam pattern.
Spink is also proud to be offering this noteworthy Tibetan coin issued in the time of the 13th Dalai Lama, undated (c.1910). Following independence the Tibetan Government started producing a large selection of silver and copper coins. This beautiful and rare coin was issued as a pattern for this series.
Ex. Gabrisch Collection, 2005
Est: US $12,000-$20,000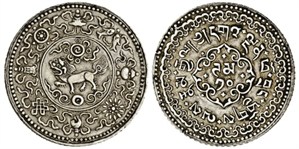 Above: Tibet, 10-Tam pattern, 12.26g. Undated, but issued c.1928-30. Ex. Halpert Collection, Spink, 2000
From 1912 Tibetan coins usually feature a mythical beast know in Tibet as a Seng-ge. It represents the snowy ranges and glaciers of Tibet. The full name (seng-ge dka-rpo g.yu ral can) translates as "white lion(ess) with a turquoise mane." It symbolises power and strength and served as a unifying symbol for Tibetans during the modern era. In August Spink will be offering this eye-catching Tibetan coin, on which the depiction of the Seng-ge is particularly striking.
Est: US $10,000-$12,000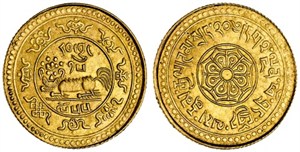 Above: Tibet, Gold 20 Tam Srang, 15-55 (1918).
This denomination was only issued between 1918-21 and was struck in the Serkhang mint which was located near Norbulingka, the summer residence of the Dalai Lamas. One of the most desirable coins of the Tibetan series, year 55 is the rarest.
Est: US $10,000-$15,000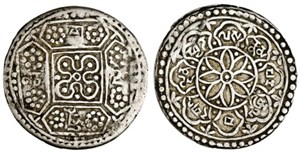 Above: Tibet, Sri Mangalam Tangka, 5.36g. Issued in the time of the 8th Dalai Lama, undated (1763/4 or 1785).
Named for its obverse inscription, Sri mangalam, which indicates good luck in Sanskrit. The reverse reads dga'ldan phyo (gs) las rnam par rgyal ba (Gaden (palace) completely victorious in all directions). This refers to the form of Tibetan Government established after 1642 when Gusri Khan, a Mongol prince, led an invasion of Tibet at the head of a band of supporters of the Gelugpa sect, and established the Dalai Lama of the day, Ngawang Lobzang Gyatso, as the de facto ruler of Tibet.
Est: US $4,000-$5,000
Commenting on this unique collection, Spink coin specialist Barbara Mears said: "this is likely to be a once-in-a-lifetime opportunity for coin collectors and those interested in Oriental art to buy such good examples of original coins from this enigmatic and special place. Tibet has not issued its own currency for over sixty years.
"Even before this the quantity of coins struck for most issues was very small, so this is an ideal area to buy into. However, one only has to see the coins to appreciate that monetary considerations were secondary to the creators of this currency. Many of the coins are minor works of art in their own right, with iconography and legends in perfect accord, each having a significant meaning to every Tibetan. With beautiful and precious coins to fit every budget, who could resist?"
There will be a special preview afternoon and evening reception where the Nicholas Rhodes Collection may be viewed at Spink's London showroom on Thursday 1st August 2013. Coins of Tibet may be viewed in London (by appointment only) in early August, or on the 19th and 20th of August 2013 in Hong Kong.
For further press information, please contact: Eleanor Ball, Email: [email protected] or Telephone: +44 (0)20 7563 4009 . All images copyright Spink.