A WORLD VIEW AT SPINK
OUTSTANDING AUCTION OF WORLD CURRENCY
TO BE HELD IN LONDON 10TH & 11TH APRIL 2013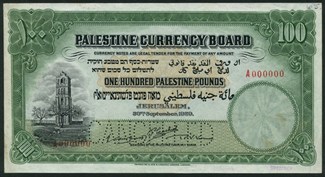 London. February 15, 2013. One of the rarest and most desirable banknotes in the world is set to steal the limelight of Spink's World Banknotes auctionon April 10 & 11th, 2013. A 1929 Palestine £100 specimen, numbered amongst the greatest rarities in banknote collecting, is estimated to fetch between £80,000-120,000.
In superb condition the note features the White Tower at Ramleh and the signatures of Sir Percy Ezechiel, Sir John Caulcutt and Roland Vanables Members of the Palestine Currency Board. On its reverse it displays the Tower of David and the Citadel of Jerusalem at centre. It bears the serial number A 000000 and is a green and pale orange-brown colour. Fresh and fine, Spink's banknote experts anticipate huge interest.
The Palestine note is just one of the highlights of this diverse sale, which features notes from all over the world, including some of the rarest examples from British Burma. A pair of consecutive Government of India, Burma issue 100 rupee notes from Rangoon, are estimated to fetch £8,000-9,000. They feature consecutive serial numbers: T/16 747336-337 and are very rare, as to have a consecutive pair is almost unprecedented. The notes (illustrated below), are violet and green in colour and feature George V at the top right.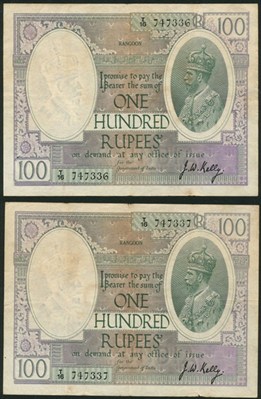 Commenting on the sale Barnaby Faull, Head of Spink's Banknotes department said: "We are delighted to have more than 1,500 lots of fine world currency, making this one of our largest, most diverse auctions of rare notes, from around the globe."
One of only a few known examples of a popular Libyan banknote among collectors is The Kingdom of Libya £10, which dates from 1952 and features King Idris at left.
It bears the serial number: A/1 054200 and is brown on a multicolour underprint. It is in immaculate condition for its type and is therefore estimated at £4,000-5,000.
A fabulously rare Australian specimen in the sale is estimated to fetch £18,000-24,000. The Commonwealth of Australia specimen £10 (pictured below), dates from 1952 and bears a beautifully engraved George VI example. With serial number V/24 000001, it is red brown and pale green in colour and bears the signatures of Coombs-Wilson.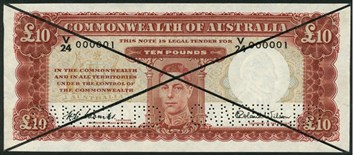 Another important note, worthy of highlighting, is a stunning specimen 20 Florin note (pictured below), from the East African Currency Board, Mombasa, dating from 1st May, 1920. These notes are exceptionally rare as they were issued for one year only. The note in Spink's sale therefore is one of the only examples believed extant today. It is estimated to fetch £6,000-8,000.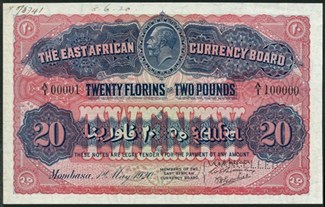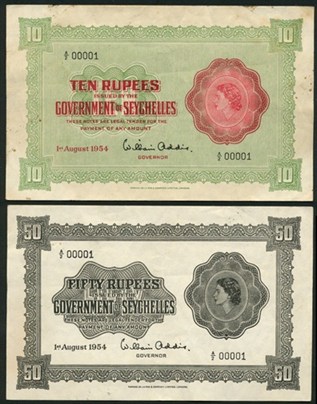 Elsewhere in the sale are two of the first Seychelles notes issued by Elizabeth II and the first to feature her portrait. The notes (pictured right), are therefore the very first in the series, with the serial number 00001.
They have excellent provenance, coming directly from the family of Sir William Addis, the Governor of the Seychelles (1953-57) and have never been seen before until now. They are estimated to fetch £3-5,000 for the 10 rupee note and between £4,000-6,000 for the 50 rupee note).
Spink are delighted to be able to offer an Imperial Bank of Persia 100 tomans note from Tehran, dating from 1924. The 100 toman note (illustrated below), is almost impossible to find in any condition and is therefore amongst the rarest of Iranian and Persian banknotes. The note in a blue green, orange and mauve colour is absent from most collections and is likely to draw much attention in the sale. Shah Muzzaffar-al-Din is pictured at right with two manuscript signatures at the low centre and the reverse is in a blue and purple colour. This outstanding note is estimated to realise between £22,000-25,000.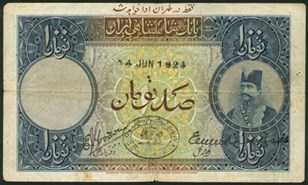 A unique group of early British Commonwealth designs, trials and specimens from the 1900s in the sale, offer an insight into the design and printing process of banknotes, as well as the banking history of the more obscure areas of the Commonwealth.
Other trials include a Government of Siam colour trial 1000 baht. Dating from April 1925, the note shows a Garuda bird in the top left, with a three headed elephant low right. The reverse is in lilac and brown and a ceremonial procession is featured in an oval frame. The 1925 1000 baht note is extremely scarce and well justified its estimate of £3,000-5,000.
Among other rare notes of very high quality are those from the Raphael Dvir Collection of Palestine currency, which contain many of the rarest types in this much sought after series. The sale also offers exciting groups from Libya, Egypt, Iraq, India and Australia and many other countries. There are also extensive collections from Algeria and Bulgaria from the Alan Cole Collection.
For further press information, please contact: Sandie Maylor, Email: [email protected] or Telephone: 020 7563 4009. All images copyright of Spink.