Professor Dr. Philippe Taugourdeau was a French geologist who specialised in the study of microfossils. He started collecting coins at a very young age. His first collection focused on the Roman Emperors and the sale of this enabled him to buy his first microscope.
His decision to focus on Indian numismatics came while participating in a geology congress in India in 1977 with his wife who was also a geologist. For more than 25 years after that first visit he built up his collection through direct purchases on subsequent trips to India and mail contacts with reputable dealers, eventually enlarging it to cover all eras and Indian civilisations.
Nowadays it is very unusual to see such a huge and comprehensive range of coins from south Asia offered at one auction. Naturally, every very major dynasty and historical period is represented, and such a long duration of dedicated collecting has been rewarded by several rare coins many collectors never see. For example the copper portrait coin issued by the Gupta emperor Chandragupta II (534) is extremely rare, especially in such good condition.
Lot 534
The coins of ancient India are a focus of interest with 31 lots representing coins from the 6th century BC onwards (lots 501-31), most notably a rare Audumbara coin (lot 523) featuring a horse and elephant.
Lot 523
The collection contains many coins issued by the Indo-Greek kingdoms of northwest India (lots 536-49), and also South India (lots 570-81); this section including an interesting lot of early Travancore and Venad Chera coins (lot 580). Sri Lanka is also well represented, the highlights being some unusual oblong coins from the very earliest period known as Lakshmi plaques (lot 666). Due to the fact that interest in these coins is worldwide, and nowadays most collectors choose to bid from the comfort of their home, we have decided to offer this important collection as our first ever timed internet-only auction of coins. However those wishing to view the lots in the traditional way will still be welcome to do so at our London office in the days leading up to the auction on 29th September. and an extremely rare copper coin bearing early Buddhist symbols believed to have been struck by the Pandya dynasty between the 2nd century BC and the early 1st century (lot 665).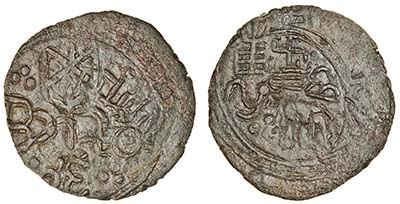 Lot 665
Lot 585
Zodiac Rupees of the Mughal Empire are always in demand and lot 585 contains one featuring the twins of Gemini, struck at Ahmadabad for the Mughal ruler Jahangir, the very next lot being a heavy 'Sawai' Rupee of the same ruler. The core of this extensive collection is the Indian Princely States (lots 594-636), highlights being the Nazarana or presentation Rupees of Bikanir State (600-601), Jaipur (616- 7), Kotah (622-23), Radhanpur (631), a rare 'Mudra' piece of Tukoji Rao II of Indore depicting a sun face (lot 611), a gold 25- Kori of Kutch dated 1863 (lot 624), and 2/3-Rupee of Mewar (lot 628), a selection of coins of British India and the Indian Republic, notably some fi ne proofs in lot 660.
For more information about this sale, please contact Barbara Mears:
 Tel: +44 (0)207 563 4091 | Email: [email protected]