SPINK SELLS ICONIC PIECE OF PHILATELIC HISTORY BY TENDER
THE NISSEN PLATE RECONSTRUCTIONS SELL FOR MORE THAN TWICE ITS STARTING PRICE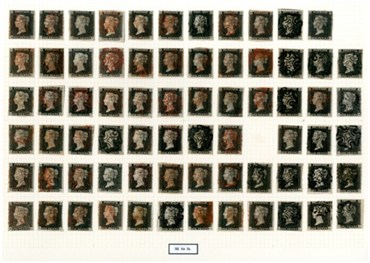 The Chartwell Collection of 1840 One Penny Blacks from the original Nissen Reconstructions Sold at Spink, by tender for £364,266
London. December 4, 2012. Spink announced today, the outstanding result of one of the most valuable pieces of Philatelic History -The Nissen Plate Reconstructions. The sale took place by tender (silent auction) and achieved a spectacular price of £364,266, against a starting price of £150,000.
The Nissen Plate Reconstructionsconsist of original reconstructions of the twelve 1840 1d. Black Plates, which were utilised in creating the renowned Nissen plate reference book, the most widely used piece of British philatelic literature, since its publication in 1922.
The book, by Charles Nissen and Bertram McGowen, offered a pioneering study of the Penny Black Plates; the world's first postage stamp and comprised photographic plates of all of the 12 plates and stamp positions by corner letters which collectors all over the world still use today to try and identify which plate their 1d. black was printed from. The collection consists of 2,706 Penny Blacks and includes a two volume plating guide, comprising text and photographs of the whole collection - a rare and valuable offering in its own right.
The Nissen Plate Reconstructionsare one of the gems in Spink's Chartwell Collection series of sales, a spectacular private collection assembled by the businessman Sir Cyril Humphrey Cripps, who bought these examples from Stanley Gibbons in the mid-1970s after their acquisition of the Charles Nissen Company stock. As well as producing a seminal text, Charles Nissen acted as an agent for King George V in helping to build the Royal Philatelic Collection, and who awarded him a Royal Warrant for his services.
Commenting on the sale, Spink stamp specialist Guy Croton said: "This was a once in a lifetime opportunity for philatelists. As it is, it is quite astounding that the original stamps from this pivotal work are still all together. It is not surprising that such an influential collection, that paved the way in British Philately, has realised this amount. The new owner has obtained a true philatelic treasure, as well as a valuable piece of British Philatelic History, which we are told will remain intact."
For further press information, please contact: Sandie Maylor, Email: [email protected] or Telephone: 020 7563 4009