SPINK APPOINTS TOP SPECIALIST TO DEVELOP ITS FINE WINE DIVISION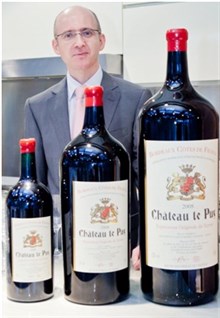 Guillaume Willk-Fabia
LONDON. December 4, 2012. Premier collectables auction houseSpink & Son Ltdare delighted to announce the appointment of Guillaume Willk-Fabia to their Fine Wine division. The move will further strengthen Spink's presence in the Fine Wine arena, which has evolved at a rapid pace, since its' acquisition of the long-standing Fine Wine auction businessOeno Chinaearlier this year.
With such an established reputation in the global auction arena since the founding of the company in 1666, Spink will apply the same principles in the development of its Fine Wine business in Asia, as it does to other aspects of its business, placing impeccable provenance and a superb global client service at the forefront of its activity.
Commenting on the appointment, Olivier Stocker CEO of Spink, said: "We are very pleased to welcome Guillaume into this newly-created position, based in our Singapore office. He will be in a prime position to service Asia, alongside our Hong Kong saleroom, with five wine auctions a year scheduled to accommodate demand in the region. Guillaume's primary focus will be to build on the momentum of the company's existing Fine Wine business, offering the rarest and most prestigious bottles, as well as more affordable, yet high quality wines.
Over the last decade and all over the world, I was fortunate enough to have had many wonderful encounters with our clients around a magnificent bottle of wine, sharing views on Collectables, Business and Life in general! So many great memories…Many have asked me why Spink would not bring its reputation for professionalism and integrity to the world of fine wines.
Finally we've done it and we will be focusing on wine that is ready to drink, to stick to an epicurean approach, which will make our sales very different from the four major auction players. They will be smaller and initially more targeted at our community of clients, to ensure tiptop provenance, of course as we go along we hope to bring in many new clients. If my assumption that at least half of our existing clients enjoy their fine wines is right, even though they don't collect per se, it is many thousands of people who will have fun and enjoy the seamless Spink experience of buying or selling their wines!"
Guillaume joins Spink with a wealth of experience. He was born in Suresnes, France and studied at the prestigious Lausanne Hotel School (Ecole Hôtelière de Lausanne) in Switzerland.
After graduating Guillaume took a position within the luxury hotel and wine industry, which spring-boarded him into key positions within the luxury brand industry in Asia.
However Guillaume's passion was to become wine and given his extensive knowledge of the subject and market, he startedGWF Wine Conceptin 2009, to provide advice to wine collectors and connoisseurs on their wine portfolio and wine cellaring solutions. Guillaume's knowledge and contacts within the French wine industry have been vital in assisting his clientele to make wise and profitable decisions. He has also helped developed clients tastes and palettes.
With 15 years experience in the industry in Asia, Spink is delighted to have such a qualified and instinctive specialist on board to take on this pivotal role, in driving Spink's Fine Wine business forward.
On accepting his new post, Guillaume commented: "I am thrilled to be joining Spink at such an exciting time. I am looking forward to building on the existing foundation and progressing Spink's Fine Wine business further. I welcome the opportunity to contribute to the company's overall development plan."
Guillaume will work alongside Spink's Hong Kong office, led by Anna Lee, his first project being Spink's eighth exciting Fine Wine sale, to be held in Hong Kong on January 13, 2013.
The sale will offer the opportunity to purchase a selection of very rare and highly sought-after First growths from the private cellar of an important wine collector. All lots were purchased directly in Bordeaux and have been stored in optimum conditions, ensuring the very best quality.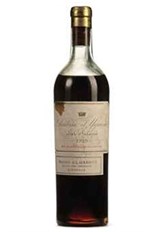 Among the highlights is a superb vintage case of Château d'Yquem 1929 (Sauternes, 1er Cru Classé Supérieur), from a private cellar in Bordeaux. Rated 99/100 points by Robert Parker in 2004, from a tasting dinner at Château Robuchon, Tokyo, Japan, his comments were as follows: "We ended with perfection, an extraordinary 1929 Château d'Yquem. While the colour was a medium amber, the wine was incredibly rich, revealing notes of crème brûlée, orange marmalade, caramel, and honeysuckle. This magnificent bottle concluded the greatest meal along with the greatest wines I have ever had in my life." This case of twelve bottles in the original wooden case from the Château, are in exceptional condition and estimated at HK$ 480,000-570,000 per lot.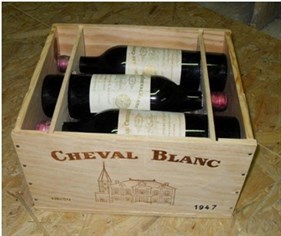 Among other highlights in the sale is a case (six bottles) of Château Cheval Blanc vintage 1947 (Saint-Emilion, 1er Grand Cru Classé) (A), which was awarded a full 100 points by Robert Parker (The Wine Advocate 10/94).
His comments are as follows: "What can I say about this mammoth wine that is more like port, than dry red table wine? The 1947 Cheval Blanc exhibits such a thick texture it could double as motor oil. The huge nose of fruitcake, chocolate, leather, coffee and Asian spices is mind-boggling." It is estimated to fetch HK$ 630,000-750,000 per lot.
From a private collection in England, comes a superb Château Lafite Rothschild vintage 1996 (Pauillac, 1er Cru Classé). Awarded 100 by Robert Parker, he described it thus:" Tasted three times since bottling, the 1996 Lafite-Rothschild is unquestionably this renowned estate's greatest wine.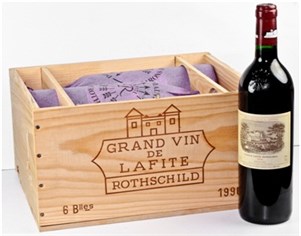 As I indicated last year, only 38% of the crop was deemed grand enough to be put into the final blend, which is atypically high in Cabernet Sauvignon (83% Cabernet Sauvignon, 7% Cabernet Franc, 7% Merlot, and 3% Petit Verdot). This massive wine may be the biggest, largest-scaled Lafite I have ever tasted. It will require many years to come around, so I suspect all of us past the age of fifty might want to give serious consideration as to whether we should be laying away multiple cases of this wine.
It is also the first Lafite-Rothschild to be put into a new engraved bottle (designed to prevent fraudulent imitations). The wine exhibits a thick-looking, ruby/purple colour, and a knock-out nose of lead pencil, minerals, flowers, and black currant scents. Extremely powerful and full-bodied, with remarkable complexity for such a young wine, this huge Lafite is oozing with extract and richness, yet has managed to preserve its quintessentially elegant personality. This wine is even richer than it was prior to bottling. It should unquestionably last for 40-50 years. Anticipated maturity: 2012-2050. The wine of the vintage?"
100/100 points Robert Parker, The Wine Advocate # 122, April 1999. The estimate per lot is HK$ 47,100-55,100.
A Jeroboam of Château Mouton Rothschild 1982 (Pauillac, 1er Cru Classé), from a private cellar in France is also on offer. In exceptional condition, it was given 100/100 points by Robert Parker and his tasting notes are as follows: ""This wine remains one of the legends of Bordeaux. It has thrown off the backward, youthful style that existed during its first 25 years of life, and over the last 4-5 years has developed such secondary nuances as cedar and spice box. The crème de cassis, underlying floral note, full-bodied power, extraordinary purity, multi-layered texture, and finish of over a minute are a showcase for what this Château accomplished in 1982.
The wine is still amazingly youthful, vibrant and pure. It appears capable of remaining fruity and vibrant in 2082! Thank God it is beginning to budge, as I would like to drink most of my supply before I kick the bucket. This is a great, still youthful wine, and, on occasion, one does understand the hierarchy of Bordeaux châteaux when you see the complexity and brilliance of this first-growth. Anticipated maturity 2015-2050+." 100/100 points Robert Parker, Wine Advocate #183, June 2009. The estimate per lot is HK$120,000-140,000.