GREATEST COLLECTION OF AUSTRALIAN COMMONWEALTH STAMPS SELLS FOR OVER £2.2 MILLION AT SPINK, UK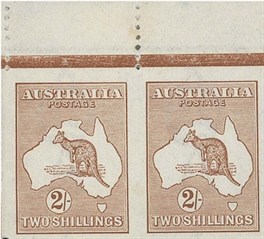 One of Australia's great philatelic rarities that sold today
It realised £84,000 against an estimate of £35,000-45,000
London. November 14, 2012. The culmination of a two day sale of some of the world's finest Australian Commonwealth stamps proved to be a huge success at Spink today. Stamp collectors from around the globe were bidding furiously in the room, on the internet and on the telephones, for the amazing selection of very rare and fine stamps from an outstanding Australian private collection that spanned two generations.
This incomparable collection was created by William Morgan and his son Hugh Morgan, who, through diligent and passionate collecting via trusted advisors, such as the curator Tom Carter, assembled one of the world's largest and most stunning collections of Australian Commonwealth stamps to have ever been seen on the market.
Commenting on the sale, Spink stamp specialist Nick Startup said: "We are delighted to have had the opportunity to offer such a unique and exceptional collection. To have been able to offer collectors the opportunity to obtain such rarities has been a pleasure and a testament to Hugh Morgan and his trusted aide Tom Carter. My hope is that the buyers treasure these rare examples with the same enthusiasm and passion as Hugh Morgan and his father, who began the collection, did. This truly was a historic sale and one that I will remember for a long time to come."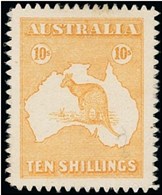 The top lot of the sale was a superb essay (pictured left) of the highest quality and importance; a ten shilling brown-buff in vertical format , with a kangaroo on a map of Australia, no Tasmania, with two value circles at the top , saw-tooth roulette 141/2 on thin white card. Estimated at £70,000-90,000 it sold for a staggering £108,000.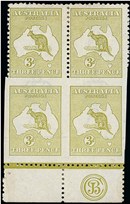 Another exceptional result was for a magnificent exhibition showpiece, of which only eight mint examples have ever been recorded. The marginal block of four 3d. olive Die 1stamps, with 'JBC' monogram is a major rarity of the kangaroo issues. It sold for £84,000 against an estimate of £30,000-40,000 (pictured right).
One of the greatest rarities of Australian philately was one of only two recorded inverted overprints (pictured below). The 2d. golden scarlet Die III, overprinted 'OS' is neatly tied by Ardlethan c.d.s. on 1933 (2 Feb) to Sydney. With only one other recorded example of such an item, (held in the Australia Post Archival Collection), it is not surprising that there was a high demand for it. It achieved £55,000 against a pre-sale estimate of £20,000-30,000.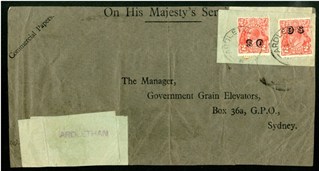 C of A Watermark 2d. with inverted "OS" used on front from Ardelethan, realised £55,000 against an estimate of £20,000-30,000
The collectors
This outstanding collection was formed over two generations; by William Morgan and his son Hugh Morgan, who together have formed a collection not only of local, but international importance. William Matheson Morgan (1906-1972) was born in Adelaide, Australia, where he studied civil engineering. He worked for various mining companies in New South Wales, Queensland and Victoria up until 1940 and then for the State Electricity Commission of Victoria until World War II. Between 1942 and 1944 he served in the Royal Australian Air Force in Northern Australia, Papua and New Guinea, before being demobilised and returning to the State Electricity Commission, to direct coal power projects in the Latrobe Valley.
William Morgan began collecting as a serious pursuit in the early 1960s, joining the Royal Philatelic Society of Victoria in 1970. Pages in his collection indicate that he sought advice from a J.R.W. Purves, who guided him on the development of the collection. His major interest was in the Kangaroo and King George V issues, both very specialised. Following William Morgan's death on the 2nd February 1972, the collection passed to his son, Hugh Morgan, in view of his long-standing interest in philately.
Hugh Matheson Morgan (born 1940) followed his father into the Western Mining Corporation and was CEO of the company between 1990 and 2003. He also served as President of the Business Council of Australia from 2003 to 2005, and was appointed to the board of the Reserve bank of Australia in 1996.
Hugh Morgan's interest in stamp collecting began in early childhood, but with the inheritance of his father's collection, Australian Commonwealth became the focus of his interest. He chose initially to concentrate on the decimal issues so as to complement the existing collection, but determined 1972 as a cut-off date, this being the date of his father's death and also a protest against what he saw as an unnecessary proliferation of new issues. Hugh joined the Royal Philatelic Society of Victoria in January 1972.
Due to business commitments, little was added to the collection until the mid-1980s, but from 1989, with the assistance of a curator, Tom Carter, selective acquisitions were made. This coincided with a decision to exhibit the collection, which involved the remounting of a large portion of the collection under Tom Carter's guidance.