RICHARD III COIN FOUND NEAR BOSWORTH BATTLEFIELD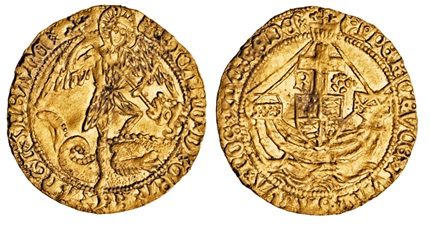 London. Monday November 12, 2012. A historical gold coin bearing Richard III's personal emblem of the boar, has been discovered near the site of the famous Battle of Bosworth in Leicestershire and is set to cause much excitement when it goes under the hammer in Spink's Ancient, English & Foreign Coins and Commemorative Medals sale in London, on December 4th & 5th, 2012.
While badges, sword mounts and cannonballs, as well as other coins have been found near the site before, this particular gold coin is very rare. As well as it bearing the personal emblem of Richard III (1483-85), it is also in pristine condition, with few signs of wear and tear, which suggests that it was brand new (recently struck) and had not yet been in mass circulation. The coin dates from circa 1484 and has survived untouched by weather or humans over many centuries.
Spink coin specialist William MacKay, said: "It is incredible that just as we are having all the publicity about the discovery of Richard III's tomb in Leicester, this coin, which was found so close to where he met his death, should be brought into our offices. It's a remarkable find and shows little sign of wear and tear, making this very likely a coin lost at the time of the Battle of Bosworth and Richard III's death."
It is conceivable that the owner of this coin was involved in the events of August 1485 and the battle of Bosworth. Other details on the coin feature St. Michael spearing a dragon and on the reverse, a ship on the waves, with a shield and crucifix above it. It is estimated to fetch £12,000-15,000.