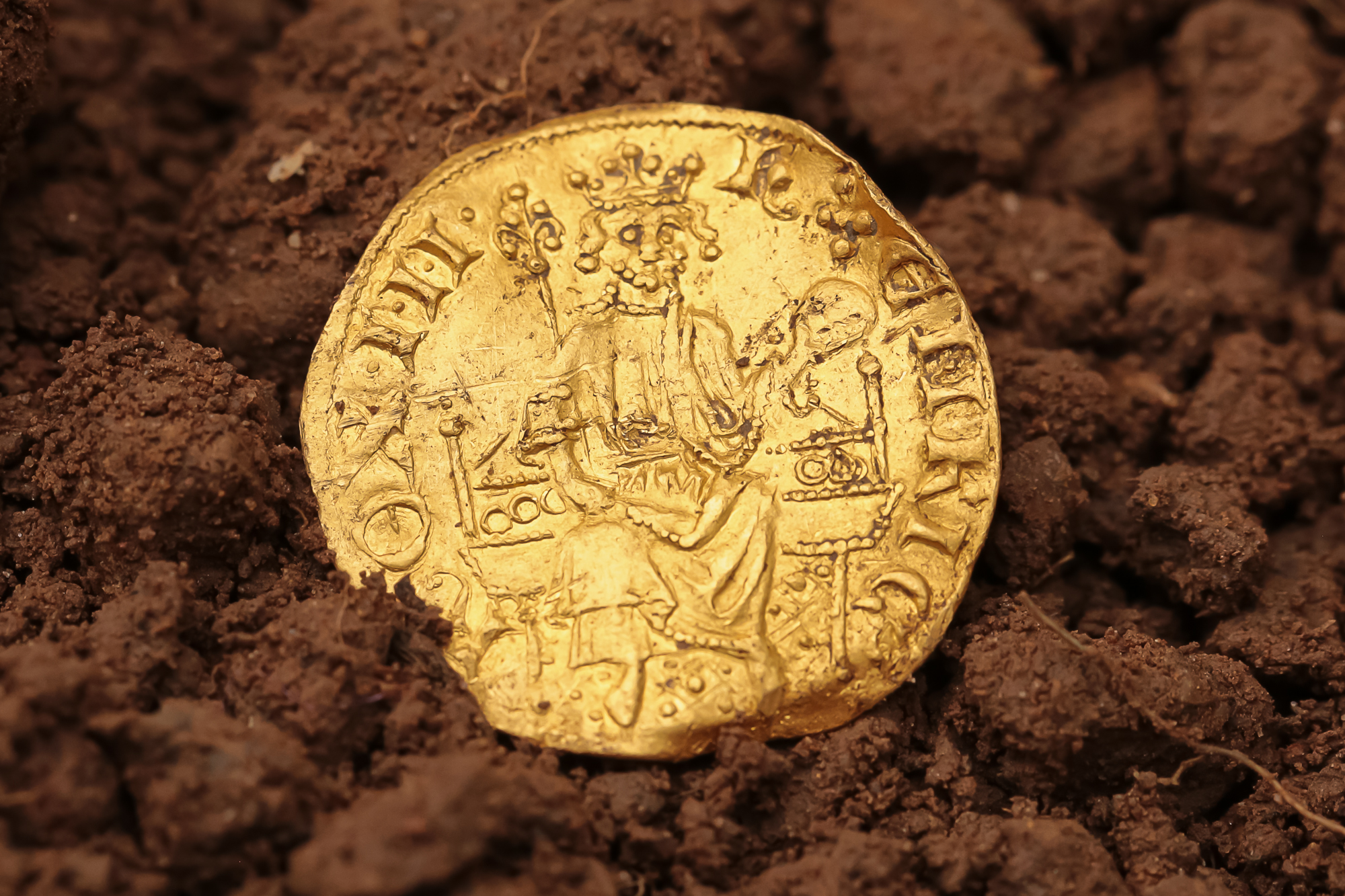 A New Henry III Gold Penny – England's "first gold coin" realised £648,000 and its own NFT sold for £18,000 at Spink London!
A metal detectorist has made history when a Henry III gold Penny he found went up for auction in London last night with Specialist Auctioneers, Spink and Son. The hotly anticipated sale followed a week of feverish global press attention that attracted dozens of bidders from around the globe.
Auctioneer Gregory Edmund who wielded the gavel on the night accepted a flurry of telephone and internet bids before knocking down the extremely rare gold coin to a determined room bidder for £540,000. With auction costs, the realised price sailed to a world record of £648,000. This becomes the most valuable single coin find ever made in British soil and the most expensive English medieval coin ever sold at auction.
The gold Penny, as has previously been reported, was recovered from farmland near Hemyock, Devon on 26 September last year. The discovery was subsequently announced on social media by its finder, Michael Leigh-Mallory, a 52-year old ecologist and passionate amateur historian. Edmund advised Michael to record the find with the British Museum, where its significance became fully appreciated. Over the next four months, internationally respected academics from King's College London and the University of Manchester scrutinised the find to unlock its secrets, including, incredibly, its potential former owner, from 765 years ago.
Professor David Carpenter's inspired research into the Lords of Hemyock Manor narrowed down John de Hyden, a figure who only six months prior to the introduction of this, England's first gold coinage was recorded as having paid 120 grams of gold directly to the King to avoid public office and the responsibilities of jury service. It is also clear that de Hyden subsequently served on the retinue of the Earls of Devon during the Welsh Campaign later that year, where over 37,000 of these coins were distributed. Today, only eight are known to survive with six in public collections, hence the record-breaking result.
Edmund added: 'I once again add my personal praise to the dedication and honesty of the finder for placing the heritage of this find above all else. Without his diligence, the subsequent research would not have been possible, and nor would have the record-breaking price been achieved.'
'Non-Fungible Penny' - Hybrid-NFT of New Gold Penny of Henry III

Successfully Bid at GBP18,000 at Spink Auction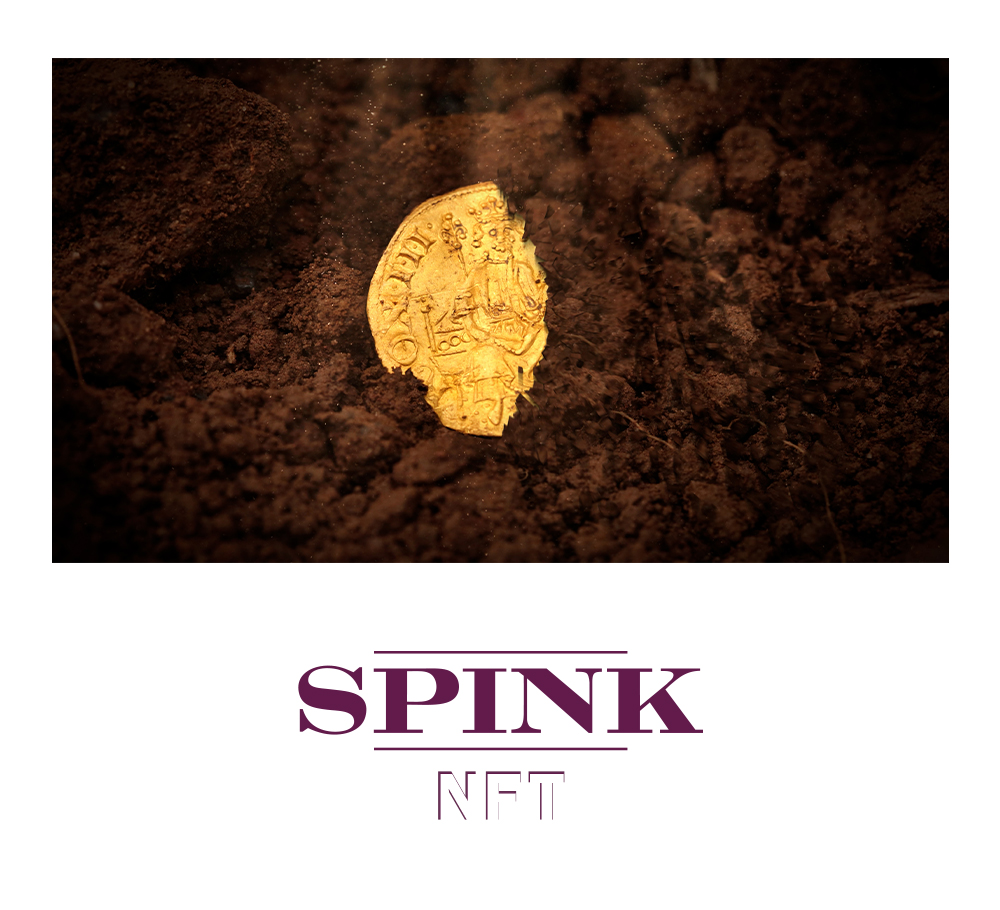 Spink and Metaverse Blockchain Fusion NFT™️ company, Coinllectibles™️, are pleased to announce that the Hybrid- NFT™️ (h-NFT) for the New Gold Penny of Henry III was successfully bid at £18,000 at the auction conducted by Spink on 23 January 2022 after its physical counterpart broke the world record and also the house numismatic record.

The specially-commissioned virtual moving graphic commemorates that unique moment, as the Hemyock soil is finally removed after 765 years to unearth the most important single coin find made in Britain for over a decade, and the first time a new coin of this type has been placed in the archaeological record for almost 260 years. It is the first-ever numismatic NFT sold by an international auction house.

"Minting has always been at the heart of Spink's business over the centuries. It is through medals minting that we received our first Royal warrant from H.M. Queen Victoria. Whilst embedded in a long tradition we pride ourselves in being one of the most innovative international auction house, and hence we thought it would be very fitting to be the first one to mint a Numismatic NFT. I am very happy we chose to collaborate with Coinllectibles in this project, as their expertise was a perfect complement to ours, but the passion for history and innovation was clearly shared. After fierce bidding, the NFT went to a good home, or should I say now a "good wallet". Olivier D. Stocker, CFA, Chairman and CEO at Spink
The successful bidder of the h-NFT will now hold the digital ownership title (DOT) to the private and commercial licences described therein with respect to the video Mp4 4k UHD file of the New Gold Penny of Henry III. These licences, together with a contractual obligation not to issue another identical h-NFT (meaning that this h-NFT is one of a kind), are minted into the h-NFT and uploaded onto the blockchain for full authenticity and transparency - details can be found on the WWW.Coinllectibles.ART website and Spink Live auction LIVE.SPINK.COM. Proceeds from the auction will be split over charities chosen by the vendor and Spink, specifically The Rodney Cook Memorial Fund and the Himal Foundation.

For more information, please contact:
Gregory Edmund
Email: [email protected]
Tel: +4420 7563 4048
SPINK UK | 67-69 Southampton Row | Bloomsbury | WC1B 4ET | London