Of English Provincial Banknotes
By Roger Outing
English provincial banknotes offer a unique and fascinating insight into the historical development of the English banking system. The early days of the London goldsmith-bankers during the 1650's; the explosive expansion of provincial private bankers during the early 1800's; the establishment of the first joint stock banks in the 1830s'; the final consolidation of the "Big Five" banks in the 1920's, these can all be recorded in the wide range banknote issues that were made in the past.
What is needed to bring these threads of historical banking development together is a single banknote collection that is sufficient in scale and quality to encompass all the various elements. The David Kirch collection of English provincial banknotes does exactly this. As you view the David Kirch collection, the history of English banking is revealed and explored in a manner that perhaps no other medium can achieve. Provincial banknotes are a real and tangible link with the past. Through them you are in contact with the origins and growth of the industrial revolution, the subsequent development of our major industrial cities, and also with the establishment of a banking system that enabled London to be the financial centre of the world for the larger part of the 19th and 20th centuries.
Just a handful of examples from the David Kirch collection are described here...
18th Century Southampton
The Southampton Commercial Bank was established in 1793 by Christopher Shaw, operating in partnership with his brother Thomas Shaw. They were linen drapers and wine merchants at 159, High Street, Southampton, from which they would have also conducted this banking business. Shown at Fig. 1 is their 5 Guinea note of 1795 with small vignette of a ship, hand signed (bottom right) by "Chris Shaw", with the further signature (bottom left) of "Thos, Shaw" the latter recording the entry of the note in the banknote register. This combination of banking with some other pre-existing business enterprise was a normal procedure during this early period. As there was no regulation of banking at this time the Shaw brothers were quite at liberty to simply start a bank and then to commence the issue of their own banknotes. Amazingly, Christopher Shaw could actually claim previous banking experience as he had been a partner in the Southampton Town & County Bank since 1785.
Despite his previous banking experience, Christopher Shaw proved to be better as a traderthan he was as a banker. The bank failed in 1796 and bankruptcy followed for the twobrothers. It should be noted that this 5 guinea note does not have any of the cancellation or bankruptcy stamps that might be expected. With the Southampton Commercial Bank only trading from 1793 to 1796 then this issued and uncancelled 5 guinea note, hand signed by each of the Shaw brothers, is an important record of early banking in Southampton.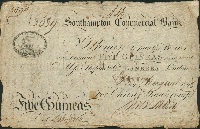 Fig 1.
Great Hewas, Cornwall Illustrated at Fig. 2 is a £1 dated 1818 with the title "Great Hewas, Cornwall" with a vignette of Lion with Shield and the legend "One and All" at the upper left. This 'bank' is not listed in any standard banking reference nor in Standard Catalogue of Provincial Banknotes of England & Wales by Roger Outing. It is a previously unknown note and, to date, is the only known surviving example. It is hand signed by "J. Stanley" on behalf of the six partners whose names are printed on the note.
It is relevant that the title does not include the word "Bank" - this description has been avoided. Great Hewas, 3 miles west of St Austell, was in fact the location of a copper and tin mine that commenced operations in the 1790's. Whilst further research needs to be done this note was very likely an issue by the owners of the mine who, not being bankers, chose to avoid that description. The text states that it was payable at "Barclays, Bevan, Tritton & Co, Bankers, London" and this is consistent with the needs of businessmenfor having funds available to them in London. Circulation of notes such as this would have been very limited - most certainly the miners themselves would never have seen one. Preservation of this example within the David Kirch collection is a real find indeed and demonstrates how private collections can function as important archives that preserve what otherwise might be lost.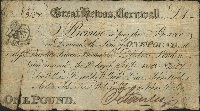 Fig 2.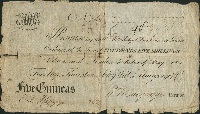 Fig 3.
Old Bond Street, London
Most accounts of banking history present the accepted view that private bankers in London ceased the issue of their own banknotes sometime in the 1770's. This was because of the dominance of the Bank of England in London and the fact that their notes served for all practical purposes. Illustrated at Fig. 3 is proof that this accepted view is not entirely accurate. This is a 5 Guinea banknote of Stephen Thurstone Adey, William Macgeorge & Co, dated 1801, with ornate initials and the address of 22, Old Bond Street at the upper left. It is hand signed, very neatly, by "Wm. Macgeorge" as partner.
This private bank of Adey & Macgeorge was only in existence from 1801 to 1805. There is no record of bankruptcy so the assumption is made that the bank ceased trading and paid off its debts, including the note issue. This makes the survival of this issued and uncancelled 5 Guinea note very unexpected and ensures that it is a highly desirable piece for any provincial banknote collection. It is the only surviving example that has been confirmed. In respect of the London bankers it is these late issue (e.g. post 1800) notes that are generally more difficult to find than earlier issues.
A £100 from Nottingham
George Moore opened his private bank in Nottingham in 1802 and was later joined by Frederick Robinson. In 1836 these by then well-established private bankers created Moore and Robinson's Nottinghamshire Banking Co. and thereby became part of the joint stock banking movement. Their bank was highly successful and outlived the original partners to be taken over by London County Westminster & Parr's Bank in 1919. This became Westminster Bank Ltd in 1923 and we now call the bank NatWest. This is an example of a private bank transforming itself into a joint stock bank and then prospering to become part of the 'Big Five' banking system of the 20th Century. Any example of a note from such a bank is an important historical record.
Shown at Fig. 4 is the highly attractive Moore & Robinson's £100 note from Nottingham and which is perforated with "Specimen C Skipper & East". It is undated but as "Limited" is included in the title then it must be post-1866 -as the bank was not a limited company until that date. An issued note of this £100 denomination has not yet been seen but it is entirely possible that the denomination would have been issued. Obviously any such issue would have been very small in number and the chance of them not being cashed in at the Bank must be remote indeed. Consequently this Specimen £100 becomes a very desirable piece for any collection.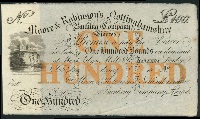 Fig 4.
Colourful £5 from Sudbury
Shown at Fig. 5 is the £5 Sudbury Bank of Alexander, Birkbeck, Barclay & Buxton. It is dated 1880 and is hand signed by one of the partners "Samuel Alexander". The note has been cancelled by writing "Cancelled" in red ink over the black ink signature. It has a vignette of building at the centre, a design of circles at the left and is printed in a distinctive orange/red colour. Each of the four partners listed on the note was a well-known member of the Victorian banking world and their names would have been instantly recognised throughout the business community. The name of "Barclay" is perhaps the recognisable name for us today. In 1896 this was one of 20 private banks that combined to form Barclays Bank; and so this was an important foundation bank for one of the principal banks on the High Street today.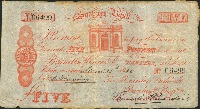 Fig 5.
International Bank £20
Some notes tell us a story of 'what might have been'. Fig. 6 shows the £20 of The International Bank, dated 1878, and perforated "Specimen C Skipper & East". There is a wonderful vignette of allegorical figures with the use of a green colour panel with a subtle background pattern. This is sophisticated and high quality security printing for the period.
There never was, precisely, any such a bank as The International Bank. This was no doubt a proposal for a bank that never came to fruition. During the 1870's and 1880's there was something a frenzy of speculation involving the establishment of banking companies in London. Many proposals were made and a few were actually established. This International Bank apparently did not make it, but the survival of this Specimen £20 records a significant period of banking history in London.
It is relevant to note that there was an International Bank of London in existence from 1880 to 1905. Was this £20 Specimen of 1878 in some way connected with earlier proposals for this bank? Was there a late change in name? Sometimes we can only conclude that further research is required. One of the charms of investigating English banking history through the medium of banknotes is that there always seems to be something new to discover.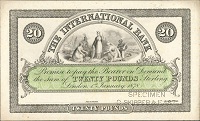 Fig 6.
The six pieces shown above have been plucked, almost at random, from the David Kirch collection. They are my personal 'favourites' from the extensive selection of notes that are available. When you have, quite literally, thousands of notes to choose from then any selection must be an individual and personal choice. Next time I look I might well choose six completely different notes - there is certainly enough choice available! I hope that this brief selection goes some way to illustrating both the wide range and the high quality of the David Kirch collection.
The David Kirch Collection is to be sold October 2012, and further sales in 2013. All proceeds from these auctions will go to the David Kirch Charitable Trust. For further information, contact Barnaby Faull: [email protected], +44 (0) 20 7563 4031.