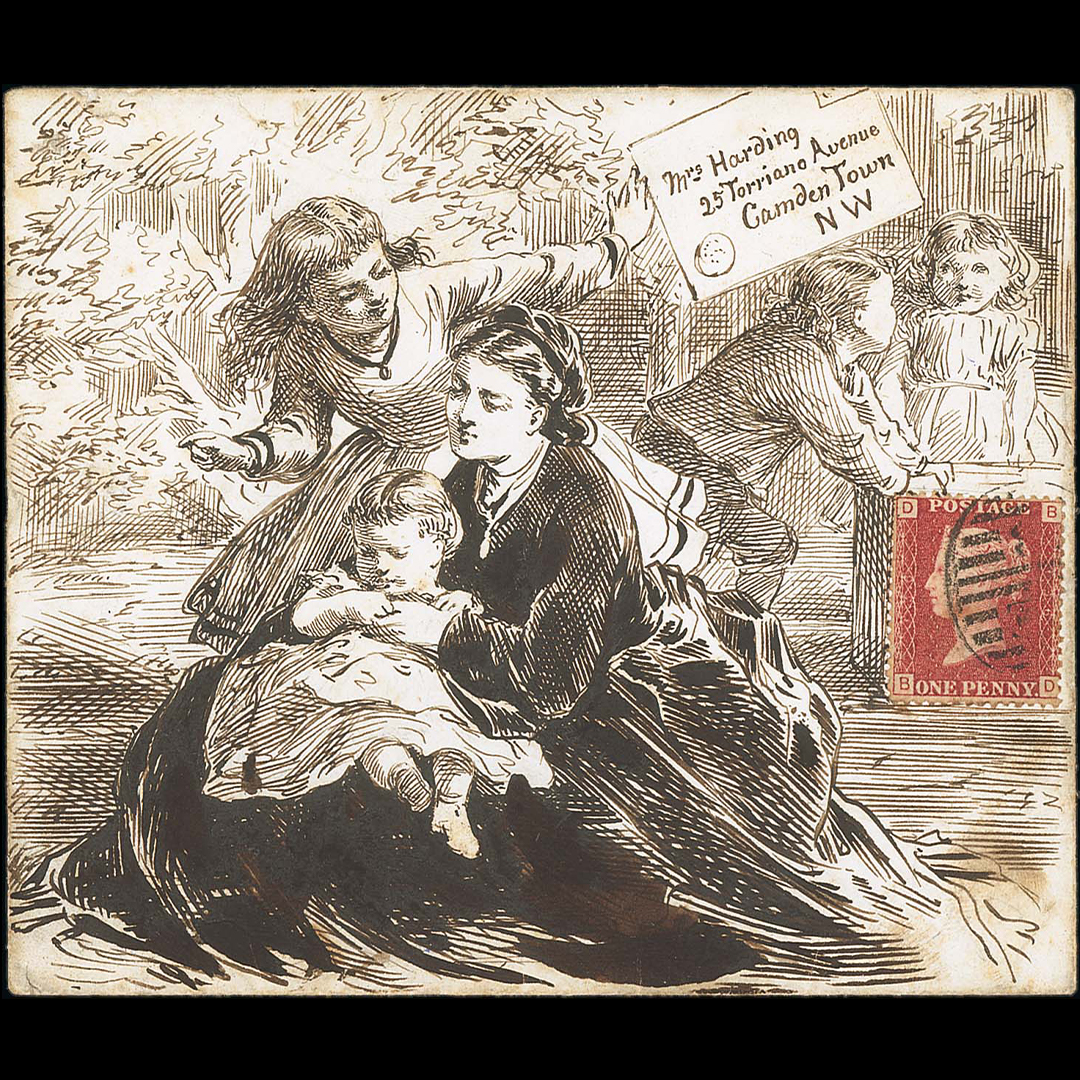 Spink brings to collectors another extensive Philatelic Collectors' Series auction. To be held on 14th and 15th April, the auction will take place behind closed doors in line with government guidelines, via online streaming, live bidding platform - Spink Live. Despite current circumstances, stamp collectors can expect a wide selection spanning all world and some lovely covers.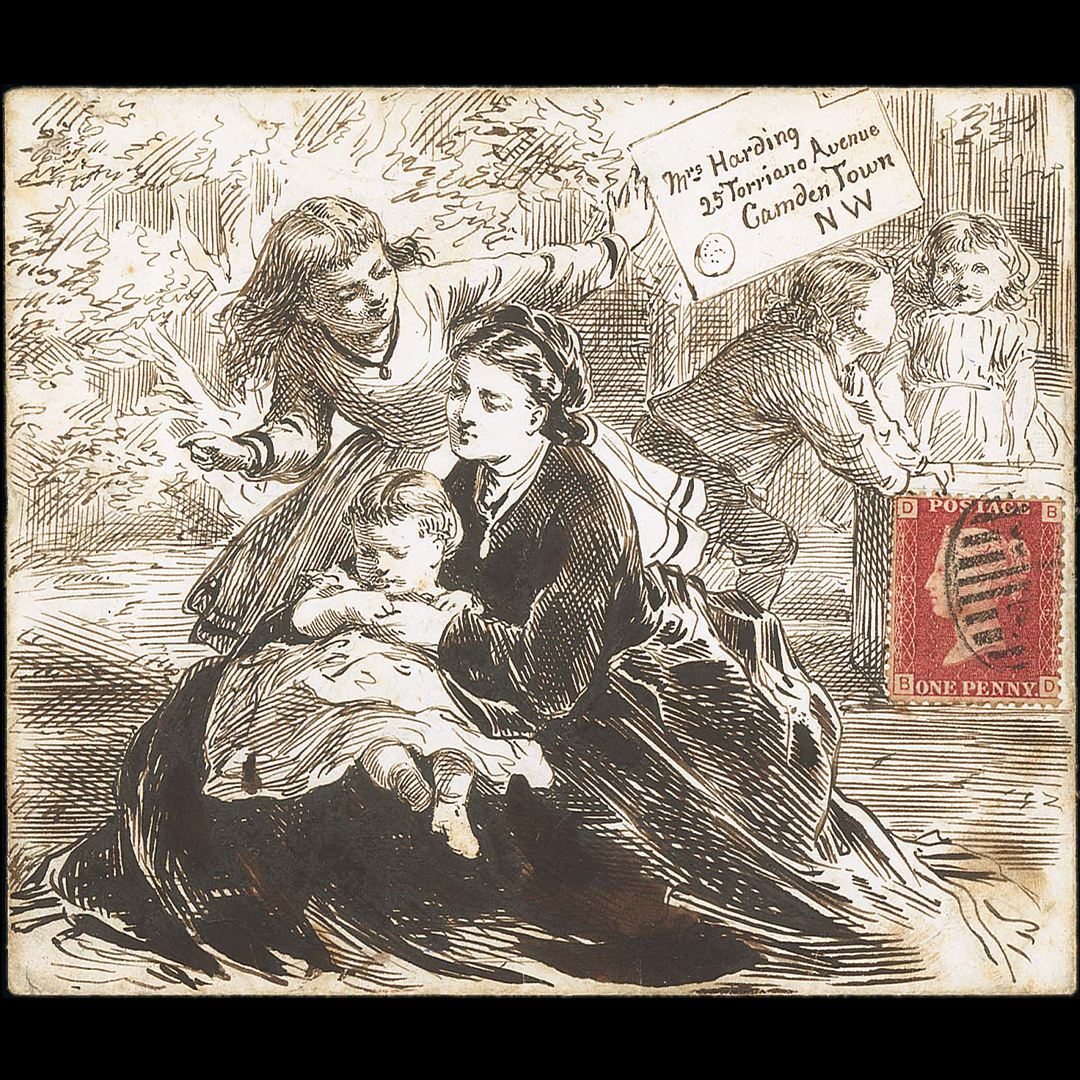 Lot 1840 A superb pen and ink illustrated envelope by Edmund Hubert Walker sent to his daughter for her birthday, 1872. Est. £3,000-£4,000
Truly eye-catching is lot 1840, an envelope dated back to 1872 (16 February) depicting a Mother with her four children, addressed to Mrs Harding, 25 Toriano Avenue,Camden Town, NW, franked 1d. Plate 136 with barred oval cancellation. The envelope illustrated by Edmund Hubert Walker, a lithographic artist, was sent to his daughter to arrive on her Birthday. A delightful envelope is rightly considered to be one of the finest illustrated envelopes in existence. Offered with an accompanying article from the London Philatelist (Jan.-Feb. 1988) giving details of the artist and subjects, also four photographs of the daughters in later years.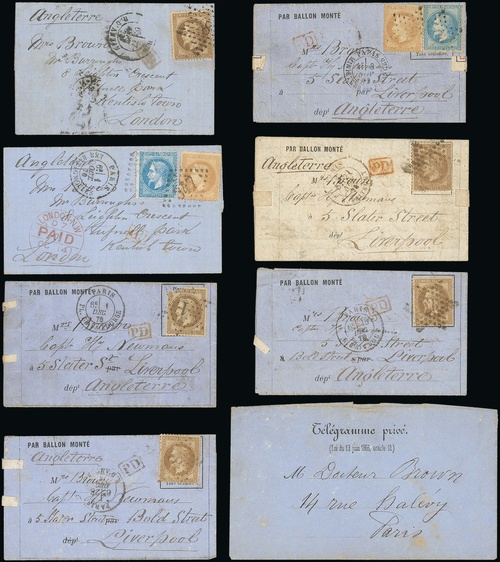 Lot 1125 1870-71 Siege of Paris, the remarkable collection of correspondence. Est. £10,000-£12,000
Another highlight, a true piece of history, gives us a glimpse into the horrors of the Siege of Paris between 1870 and 1871. The remarkable collection of correspondence sent by a British Businessman, William Brown, to his wife Margaret in England and Mrs Brown's attempts to communicate with her husband in Paris. Marvellously researched with supporting documents, including eight Ballon Monté (one carried by the Ville d'Orléans), Pigeon Post with Pellicule and telegram envelope in which the message was enclosed, Diplomatic Mail, very much collateral material, transcripts, etc.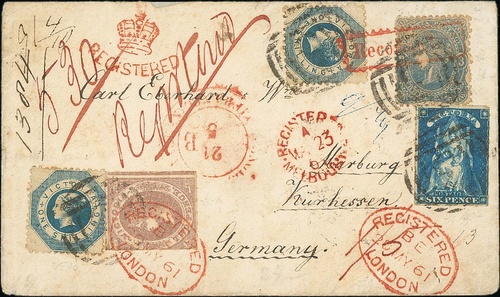 Lot 1792 1861 envelope registered from Castlemaine to Kurhessen, Germany. Est. £6,000 - £8,000

An 1861 envelope registered from Castlemaine, Victoria, Australia to Kurhessen, Germany, travelled all over the world. Bearing a distinct combination of stamps and cancellations with various other transit markings, all in red, and a truly stunning franking to a most unusual destination makes this lot a magnificent exhibition item of the highest order.
For more information on the Philatelic Collectors' Series please contact:
Josh Barber, Stamp Specialist
Email: [email protected] | Tel: +4420 7563 4080
Iain Murphy, Head of Philatelic Auctions
Email: [email protected] | Tel: +4420 7563 4060
SPINK UK | 67-69 Southampton Row | Bloomsbury | WC1B 4ET | London
ABOUT SPINK
Spink is the world's leading auctioneer of Stamps, Coins, Banknotes, Medals, Bonds & Shares, Autographs, Wine & Spirits, Books and Handbags & Accessories. Since its foundation in 1666, the Spink name has become synonymous with tradition, experience and integrity. Holder of royal warrants and numerous records for prices achieved at auction, Spink offers an unparalleled range of services to collectors worldwide. Headquartered in London, with offices in New York, Hong Kong, Singapore and Switzerland, Spink holds over 70 auctions a year. Catalogues can be accessed through the Spink website (www.spink.com), Spink Live online bidding platform (www.live.spink.com) or via the Spink App for iPhone and iPad.