ONE WAS DESTROYED IN THE SAN FRANCISCO EARTHQUAKE OF 1906. ANOTHER WAS STOLEN IN 1965 AND NEVER SEEN AGAIN. OTHERS GRACE THE ROYAL COLLECTION AND THE BRITISH LIBRARY.
SPINK IS PLEASED TO OFFER BY PRIVATE TREATY.
ONE OF ONLY THREE SINGLE EXAMPLES OF THE LEGENDARY PLATE 77 PENNY RED REMAINING IN PRIVATE HANDS
The Plate 77 Penny Red is a stamp that young collectors of British stamps dream about. Along with the British Guiana one cent Magenta, it is one of those stamps that every budding philatelist hopes to find in a dealer's box or a book of "approvals". Unlike the British Guiana though, Penny Reds are everywhere – hundreds and thousands of them, sold by the bundle and even used to wallpaper pubs! Surely someone somewhere is bound to find another Plate 77?
The story of Great Britain's Penny Red begins in 1840, shortly after the issue of the world's first stamp, the Penny Black. The postal authorities quickly realised that unscrupulous characters were washing off the postmarks and reusing the stamps – and it was determined, after printing trials, that changing the colour of the stamps from black to red brown would make the fraud easier to detect. The first Penny Reds were produced in 1841 and, like the Penny Black, they were imperforate and produced from eleven printing plates.From 1854, perforated versions were produced, and the stamp went through a number of incarnations with minor changes to the design, perforations and watermark. The final version, issued in 1864 with letters in all four corners, was produced from a number of printing plates numbered from 71 to 225. Overall, some 21 billion Penny Reds were produced before the issue came to an end in 1879. Of all the plates, 77 is the rarest. It is likely that only one sheet was printed, and there is a record that the printing plate was rejected due to poor alignment which would result in some stamps being misperforated. This sheet should have been destroyed, but a few mint and used examples have been discovered over the years. Percy Jackson was one of those collectors best described as a Penny Red nut. A retired bank manager, he lived in a rented cottage in the small village of Ropley in Hampshire with his wife Ellen. A keen stamp collector and member of the Royal Philatelic Society of London (RPSL),he wrote to The London Philatelist in 1943, requesting information about Penny Reds.Only the following year, sorting through a "box of a million Penny Reds", he found his elusive Plate 77. It would certainly have been the highlight of his philatelic life. He sent the stamp to the RPSL for a certificate of authenticity, and put it up for sale at a Robson Lowe auction in 1944, where it sold for £220. It has never appeared at auction since.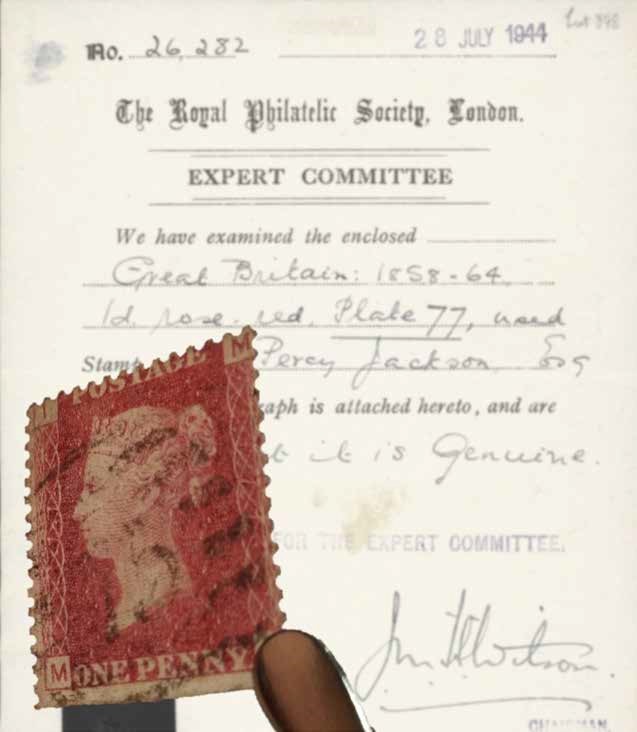 The Eight Singles from Plate 77:
An unused irregular block of four (with corner letters AA, AB, AC and BA) was discovered in the 1870s. Of these,
AA ended up in the collection of Henry J Crocker (one of the Fathers of Philately) which was destroyed in a fire following the San Francisco earthquake of 1906
AB was acquired by King George V in 1919 and is still in the Royal Collection
AC was sold in a Robson Lowe auction to Major Raphael in 1959 – but his collection was stolen in 1965, and the stamp has not been seen since
BA became part of the Thomas Tapling Collection and was bequeathed to the British Museum in 1891 – it is held in The British Library today.
LL, heavily cancelled by an obliterator postmark, was discovered by a Penny Red collector in 1906. It passed through a number of hands before being sold for £375 in 1966. It is now in a private collection and has not been seen since 1974.
The remaining examples are all used.
Interestingly, three examples (PH, PI and MI) supposedly all originated from one wholesale lot of Penny Reds divided among a number of collectors.
PH was discovered in 1924 and passed through a several collections before being sold to H G Fletcher in 1956. His collection was bequeathed to a museum in 1989 and transferred to The British Library where it remains.
PI, a used example on piece with a four-penny stamp, was discovered by a Manchester stamp dealer in 1920.It was auctioned by Robson Lowe in 1959 for £900, and subsequently by Christie's and Spink, passing through the collections of Hassan Shaida and Pichai Buranasombati. Last sold in 2012 by Stanley Gibbons for £550,000 (a record for a British stamp) it remains in private hands.
MI was discovered by Percy Jackson in 1944 and auctioned for £220 by Robson Lowe.
The recent discovery of a part-envelope bearing three Penny Red stamps inscribed 77 has stimulated much debate in the philatelic world. Rigorous scientific testing has proved the stamps to be genuine, but some philatelic authorities are yet to be convinced. It appears that the saga of the Plate 77 is set to continue…
Like the British Guiana one cent Magenta, the Plate 77 may not be the most visually inspiring stamp – but over the years, it has assumed legendary status. The handful of examples which have come to light have graced some of the most famous collections in the world. There is no doubt that the Plate 77 will continue to inspire generations of collectors to come.