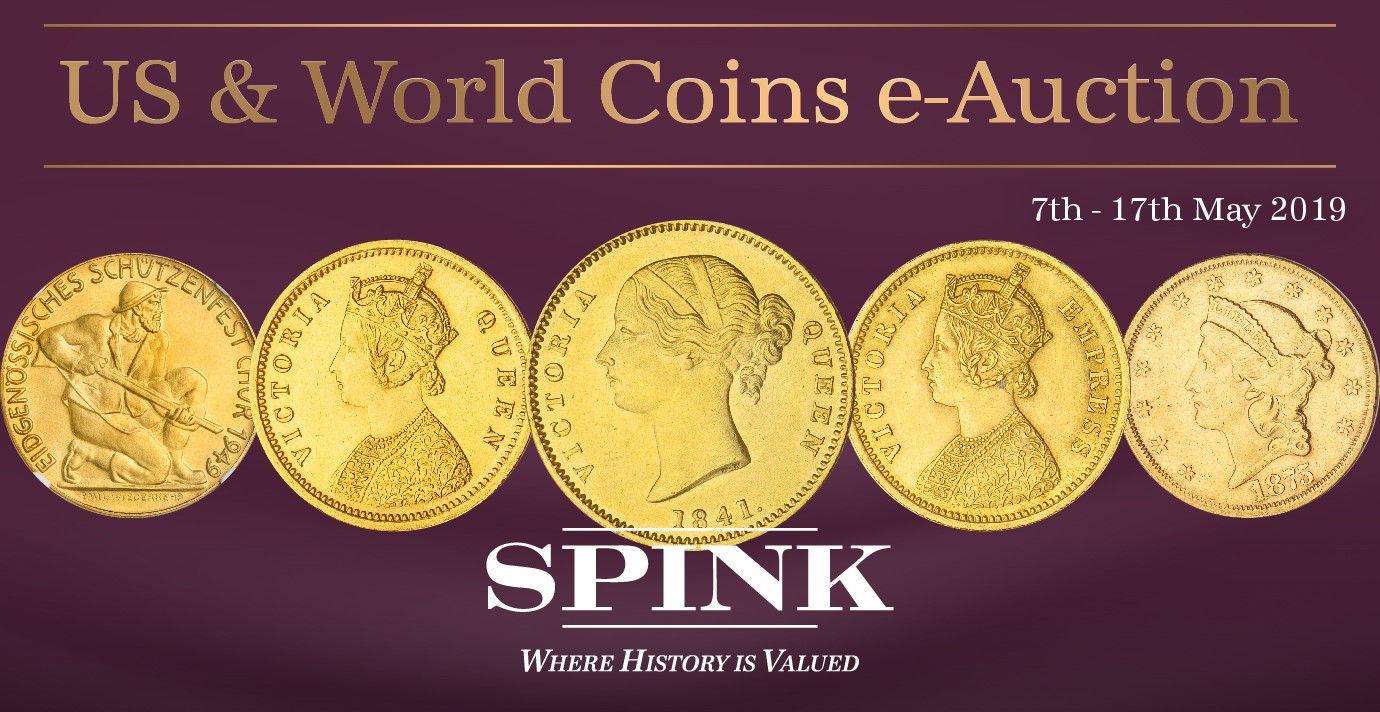 Spink is proud to offer the collection of British India and Ceylon coins assembled by father and son, Sidney W. Harl and Kenneth W. Harl, both renowned collectors.Professor Kenneth W. Harl, who started collecting at the age of six, is also known as a scholar in Roman and Roman provincial numismatics, author of two major books and a number of articles, and a fellow and trustee of the American Numismatic Society.
Sidney Harl commenced collecting coins of British India in 1958, acquiring coins from across the world.Professor Harl inherited his father's collection upon the death of his parents in the aftermath of Hurricane Katrina.He was fascinated with the complexity of the coinages of British India, and, as a scholar of the coinages of imperial Rome, noted the parallels between the two imperial coinages.The collection was expanded with the purpose of illustrating the coinages of British Raj from the eighteenth through twentieth centuries.
Most of the other coinages of the British Empire came to be based either on the English reckoning of pound, shilling, and pence, or the decimal system of the dollar.But India, the jewel in the imperial crown, under the East India Company and the British Crown, enjoyed her own currency based on the traditional Mughal system of gold mohur, silver rupee and anna, and copper fractions reckoned in anna and pice.Furthermore, native princes under the hegemony of the Raj continued to strike their own coinages. Many of these coinages and denominations are represented in the collection.Hence, collecting emphasis was on the imitative gold and silver coinages of the East India Company, the first machine made European coinages of the Honourable Company, and then the imperial coinage at the height of the Raj in 1862-1936. Professor Harl used specimens of this collection in teaching his students in comparative seminars of the Roman Empire and the British Raj.
Professor Harl acquired coins from numerous locations and contacts, both in the United States, and in India and Burma.While traveling in India he acquired family collections of these coins still held as a reserve today.From his Indian contacts, he was informed that silver rupees of the Raj are still kept as a private currency to be exchanged among families to settle private obligation such as marriage arrangements. The standard of the silver rupee was just below Sterling fine (0.917 fine). Only in 1940, during the Second World War, was the rupee lowered to 0.500 fine.In 1947, just before partition, a new rupee of nickel was issued, but vast numbers of silver rupees continue to be held in private hands.