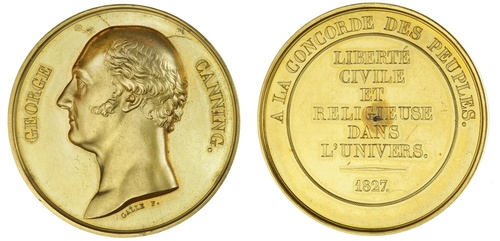 A pair of extremely rare gold medals struck in honour of a Prime Minister are set to be auctioned by Spink and Son in London on 28 January.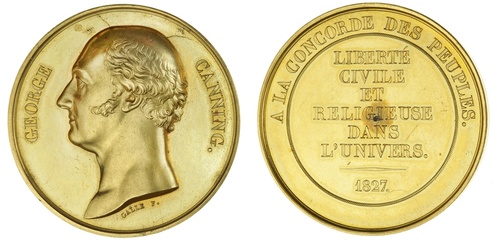 (Lot 1236 and 1237)
The two medals commemorate George Canning MP, a 19th Century statesman who has the ignominious title of being shortest serving British Prime Minister in history at just 117 days in office. Both struck in gold, the first medal commemorates Canning's appointment to the Foreign Office in 1822, having previously served in this position in the Portland government of 1807-1809. During his first time in office not only did he seize the Dutch fleet to ensure naval Supremacy against Napoleon's France, but also engaged in cabinet conflicts with Lord Castlereagh's War Department; the matter only being settled by a customary duel in which Canning was wounded in the thigh. Whilst his political career could largely be defined by his apparent inability to work with party colleagues in office, included the likes of Spencer Perceval, the only British Prime minister to be assassinated in office, his second term as Foreign Secretary was marked for a more progressive agenda, firstly in his support for abolition in Spanish held territories as well as being a proponent for Greek autonomy.
The second medal, which may be the only example in private ownership, records his death in August 1827, and was struck by ironically the French medallist Galle. His appointment prompted mass cabinet resignations including the likes of 19th Century titans Wellington and Peel. His remarkably short tenure came as the result of pneumonia contracted that January whilst attending the funeral of the Duke of York.
For more information, please contact:
• SPINK UK | 67-69 Southampton Row | Bloomsbury | WC1B 4ET | London
About Spink
Spink is the world's leading auctioneer of stamps, coins, banknotes, medals, bonds & shares, autographs, books and wine. Since its foundation in 1666, the Spink name has become synonymous with tradition, experience and integrity. Holder of royal warrants and numerous records for prices achieved at auction, Spink offers an unparalleled range of services to collectors worldwide. Headquartered in London, with offices in New York, Hong Kong, Singapore and Switzerland, Spink holds over 70 auctions a year. Catalogues can be accessed through the Spink website (www.spink.com) or via the Spink App for iPhone and iPad.