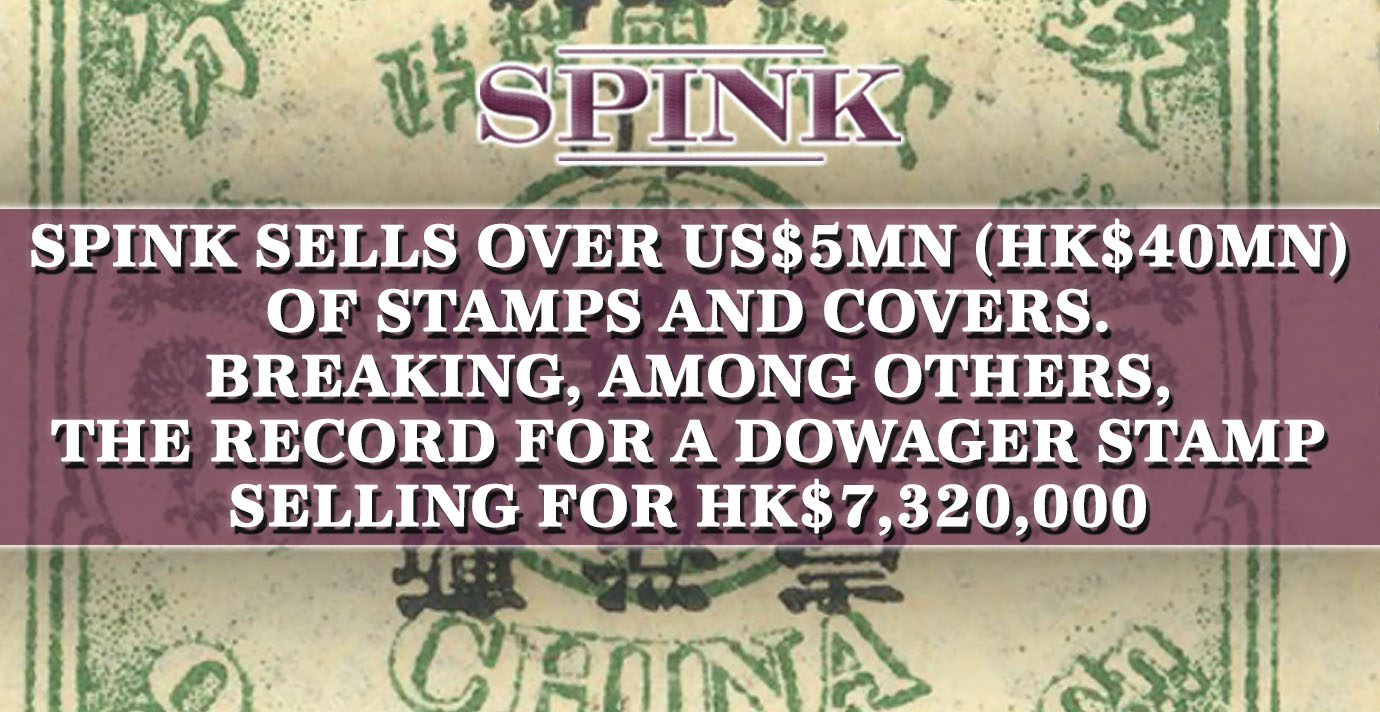 Spink sets a fantastic New World Record for Philatelic Item from the 1894-1897 Empress Dowager Issues at auction.
SPINK CHINA| The auction of Lam Man Yin's wonderful collection of the stamps formed by Mr Lam over many years of collecting the Small Dragons, Dowagers and
their Surcharges saw an outstanding new world record set for an item from these early issues of China.
The 9 candareen stamp with the variety 10c. Surcharge inverted sold for a hammer price HK$6,100,000, a world record for a Dowager stamp.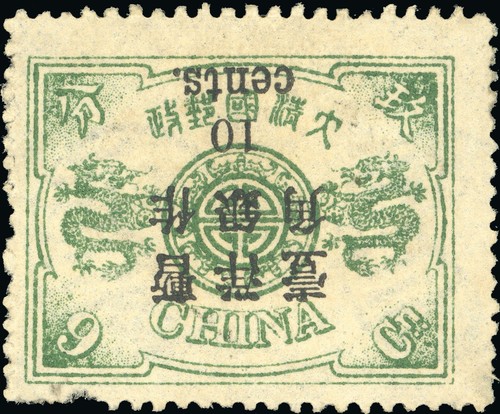 -- Lot 731
When the new Post Office was established in 1897 the currency was changed from candareens to dollars and cents, so new stamps were required. Delays at the printers meant that the unused candareen stamps were surcharged with values in the new currency. The original sheets of the 9 candareen were formed of twenty five stamps but each sheet was made with one corner stamp printed upside down. Before these sheet were given their new surcharge, the left column of stamps, with the offending invert, were removed. All available stamps were utilised, including any returned from country post offices. Unfortunately a few of these sheets did not have the unwanted stamps removed and were applied with the 10c. surcharge which was being used on the sheets of 12 candareen stamps, this the corner stamp which was printed upside down became this rare variety. Only three stamps have been verified, this being the only unused example
The rarity of this stamp means that there is keen competition by all of the top collectors who were keen to be able to add this to their own collection,
This stamp was previously in the world famous collection formed by Sir Percival David which was sold in London in 1970.
The sale commenced with the collection of Small Dragons, the second issue of Chin complete sheets were in demand.

There was good competition for the issues of the 1897 Surcharges with many of the error stamps achieving high prices. The room fell silent as two collectors quietly pushed the price of the Small Figures 10c inverted to its world record price.
Other interesting lots were lot 847 - the complete sheet of Large Figures 30c on 24 candareen, the famous "Red Ruby", realised: HK$660,000; lot 851 - the block of six 1/2c on 3 candareen with the error surcharge inverted selling for HK$240,000; and lot 856 the only example of 2c on 2 candareen with the error surcharge double being finally knocked down for HK$240,000.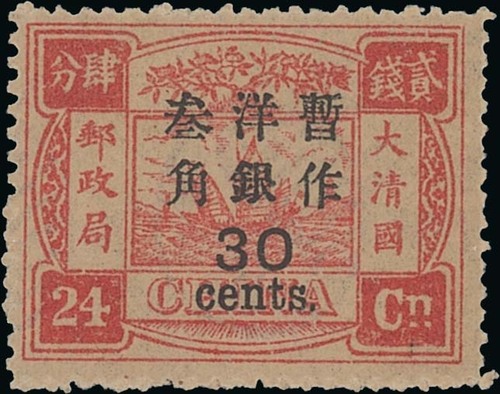 – Lot 847]
Lot 847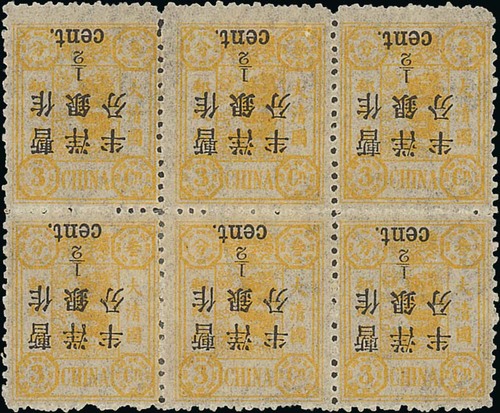 – Lot 851]
Lot 851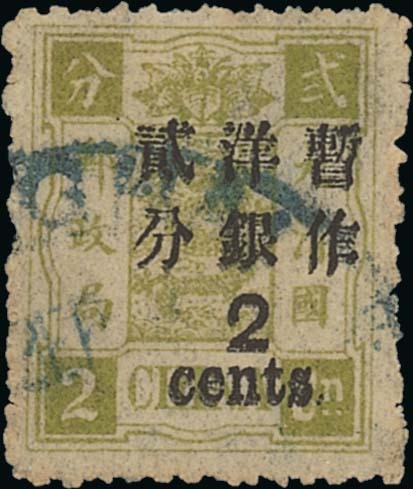 – Lot 856
Lot 856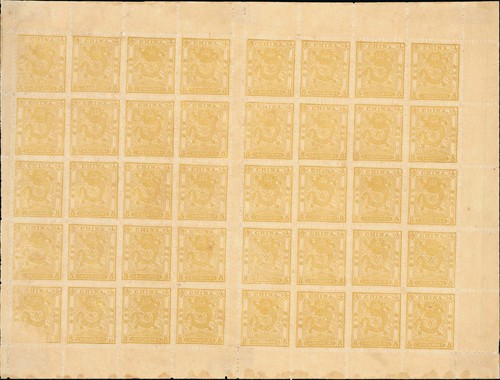 Lot 535]
Lot 535 – Small Dragons five candareen complete double pane sheet of forty, realised: HK$300,000
Lot 542]
Lot 542 – Small Dragons five candareen imperforate vertically in a horizontal pair cancelled by Tiensen seal, realised: HK$240,000
However it was the stamps on envelope which stole the show with an envelope from Tamsuy and a large envelope which was struck with the only recorded strike of the Hankow registered handstamp.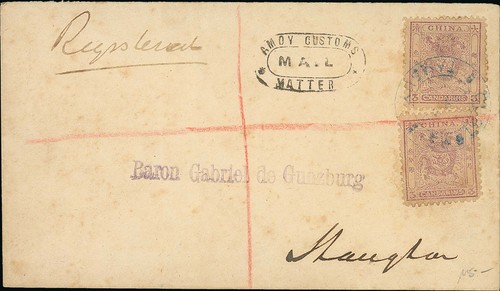 Lot 576]
Lot 576 – an registered envelope from Tamsuy to Shanghai, realised: HK$420,000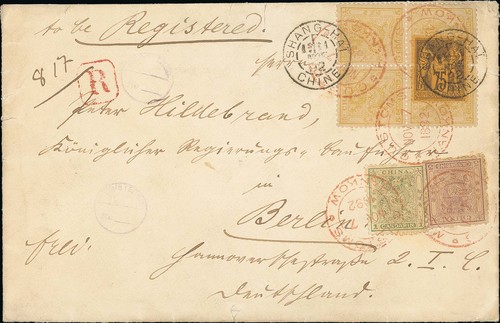 Lot 599]
Lot 599 – an registered envelope from Hankow to Berlin, realised: HK$540,000.
For more information, please contact:
SPINK CHINA | 4/F Hua Fu Commercial Building | 111 Queen's Road West | Hong Kong
About Spink
Spink is the world's leading auctioneer of stamps, coins, banknotes, medals, bonds & shares, autographs, books and wine. Since its foundation in 1666, the Spink name has become synonymous with tradition, experience and integrity. Holder of royal warrants and numerous records for prices achieved at auction, Spink offers an unparalleled range of services to collectors worldwide. Headquartered in London, with offices in New York, Hong Kong, Singapore and Switzerland, Spink holds over 70 auctions a year. Catalogues can be accessed through the Spink website (www.spink.com) or via the Spink App for iPhone and iPad.