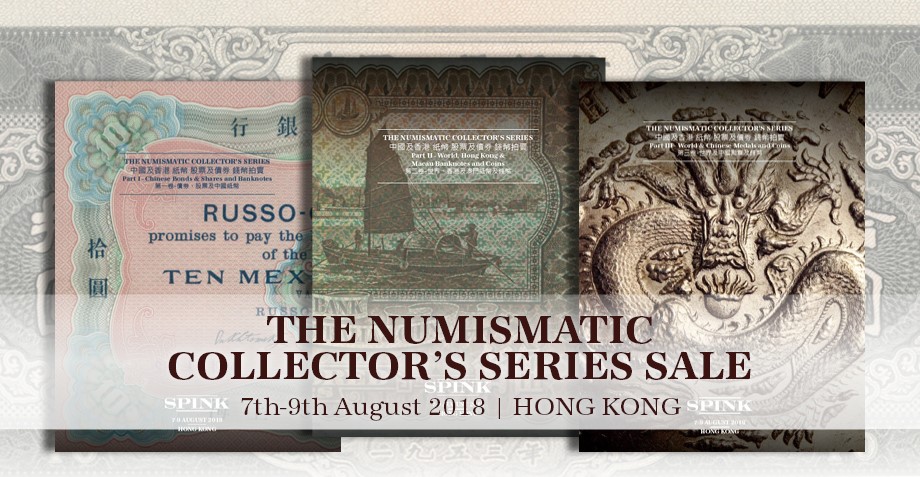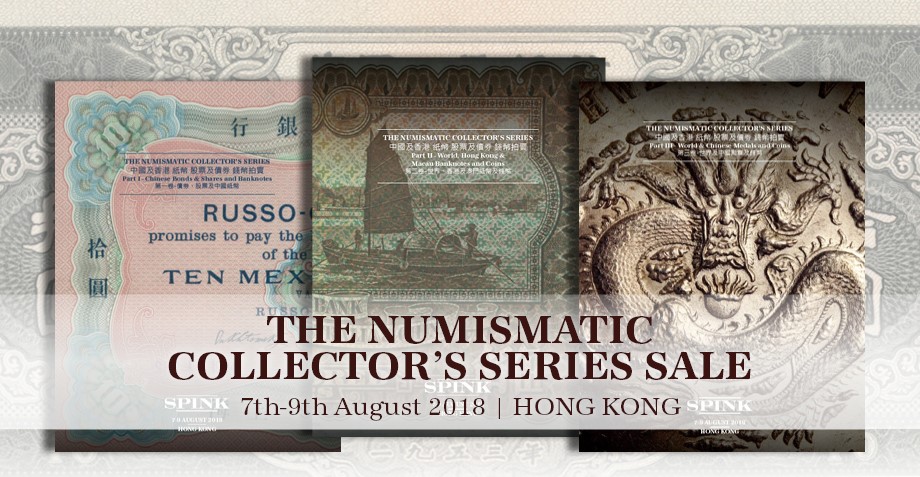 The August Hong Kong numismatic auction was the largest auction we have held in terms of volume. With nearly 2,900 lots it was also the first time we have held a sale spanning three days, from 7th to 9th August. There were highlights in all categories and despite a slightly turbulent market many high value items sold well over our expectations. This further cements Spink China as a vibrant and growing numismatic auction house in East Asia.

Chinese bonds, share certificates and banknotes were sold on the first day with the top pieces being Lot 37, the 1949 Patriotic Loan for 100 yuan sold for $13,200; and Lot 55, a pair of certificates for Han Chen Water and Electricity Company Limited being sold for $12,000. Chinese banknotes did less well than previously owing to external economic concerns but prices for star lots remain strong. This is exemplified by Lots 166 (sold for $90,000); Lot 812 (sold for $120,000); Lot 822 (sold for $216,000); and Lot 1075 sold for ($1,080,000). These fantastic results show the varied and wide consignor and client base Spink China has accumulated.
The second day saw Hong Kong coins and banknotes being sold. Traditionally these are our strongest areas and the auction only reconfirms this. A 1867 Hong Kong silver dollar graded NGC MS62 sold for $105,600 (Lot 1440) while a 1905 silver 10 cents graded PCGS MS63 fetched $54,000 (Lot 1451). Rare and choice Hong Kong banknotes saw prices go through the roof starting with a 1930 Chartered Bank $5 graded PMG 35 fetching $132,000 (Lot 1687), a 1923 Chartered Bank $10 graded PMG 35 fetching $276,000 (Lot 1710) and a 1934 Chartered Bank $500 graded PMG 58, fetching a staggering $384,000 (Lot 1797). Banknotes issued by HSBC did extremely well, especially the rare solid serial numbers. Lot 2153, a 1979 $1,000 bearing the serial number C888888 and graded PMG 64 sold for $204,000 against an estimate of $40,000-$50,000. Lastly, a set of specimens from the 1909 to 1923 series fetched a combined total of $762,000 against an initial estimate of $245,000-$320,000. All our vendors were staggered at these prices and will certainly be consigning more material for our prestigious January auction.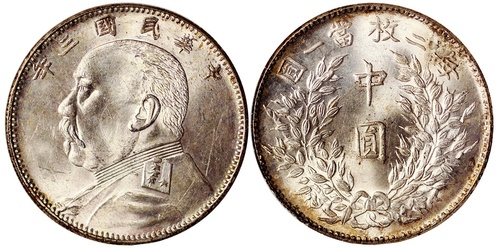 We offered our world and China coins on the last day and although small in quantity, the prices were great and the room was packed. An old time collection of Chinese cash coins fetched in total about $280,000 (Lots 2507 to 2590) and a raw ungraded 1914 Fukien Mint silver 50 cents (Lot 2748) fetched an eye-watering $174,000. Modern coins were also popular with proof sets from the late 1970's to the early 1980's fetching many times over estimate (Lots 2858 to 2867). The star piece was a gold 1993 100 yuan Sun Yat Sen commemorative coin which fetched $96,000 (Lot 2885).
Our January sale looks very promising indeed with a few superb highlights already in hand. The deadline for consignment is 16th November 2018, see image below for some exciting highlights. We hope you have found our auctions well attended, with a very wide range of materials attracting a large audience to the auction floor at all times. Should you be interested to consign or ask for a valuation please contact Kelvin Cheung (Email: [email protected] | Tel: +852 3952 3000) and Paul Chow (Email: [email protected] | Tel: +852 3952 3001)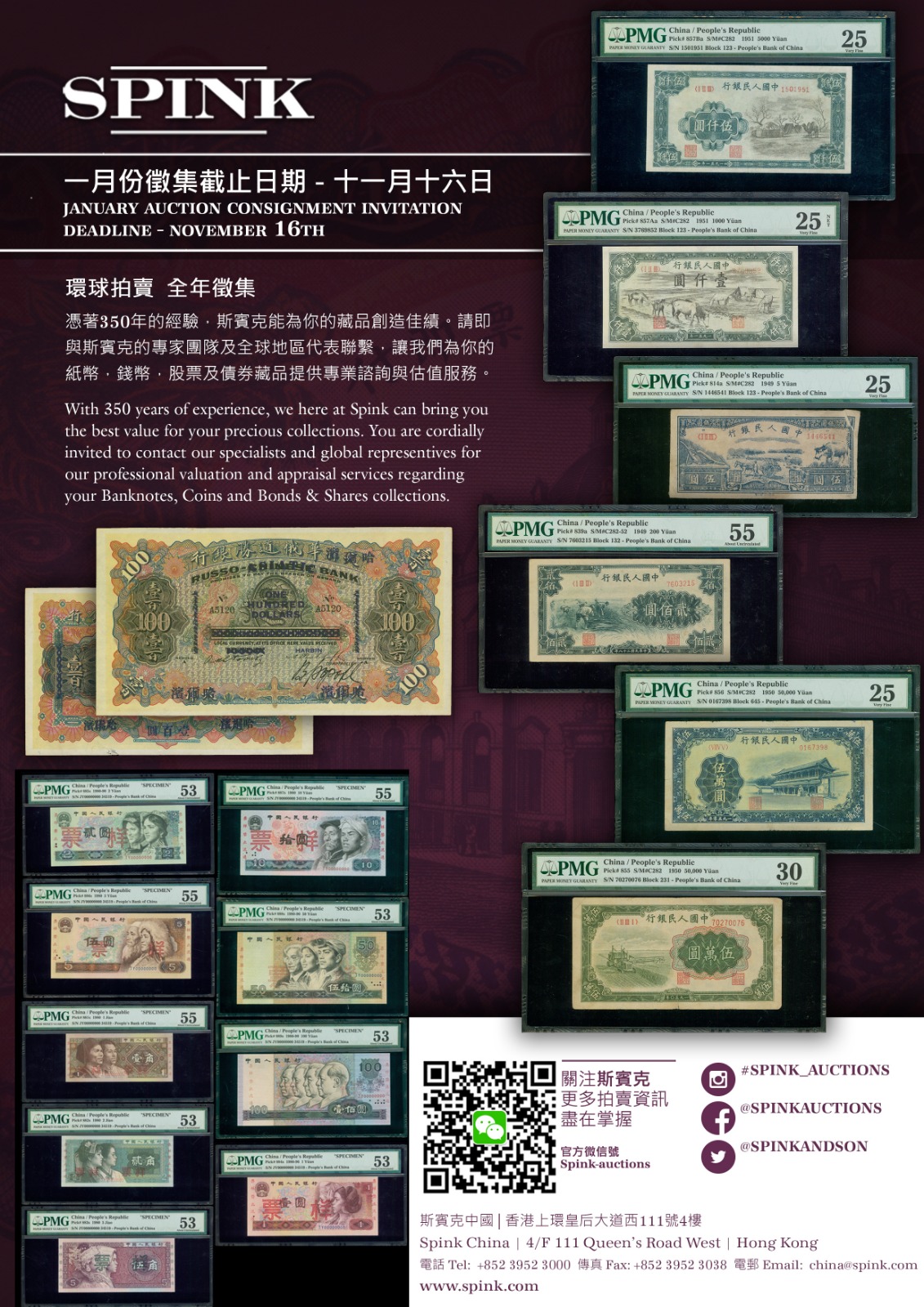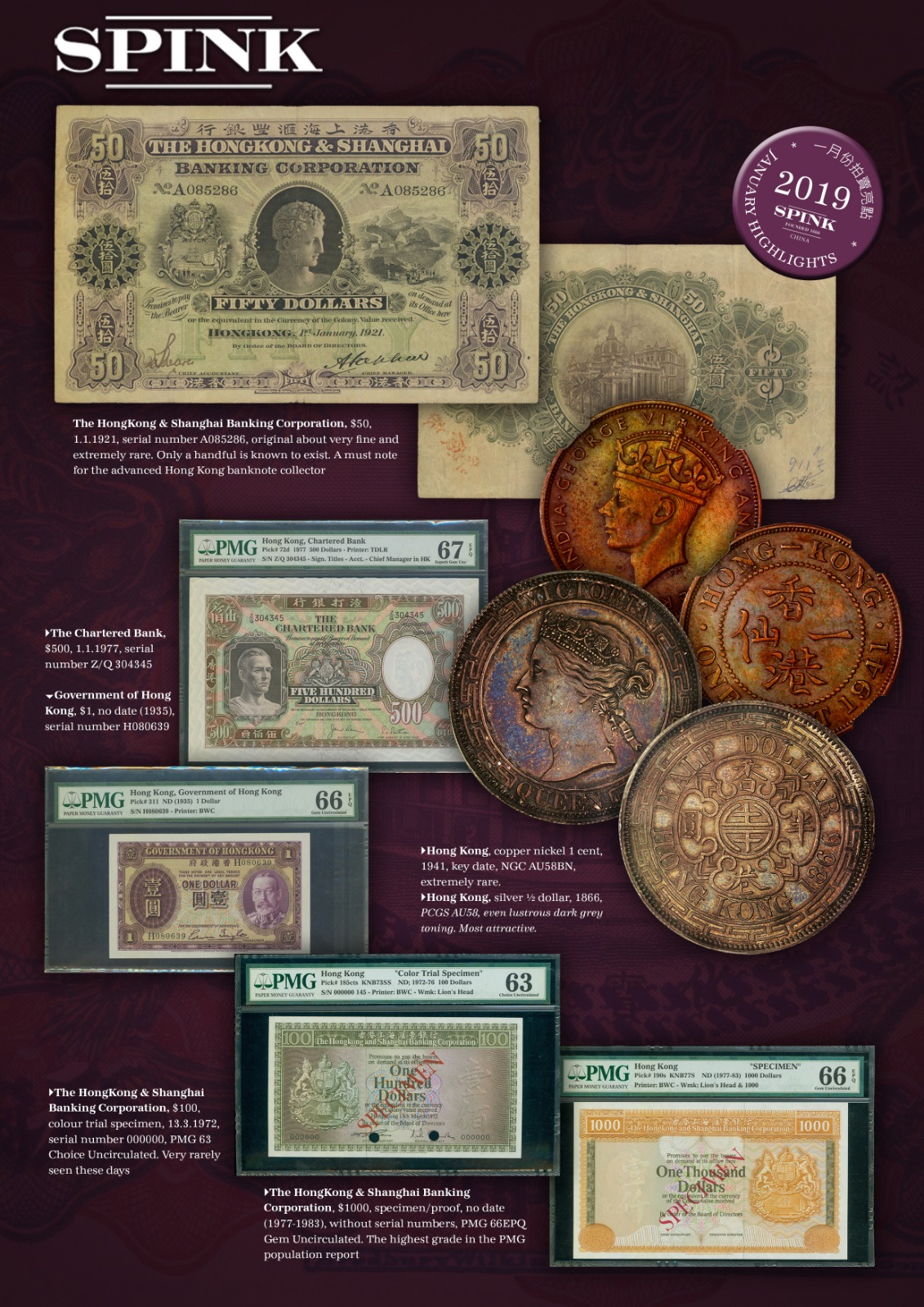 About Spink
Spink is the world's leading auctioneer of stamps, coins, banknotes, medals, bonds and shares, autographs, books and wine. Since its foundation in 1666, the Spink name has become synonymous with tradition, experience and integrity. Holder of royal warrants and numerous records for prices achieved at auction, Spink offers an unparalleled range of services to collectors worldwide.Headquartered in London, with offices in New York, Hong Kong, Singapore and Switzerland, Spink holds over 70 auctions a year. Catalogues can be accessed through the Spink website (www.spink.com) or via the Spink App for iPhone and iPad.