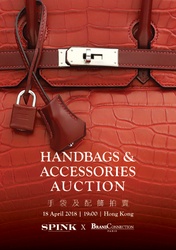 Hong Kong, 18th April 2018 The Wait is Over
On 18th April 2018, Spink in association with Brand Connection are proud to present Spink's inaugural auction of luxury handbags and accessories. The wait is over, as after 350 years of being the leader in a male-dominated collectables market Spink has decided to venture into a more female dominated market. Spink will be offering direct access to a wide range of luxury handbags and accessories that have been carefully selected by our specialists: 'We will look at the skin cut, the shine and even into each scale of a an exotic crocodile skin for example, in order to see if the bag is genuine or not. The large variety of leathers, colour tones, sizes and models make it an ever-discovering work and an ever-learning trail" Says Baptiste Ballet, an expert with more than 12 years of experience in the field.

A Historic Approach
The high-end handbags such as the Kelly bag featured in the auction in various forms and colours have their interesting stories too. They go way back to iconic women such as Grace Kelly, Princess of Monaco, who at the time used a Hermes Bag to hide her baby bump from the press, hence the name of the bag.
Handbags have been part of a woman's attire for over a century now and continue to be so. Women have always had a need to carry money or personal items since ancient times often worn at the waist in simple leather pouches or in the 16th century chatelaines crafted in precious metals and often bejewelled reflecting the wealth and status of their owners, much as modern high end bags do to this day.
Until the 19th century women's clothing often had hidden pouches beneath skirts in which they could carry their valuables or everyday items, but as industrialisation and different techniques of production evolved then carrying cases for both men and women developed. From this combined with many women joining the workforce and needing to carry more on their person after World War One a range of what we would recognise as handbags were introduced; from clutch bags to carrying shoulder strap bags. This was made more important as pockets largely disappeared from women's fashions.
The roaring twenties saw all sorts of handbags being introduced and through the next seventy years by fashion design houses; Hermes, Louis Vuitton, Gucci, Prada, Chanel, Dior, Yves Saint Laurent, Versace, Donna Karen and Dolce & Gabbana. Now the handbag was a fashion accessory changing with each season.
Vintage high end bags have seen impressive growth in prices achieved at auction over the last few years with annual increases of 8% on average with some classics achieving 200%+ according to the Just Collecting Rare Handbag Index. Stars tend to be from a small handful of top designers, so look for these in good condition. It is all about brand, rarity and exotic skins.
Inaugural Auction at Spink Hong Kong Galleries
It is for these various reasons that Spink are proud to embark on this new project and together with Brand
Connection, one of the most renowned experts in French labels (with a particular focus on Hermes), will launch their inaugural auction on 18th April.
Comprised of over 120 exclusive handbags, the auction will offer something for everyone; from a classic everyday handbag to more exotic collectable pieces. The selection features the rarest items, limited editions, collector pieces and discounted items from iconic brands such as Hermes, Chanel and Louis Vuitton, some for as little as HK$5,000 or as much as HK$500,000, in pristine condition and of course, with no waiting list required.
The evening reception preview will be held on the day before the auction at Spink Hong Kong galleries in the trendy Sheung Wan neighborhood. However, for those who are based on the other side of the world, condition reports, telephone bidding and online bidding will be offered.
Auction Highlights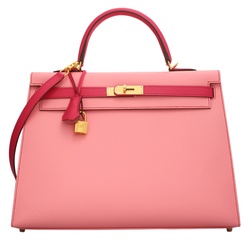 1. Hermès, Epsom Kelly 35cm, the Bicolor Special Order shiny & tea pink is a great combination of the most desirable colors for this spring.
Starting Price: HK$120,000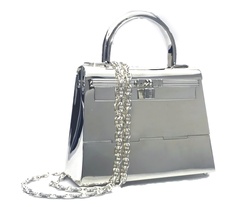 2. Hermès, a possibly unique special order in ALL sterling silver Kelly 15cm with chain d'ancre strap. This piece is considered a Masterpiece and is for many in one of the top 5 most special handbags in the world. A great opportunity and for those who are looking to buy as an investment this would probably be what you are looking for.
Starting Price: HK$380,000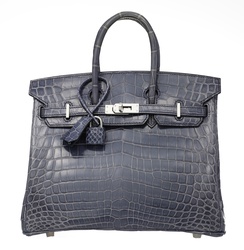 3. Hermès , Blue Brighton Crocodile Birkin 25cm, vibrant piece which every collector or Hermes fan would want into her wardrobe. Extremely desirable, very elegant, this lightly discolored pastel blue will be enchanting any owner. The creation technique to reach this colour is similar to the Himalayan color reach techniques.
Starting Price: HK$250,000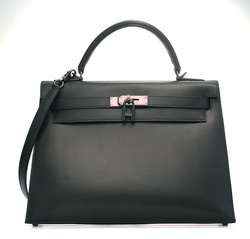 4. Hermès , The Kelly Millenium Moonlight is a truly extraordinary find and has never been seen in top auction houses around the world in top condition as it has been released in very limited quantities. It is characterized by an all black body and hardware a little similar to the so black but distinguished from them thanks to its 2000 labelled black push lock. This piece will be offered at a very competitive starting price at 50% less than So black (item number 4).
Starting Price: HK$120,000
5. Hermès, the so black collection, released in the 2010, is an extraordinary collection of bags in black and only black materials. This piece is known for achieving world records at auction for a non-exotic leather handbag. It has been selectively distributed to top VIP clients of Hermes house during that period and the collection has since gone through the years being more and more coveted as perfect condition pieces are nearly impossible to find today. The collection being discontinued, the value of each of these pieces is incredible and will continue to thrive over the years as unique collectors.
Starting Price: HK$230,000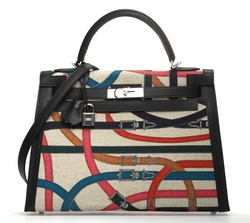 6. Hermès, the Kelly cavalcadour is a 2017 released Limited Edition equestrian canvas Kelly only made in 32 cm size for now and that shows the beautiful art work of Hermes artisans. It is fresh from the store and is already sold out so it is a chance to add a fresh touch to an already nice collection of great pieces. This is an inédit yet original Hermes piece, with all the house tradition represented on this canvas.
Starting Price: HK$150,000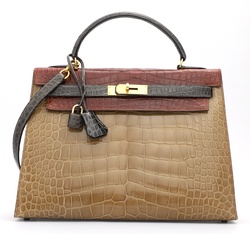 7. Hermès, rare tricolore etoupe, ficelle and etrusque shiny alligator 32 cm Kelly with gold hardware. A vintage piece in very good condition which is extremely difficult to find in this size. A great opportunity for a devoted collector as it will be offered at an extremely competitive starting price, offered at around 3 times less than what we have seen at auction in the last few years.
Starting Price: HK$200,000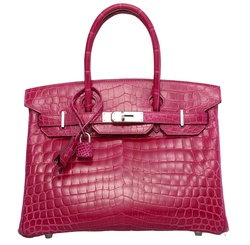 8. Hermès, a vibrant rose Scheherazade shiny niloticus crocodile Birkin 30cm. This piece stands out for its vibrant beautiful color - the most popular and desired color worldwide.
Starting Price: HK$320,000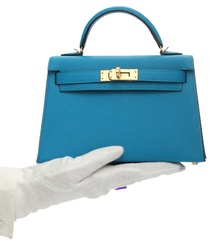 9. Hermès, a Blue zanzibar chevre chandra mini kelly sellier 2 with gold hardware, very new to the market as it was only released by Hermès last year.
Starting Price: HK$80,000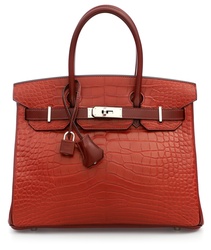 10. Hermès, a rare special edition H alligator Mat, Togo and Box material Birkin 30 cm with palladium hardware. Very special for the 3 different types of leather used and a limited edition that has not been seen at auction very frequently.
Starting Price: HK$220,000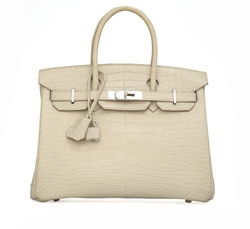 11. Hermès, A Beton Alligator Matt birkin 30 cm with palladium hardware. A beautiful piece from a rare collection for it is very laborious process of decoloring the skin, same process used for the famous Himalayan line.
Starting Price: HK$280,000
About Spink
Spink is the world's leading auctioneer of stamps, coins, banknotes, medals, bonds & shares, autographs, books and wine. Since its foundation in 1666, the Spink name has become synonymous with tradition, experience and integrity. Holder of royal warrants and numerous records for prices achieved at auction, Spink offers an unparalleled range of services to collectors worldwide. Headquartered in London, with offices in New York, Hong Kong, Singapore and Switzerland, Spink holds over 70 auctions a year. Catalogues can be accessed through the Spink website (www.spink.com) or via the Spink App for iPhone and iPad.
About Brand Connection Paris
Brand Connection was founded in 2006. The founders have a passion for French luxury and traditional handcrafting, specializing in searching for rare and vintage Hermès pieces. They then extended their expertise over the years to other prestigious French labels. Since then they have been supplying the rarest bags to all major global auction houses active in that space.