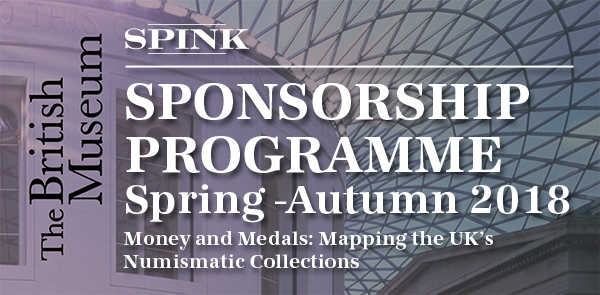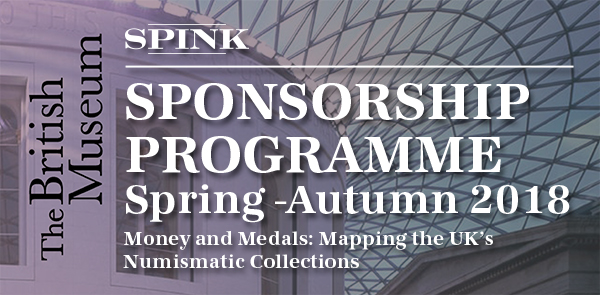 Money and Medals: mapping the UK's numismatic collections is the first of two British Museum exhibitions in Room 69a to be sponsored by Spink. It celebrates the achievements of the Money and Medals Network, one of many subject specialist networks that provide help and advice to UK museums. Run by the British Museum, the Money and Medals Network promotes numismatics – the study of coins, medals, banknotes and associated objects – and enables the sharing of knowledge in this field. This exhibition will demonstrate the geographical spread of this work through of the display of objects from six participating institutions, many of which have never been loaned before.
A framed set of replica Greek coins, dating to the late 19th century, has been specially loaned from the Science Museum for the display. In the past, the British Museum shared numismatic knowledge with other museums, in what could be seen as an early numismatic network, by making and distributing replicas of coins from its own collection. The examples chosen were considered by the Museum to be particularly fine examples of coins from different periods, and their distribution enabled other institutions to share the Museum's collection. The British Museum shares numismatic knowledge in different ways today, through projects like the Money and Medals Network.
Over 150 museums, country houses, libraries and universities from across England, Wales, Scotland and Northern Ireland are members of the Money and Medals Network. The objects in this exhibition represent the range of diverse collections that are available for visitors to UK museums to enjoy, including unusual objects such as badges, toy money and money boxes. Exciting loans from the Magic Circle Museum will be displayed, including a Magic Money Machine which seemingly transforms a roll of blank paper into banknotes, and a boxed set of coin tricks which must be displayed closed to ensure that no secrets are revealed. The use of money in the performance of magic continues to fascinate today, demonstrating that while numismatic objects may be small, they are certainly not boring.
Representing the UK's military museums, the exhibition will also include objects belonging to Henry Hook VC, from the Regimental Museum of the Royal Welsh, which have never been loaned to another museum before. After winning the Victoria Cross for gallantry at the Battle of Rorke's Drift, Hook was helped to a position in the British Museum, dusting the books in its library collection, by a letter of recommendation written in 1881 by his former commanding officer Lord Chelmsford. This will be displayed alongside letters from John Chard and John Williams VC as well as Hook's set of medal miniatures. These objects illustrate Hook's story and his connection to the British Museum, while offering a rare opportunity to see autographed letters from three important figures in the Anglo-Zulu War, which was fought between the British Empire and the Zulu Kingdom in 1879.
Representing Network activity in Northern Ireland are loan objects from Armagh Robinson Library, an institution founded in 1771 by Archbishop Richard Robinson. Robinson collected coins and medals and a selection of his Roman coins and replica medals of Louis XIV will be included in the display. A varied range of numismatic objects borrowed from Inverness Museum and Art Gallery will also feature in the exhibition, representing local history collections and the Network's presence in Scotland.
Another example of the Network's success will be told through objects from Knowsley Hall. A collection of mostly Roman coins was discovered at this Merseyside country house in 2013. This display will include a selection of coins and tokens from Knowsley and a copy of the Money and Medals newsletter that featured a request for help from local numismatists that led to the collection being fully identified and catalogued.
Money and medals: mapping the UK's numismatic collections, sponsored by Spink, seeks to raise awareness of the work of this subject specialist network, which aims to make numismatics more accessible to museum staff and the public alike. The selection of objects on display reveals the wealth of collections held in UK museums and other public institutions.
Hartwig Fischer, Director of the British Museum, said: "The British Museum is delighted to be hosting this display, marking the beginning of a partnership with Spink. It is thanks to their generosity that we are able to bring this display to life".
Olivier Stocker, Chairman and CEO of Spink, said: "After celebrating our 350th year of continuous business in London, we wanted to lay the foundations for our next century in Numismatics, a cornerstone of our operations globally, and this partnership with the British Museum is a natural fit towards that future. The first two exhibitions are fascinating and we cannot wait to welcome our friends and clients to the British Museum for some inspiration with the guidance of the curators from our august neighbour. It is an honour and privilege to be associated with the best museum in the world".
Henry Flynn, exhibition curator at the British Museum, said: "The Money and Medals Network has been actively helping museums with numismatic collections since its creation in 2008. Activity has spread from England to Scotland, Wales and Northern Ireland so it is now a truly national network. This exhibition celebrates this work as well as championing the subject of numismatics through the display of loan objects from six fantastically diverse collections. Numismatic objects may be small, but they can be used to tell big stories which is something this exhibition aims to demonstrate."
---
Notes to editors
Money and Medals: mapping the UK's numismatic collections
Sponsored by Spink
is on view in Room 69a from Thursday 22 March to Sunday 30 September 2018.
Open Saturday – Thursday 10.00–17.30, Friday 10.00–20.30.
Gallery talks by exhibition curator Henry Flynn will accompany this display.
Spink
Spink is the world's leading auctioneer of stamps, coins, banknotes, medals, bonds and shares, autographs, books and wine. Since its foundation in 1666, the Spink name has become synonymous with tradition, experience and integrity. Holder of royal warrants and numerous records for prices achieved at auction, Spink offers an unparalleled range of services to collectors worldwide. Headquartered in London, with offices in New York, Hong Kong, Singapore and Switzerland, Spink holds over 70 auctions a year. Catalogues can be accessed through the Spink website (www.spink.com) or via the Spink App for iPhone and iPad.
Coins and Medals at the British Museum
The Department of Coins and Medals is home to one of the world's finest numismatic collections, comprising about one million objects. It spans the history of coinage from its origins in the 7th century BC to the present, and includes related material such as coin weights, tokens and money boxes. The Department holds the national collection of paper money, from early Chinese notes to euros, as well as a magnificent selection of commemorative and art medals from the Italian Renaissance to the present. It is home to the most extensive numismatic library in the country which, like the collection, exists for the benefit of scholars and general public. The collection is brought to a wide audience through temporary exhibitions, publications, a broad programme of events and Study Room facilities. The Citi Money Gallery (Room 68) chronicles the development and use of money throughout the world.
For Enquiries please contact Newton Tsang at [email protected] or +852 3952 3000