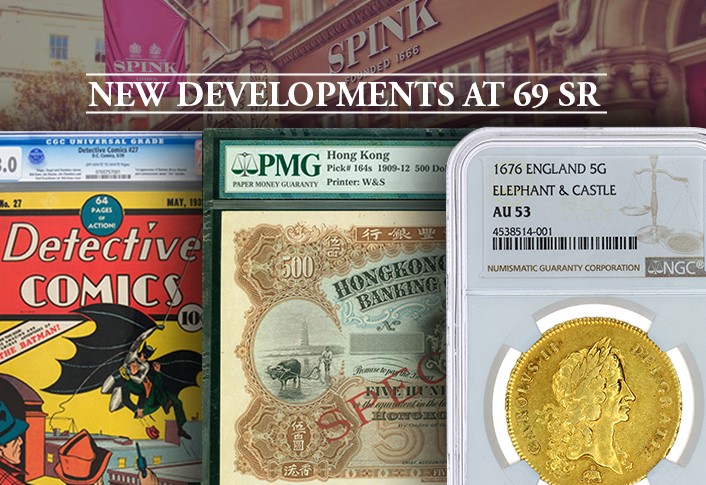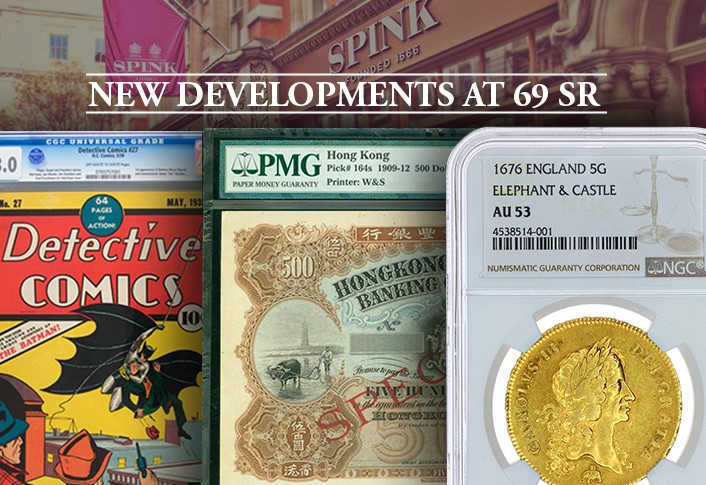 CCG to Open London Office in April 2018 in Spink's London premises
PMG, NGC AND CCS grading services available at 69 SR and a new collectables category for Spink
Spink and The Certified Collectibles Group (CCG) are excited to announce that CCG will open an office in London in April. The new location will accept submissions to the independent members of CCG, which include Numismatic Guaranty Corporation (NGC), Numismatic Conservation Services (NCS), Paper Money Guaranty (PMG), Certified Guaranty Company (CGC) and Classic Collectible Services (CCS).
CCG's London office will occupy the third floor of Spink's headquarters, just steps from the British Museum. Established in 1666, Spink is the leading UK-based collectibles auction house with a dominant position in many areas of numismatics and an unparalleled global reach through a network of long-established auction rooms in New York, Hong Kong, Switzerland and Singapore. The CCG and Spink spaces will be completely independent.
NGC, PMG and CGC are the world's largest third-party coin, banknote and comic book certification services, respectively. Each company employs a team of specialists who authenticate collectibles, assign a grade on an internationally recognized scale and then encapsulate the collectibles in secure holders designed for long-term preservation. Collectibles certified by NGC, PMG and CGC are backed by the respective company's guarantee.
Certification by NGC, PMG and CGC has added transparency, confidence and liquidity to collectibles markets around the world. This has led to higher prices realized for NGC-certified coins, PMG-certified banknotes and CGC-certified comic books. Together, the companies have certified more than 46 million collectibles.
In addition to certification services, CCG provides professional coin conservation services and professional comic book restoration services through its independent member companies NCS and CCS, respectively.
The presence of CGC comic book grading services has rekindled an old flame in Spink: The successful comics auctions in Hong Kong in 2015 and 2016 with Artcurial. Hence we are pleased to announce that we will include comics in the range of our collectables categories in 2018.
"Third-party certification from services such as NGC and PMG has helped to expand the coin and paper money markets around the world, and I experience it first-hand every day in Hong Kong at Spink China," said Olivier D. Stocker, Chairman and CEO of Spink. "Our UK and European clients increasingly demand NGC-certified coins and PMG-certified notes, and we are fortunate to offer them these services within our flagship building. Together with PMG and NGC, Spink is thrilled to offer a new leading 'one-stop shop' service to collectors and dealers in London."
"The United Kingdom is not only home to a significant number of coin, banknote and comic book collectors and dealers, but it is also a hub for collectors and dealers who travel from other areas, such as Russia, India and the Middle East," said Steven R. Eichenbaum, CEO of CCG. "Together with our Munich office, this London location will provide an enormous region with better access to our coin, paper money and comic book certification services.
About Spink
Spink is the world's leading auctioneer of stamps, coins, banknotes, medals, bonds and shares, autographs, books and wine. Since its foundation in 1666, the Spink name has become synonymous with tradition, experience and integrity. Holder of royal warrants and numerous records for prices achieved at auction, Spink offers an unparalleled range of services to collectors worldwide.Headquartered in London, with offices in New York, Hong Kong, Singapore and Switzerland, Spink holds over 70 auctions a year. Catalogues can be accessed through the Spink website (www.spink.com) or via the Spink App for iPhone and iPad.
Spink previous foray in comics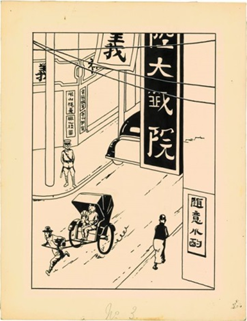 In 2015 at the first ever auction of comics in Asia this was a spectacular result for the Spink and Artcurial team. Lot number 1, The Blue Lotus, the stunning illustration from Hergé, with its beautiful geometric lines that simultaneously convey a quiet movement efficiently yet with a certain amount of juxtaposing stylized flair. It realised HK$9,625,000, (1.1 M euros/1.25 M US dollars) For the only original drawing left from this mythical album left in private hands, this was a stunning result.
About Certified Collectibles Group® (CCG®)
CCG is comprised of six of the world's leading coin, paper money, stamp and comic book service companies: Numismatic Guaranty Corporation (NGC), Numismatic Conservation Services (NCS), Paper Money Guaranty (PMG), Authenticated Stamp Guaranty (ASG), Certified Guaranty Company (CGC), and Classic Collectible Services (CCS). The first and largest of the CCG companies is NGC, which was founded in 1987 and has since graded more than 39 million coins. Its success led to the establishment of CGC, a third-party comic book grading service, in 2000; PMG, a third-party paper money grading service, in 2005; and ASG, a third-party stamp grading service, in 2017. Today, the CCG companies have graded more than 46 million collectibles.