SPINK CHINA | What could be a more perfect way to see October and the coming autumn months in than with an Evening of Fine and Rare Whiskies at Spink's prestigious Hong Kong facilities? On 3rd October 2017, Spink will be opening its doors from 5pm to all coinessuers of the finer things.
The show stopper of this event will be lot 88, a cask of Macallan 1987. Distilled by The Macallan Distillery 13th April 1987. (Cask number 3335).
It is a Single Malt Scotch Whisky maturing in sherry hogshead. Measuring 102 RLA 50.5% as of April 2017, producing around 288 bottles of 30-year-old Macallan at cask strength. It is currently being stored at The Macallan bonded warehouse, in Scotland patiently awaiting a devoted buyer.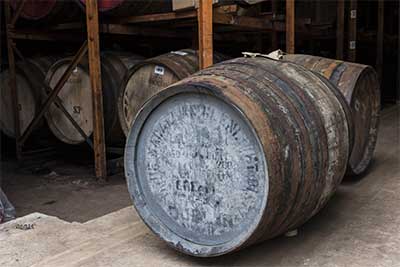 In the tasting note by Scotland's leading whisky expert, Charles MacLean the cask was described as having an appearance of: "Deep umber; old polished oak. American oak sherry transport hogshead. Very light beading - to be expected at this strength", and the aroma of "A mild nose-feel effect, and a relatively closed nose initially. A warm and welcoming aroma - mellow and gentle, with top notes of dry oloroso sherry, mid notes of Christmas cake (with marzipan and icing) and a slightly burnt base note". A stunning description that captures the senses. But that was not all MacLean had to comment on this item as he also included a note on the taste: "At natural strength the mouth-feel is drying. The taste is sweet, but not cloying - indeed there are traces of crystalized orange peel and angelica and some cooking spice in the long finish," and he concluded that "This is a terrific, understated, example of The Macallan. Gentle, sophisticated and unassuming, but still vivacious".
Lot 88, estimated: HK$1,900,000-2,800,000
For more information about this item or others contained within this sale, please contact: Tel: +852 3952 3000 | Email: china@spink.com
SPINK CHINA | 4/F Hua Fu Commercial Building | 111 Queen's Road West | Hong Kong
About Spink
Spink is the world's leading auctioneer of stamps, coins, banknotes, medals, bonds & shares, autographs, books and wine. Since its foundation in 1666, the Spink name has become synonymous with tradition, experience and integrity. Holder of royal warrants and numerous records for prices achieved at auction, Spink offers an unparalleled range of services to collectors worldwide. Headquartered in London, with offices in New York, Hong Kong, Singapore and Switzerland, Spink holds over 70 auctions a year. Catalogues can be accessed through the Spink website (www.spink.com) or via the Spink App for iPhone and iPad.