Many of our specialists here at Spink have been in this business for decades. They've seen collectables many of us only dream of holding or one day carrying in our own collections. Over time they build a catalogue of knowledge and a book of memories from the smallest to the largest collections with items of little value to items that are more valuable than the GDP of small countries. In this new segment of the Spink magazine we'll be asking our specialists what some of their top pieces have been since the day started in the business. First up to the plate is our Bond & Share specialist, Mike Veissid. Mike takes us through some of the more interesting Bonds & Shares and explains why each is a highlight for him personally.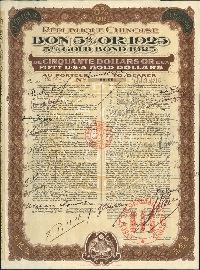 1. Always on the look out for that unique piece! Bond number 1 of the Chinese Government 5% Gold Loan, also known as the 'Boxer Loan' as it's origin was in the Chinese reparations agreed after the 1900 China War. In itself a number 1 bond is very collectable but what makes this unique is that it was kept as an archive piece by the issuing bank, the Banque Industrielle de Chine and therefore has all of its original coupons. Not only that, it has also been signed by all of the officers of the bank at the time this very important loan was made to China. This piece will be offered in our January Hong Kong sale with an estimate of HK$6000 to 8000, but who knows what it will sell for!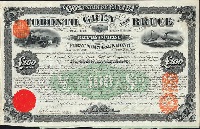 2. A very attractive £100 First Mortgage bond of the Canadian Toronto, Grey and Bruce Railway Company. This 999 year loan was issued in 1884 and was quoted on the Stock Exchange until the late 1990's when called for redemption by the Canadian Pacific Railway, which had acquired the line many years before. This provided the collector with a very nice piece of Canadian history and at the same time paying £4 interest on presentation of the coupons twice a year! A great link between both Stock market and collectors market.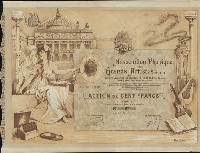 3. French certificates are often very colourful and attractive, designed by some of the great Edwardian artists. This example, designed by Paul Poncet in art nouveau style has many elements of interest to the collector including an attractive lady whose dress has fallen seductively off her shoulder. The company was formed by major artistes to maximize their profits from recordings of their work but was in financial difficulties by 1910. It was subsequently acquired by Pathé Freres.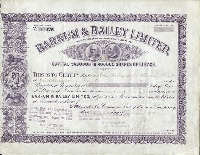 4. A great example of British and American co-operation. A lovely share certificate of Barnum & Bailey Ltd., dated 1902, depicting both showman PhineasT.Barnum and J A.Bailey and printed by Waterlow & Sons. The company was formed in England in 1899 at the start of the Barnum and Bailey Circus European Tour. The circus was the largest in the world at the time, operating 3 rings instead of the European norm of only one (the origin of the term 'a three ring circus'). A huge logistical task was moving the circus from town to town and for this a special 60 coach train was used. The circus was sold to Ringling Brothers in 1906 following the untimely death of Bailey. Barnum had died in 1891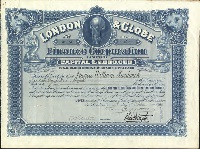 5. & 6. A particular collecting favourite are fraud related certificates. Whitaker Wright was an English born company promoter who first came to prominence in the American mining market, floating companies in Colorado and New Mexico. He later became chairman of the Philadelphia Stock Exchange. Finding his way back to London, Wright floated mining companies on the London Stock Exchange with property in Western Australia and British Columbia. As is often the way, the financier took on larger and larger projects, found himself with liquidity problems and used money from his one company to keep another afloat. This ended with a collapse of his empire and panic on the Stock Exchange and in 1904 he was tried for fraud. After being handed down a seven year prison sentence Wright swallowed a cyanide tablet and died in a court anteroom. Here are examples of two certificates, both bearing his facsimile signature.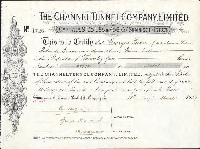 7. Channel Tunnel Co. Ltd., a certificate for 4 shilling shares, dated 1929, issued to a French shareholder. This company dates back to the 1880's when test drillings were made at both sides of the Channel but the scheme was abandoned because of fears of an invasion from the Continent. The test drillings can still be seen at Shakespeare Cliff near Folkestone, very close to the present tunnel entrance.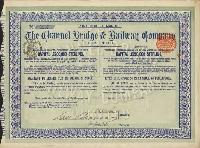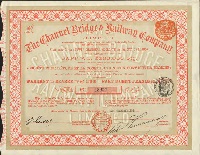 8. & 9. The Channel Crossing. The Channel link between England and France had been talked about since 1802 and numerous ideas had been floated (pun not intended) for tunnels, tubes and railway ferries. Several schemes were beyond the engineering capabilities of the time but others which could have worked were abandoned due to fears for our national defence. Even in the 1880's there were fears of a French invasion! Here are a few examples available to the collector…..
Channel Bridge & Railway Co. Ltd., certificates for £4 stock, 1889 and £4 founders' stock, 1891. Another failed scheme, this time for an above water link between England and France. The word bridge is erroneous as the trains were to be loaded onto a large ferry which would cross the channel and be offloaded onto the French railway system
9. Beaumont Compressed Air Locomotive Co. Ltd., 7% preference shares of £10 dated 1882. Colonel Beaumont was an engineer of some repute who built the compressed air boring machine that started to cut the Channel Tunnel in 1880. When the tunnel was to have been completed the Beaumont locomotive, weighing 60 to 70 tons, would be drawn through the tunnel at about 30 miles per hour.
10. Channel Tubular Railway Preliminary Company Ltd., a founders share certificate dated, London 1892, very attractive piece with vignettes around border of English and French coast, tube resting on the seabed. This was one of the more unrealistic schemes for a channel link with a metal tube resting on the seabed in which the railway ran.