SPINK LONDON | Another September rolls around, and with it another pair of banknote shows in Maastricht and London. Spink are holding a total of seven Spink banknotes auctions to coincide with these shows. The World Banknotes sale is another gargantuan one at almost 2000 lots and will take place from 27th - 29th September 2017 in London. Spink banknote specialist, Barnaby Faull, commented: "I've been in the banknote business for 43 years now, and not much gets me excited any more, but I should mention some of the many items that caught even my somewhat jaundiced eye".
Firstly, there are some lovely Ceylon items this time, including a note from an era when the Dutch ruled Ceylon. Lot 1297 is a Dutch VOC issue (United East India Company) 5 rijksdaalders 'Kredit brief', Colombo, from 17 September 1795. Ceylon was ruled by the Dutch East India Company between 1640 until their surrender to the British on the 14th February 1796, the year after the issue of the above mentioned banknote. A most important financial document issued at a turbulent period of Ceylon's history. There is one other example believed extant and that is in the Dutch Maritime Museum in Amsterdam. Very fine and of the highest rarity and historical significance to the currency of the Netherlands East Indies and of Ceylon.
Lot 1297, estimated: £20,000 - 25,000
The sale also contains a lovely group of early Egypt. Included are a truly fascinating group of archival photographs of Egyptian currency that never made the presses. There is even a photograph of a design featuring a portrait of the English King, Charles I (lot 1547). It is a reverse archival photo showing a design for £1, 3 January 1926, black and white, portrait of Charles I of England at right, Pharaoh in watermark at left, value at centre and corners, reverse, building and well at centre, at first glance this is one of the more amusing items in the group. Charles I's presence on an Egyptian note simply shows that the designers were awaiting confirmation of who was to feature on the latest design. Charles was used as a placeholder on designs for several countries during this period. The tomb of Pharaoh Tutankhamen was discovered in 1922 and evidently it was judged significant enough that a vignette of his golden mask was used on the series of 1930. The presence of Charles I on these designs does suggest that there was some debate about this choice even as early as 1926. One wonders what he would have made of the pyramids, or what they would have made of him!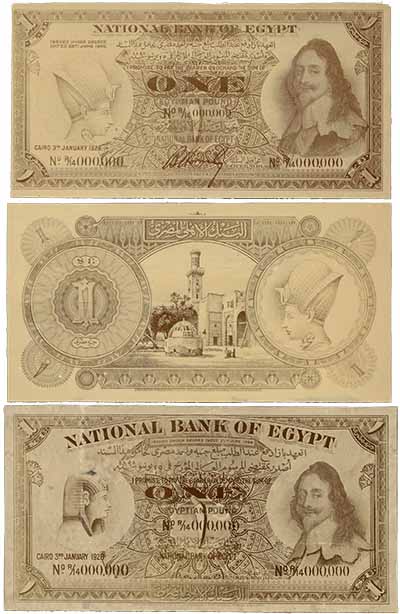 Lot 1547, estimated: £1,000 - 1,200
An obvious highlight are two trial 500 rials dated 1938 (lots 1917 and 1918) from the Banque Nationale d'Iran. This Bank never existed, let alone issued currency, and yet here we are with two trials.
Lot 1917, estimated: £1,500 - 2,000
Lot 1918, estimated: £1,500 - 2,000
One of our most exciting finds recently was a superbly preserved 10 pesos from the Spanish Philippines dated 1865 (lot 2464). It is completely new to the market, and we liked it so much that you can see the note on the rear cover.
Lot 2464, estimated: £8,000 - 12,000
For more Information, please contact Andrew Pattison:
Tel: +44 (0)20 7563 4044 | Email: [email protected]
About Spink
Spink is the world's leading auctioneer of stamps, coins, banknotes, medals, bonds & shares, autographs, books and wine. Since its foundation in 1666, the Spink name has become synonymous with tradition, experience and integrity. Holder of royal warrants and numerous records for prices achieved at auction, Spink offers an unparalleled range of services to collectors worldwide. Headquartered in London, with offices in New York, Hong Kong, Singapore and Switzerland, Spink holds over 70 auctions a year. Catalogues can be accessed through the Spink website (www.spink.com) or via the Spink App for iPhone and iPad.