SPINK LONDON | This summer will see a very interesting sale of British and Foreign Coins and Commemorative Medals at Spink London. The sale is packed with quality material and many historically important items. The sale will take place on the 5th July and contains a substantial collection of Celtic coins, the remaining coins from the Lord Stewartby Collection, which Spink have had the pleasure of selling throughout 2016-17, and a collection of Historical Medals.
Spink have seen many Celtic coins in the auction room, but there are some spectacular examples to be found from lots 1 - 68. Most of the coins were found recently by some very lucky metal detectorists. From amongst this fine array lot 4 is particularly worth a mention, it is a Cantii, uninscribed coinage (c. 50-25BC), silver Unit and very rare. It was found in Kent and recorded with the Ashmolean Museum, Oxford. This specimen is of particular numismatic interest being the first known example of its type to exhibit the full iconography displayed above the horse. Instead of depicting the full head of a bucranium, the design is confirmed as a more simplistic pair of bull's horns with annulet tips. A very attractive coin fit to grace the finest collections.
Lot 4, estimated: £400 - 600
Just before the section dedicated to British Historical Medals, comes lot 216 an Eire, Padraig H. Pearse (1879-1916), 50th anniversary of the Easter Rising medallion from 1966 in gold. A spectacular item with a very poignant background.
Lot 216, estimated: £5,800 - 6,200
In and amongst the British Historical Medals are some fascinating items which the catalogue details in full. Many have exciting and even heartfelt stories attached to the awards and the recipients. One of which is lot 247, a Royal Geographical Society, Patron's Medal awarded to 32 Edward Ayearst Reeves. Monthly notices of the Royal Astronomical Society vol. 106 p.32 Edward Ayearst Reeves was born on 1862 February 9 at Lewes Sussex and at the age of 16 became Junior Assistant in the Map Room of the Royal Geographical Society thus entering on a lifetime of service to travellers and all students of scientific geography. By his own determined efforts he soon acquired a mastery of his subjects and as a result of this achievements he was appointed to the position of map curator in 1900. In 1901 he became instructor in practical astronomy and surveying, and in 1904 superintendent of the map drawing department, which post he held until his retirement in 1933. His kindly, modest nature won for him the confidence and affection of his students, and practically all the eminent travellers of his day, from Stanley onwards, consulted him and travellers to all parts of the world are to be found among his students. The honours awarded him were well earned not only for his own scientific work but also for the inspiration he infused in others. An extremely fine piece and very rare, in original case with the original gilt band engraved MR E. A. REEVES, 1928.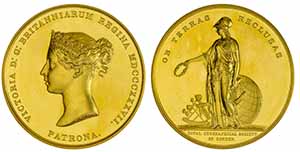 Lot 247, estimated: £8,000 - 12,000
However the show stopping lot from this sale is 266, the front cover item: a Charles II (1660-85), Guinea from 1663. A visually spectacular item with an attractive rose-red tone, extremely fine with lustrous original surfaces and is expected to fetch between: £25,000-30,000.
Lot 266, estimated: £25,000 - 30,000
The catalogue is available online on the Spink website. For more information about the sale, please contact Richard Bishop:
Tel: +44 (0)20 7563 4053 | Email: [email protected]
About Spink
Spink is the world's leading auctioneer of stamps, coins, banknotes, medals, bonds & shares, autographs, books and wine. Since its foundation in 1666, the Spink name has become synonymous with tradition, experience and integrity. Holder of royal warrants and numerous records for prices achieved at auction, Spink offers an unparalleled range of services to collectors worldwide. Headquartered in London, with offices in New York, Hong Kong, Singapore and Switzerland, Spink holds over 70 auctions a year. Catalogues can be accessed through the Spink website (www.spink.com) or via the Spink App for iPhone or iPad.