SPINK LONDON | Spink will be selling the seventh part of the 'Lionheart' Collection of Great Britain and British Empire on the 22nd June in London. Previous sales of this vast holding have contained some impressive prices realised and we are confident that the high-quality material in this sale will achieve similar results.
One of the many items of interest from this sale is lot 36, a Bahamas 1963 Freedom from hunger 8d. sepia with country name and value omitted, used on parcel piece. But what makes this piece so interesting is that it is only identifiable as Bahamas by the postmark. This is a major QEII rarity as it is the only recorded used example. This lot is offered with provenance and newspaper cuttings detailing the history of this elusive and most unusual error.
Lot 36, estimated: £1,000 - 1,200
Lot 121 is also very interesting for collectors of Cook Islands. It contains an 1892 (Apr.) 1d. to 10d. set of four, in blocks of four, cancelled to order with 19th April boxed postmarks in violet on day of issue, accompanied by a letter dated 26 May 1892 signed H Garnier, Chief postmaster stating "I have much pleasure in sending you the stamps ordered, and hereby certify that they are the first ever sold of the first ever printed for the first Government of the Cook Islands". A superb group.
Lot 121, estimated: £800 - 1,000
This sale includes a very exciting opportunity to own a part of the greatest collection of stamps ever formed, the Ferrary Collection. This example is an 1856 4c. black on magenta, January issue with "E.D.W." initials, used with large margins and cancelled by February 1856 c.d.s. A desirable and important rarity, bearing Ferrary's 'clover' handstamp on the reverse. This item was photographed in the 1921 sale catalogue when his collection was broken up.
Lot 80, estimated: £6,000 - 8,000
From one impressive collection to another, lot 131 is an 1878-1944 superb collection of Falkland Islands virtually complete with a myriad of additional shades, varieties, cancellation pieces, covers and multiples. Victorian issues including Bourne head issues from S.G. 1 used, multiples of most values mint and used including 1882 6d. greyblack mint (3), 1885-91 "Crown to right of CA" varieties for 4d. in both shades, mint, (S.G. 9w, 10w), S.G. 12 mint (10), 1891-1902 extensive collection including shades and multiples, covering all values and including blocks, strips and marginal pieces, a complete sheet of the 1⁄2d., 1898 high values, 2/6d. (5), 5/- (4), 1904-12 and 1912-20, War Stamp issues and 1921-29 sets again complete with extra shades, varieties and some usage including blocks of four, pieces and covers, 1929-36 'Whale and Penguin' duplicated holding with multiple mint stamps. This collection remains a quite extraordinary holding and a major opportunity, this popular colony is rarely offered so complete.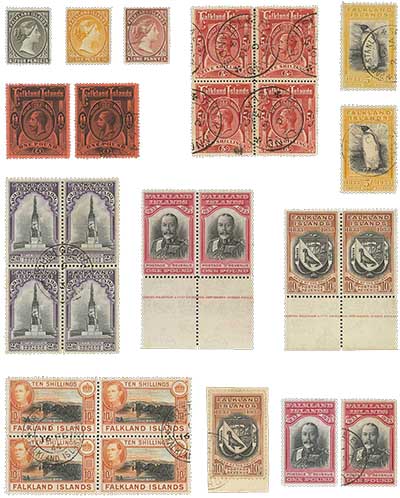 Lot 131, estimated: £20,000 - 25,000
For more Information, please contact George James:
Tel: +44 (0)20 7563 4080 | Email: [email protected]
About Spink
Spink is the world's leading auctioneer of stamps, coins, banknotes, medals, bonds & shares, autographs, books and wine. Since its foundation in 1666, the Spink name has become synonymous with tradition, experience and integrity. Holder of royal warrants and numerous records for prices achieved at auction, Spink offers an unparalleled range of services to collectors worldwide. Headquartered in London, with offices in New York, Hong Kong, Singapore and Switzerland, Spink holds over 70 auctions a year. Catalogues can be accessed through the Spink website (www.spink.com) or via the Spink App for iPhone and iPad.