SPINK USA | Spink have hit the ground running this January 2017 with a host of auctions taking place around the world and featuring the finest quality material! Whether you're in Hong Kong, New York or London, Spink has something for you. New York will see three auctions taking place during the International Numismatic Convention, however there will also be another of their famous Numismatic Collector's Series Sale to round the entire event off with. The sale features a fine array of coins, paper money, medals and militaria sure to pique the connoisseur and the discerning collector's tastes.
From amongst the weighty section of historical and world coins shines lot: 54. An English James II (1685-1688) two guineas from 1687. A stunning piece sure to set the room furiously bidding.
Lot 54, estimated: $7,000 - 8,000
There is also an exceptionally beautiful 3 taler of the German State Brunswick-Luneburg-Celle. Designed by Christian Ludwig (1648-1665).
Lot 37, estimated: $2,500 - 3,500
There is also a very large and fine selection of Victorian pennies, of which lot 85 is a beautiful example:
Lot 85, estimated: $1,000 - 1,500
From amongst the medals and militaria is a fantastic amount of foreign orders that are visually very stunning, and also historically important to the military history enthusiast. This portion of the sale also boasts a hefty part of the John Lagioia Collection of Italian Orders and decorations. Of particular note from this collection is lot 556. A gold Italian Medal of Military Valour for actions in World War II. Awarded to: SANTANGELO ANTONIO SICILIA - LUILIO 1943. A fantastic collector's piece which we are sure will set the room, phones and internet furiously bidding.
Lot 556, estimated: $450 - 550
The paper money section boasts a spectacular piece of American numismatic collectibles history: a Kansas Territory, Leavenworth City from the Office of Russell, Majors & Waddell $50 (lot 839). The corresponding bankers, noted at the bottom are Smoot, Russell and Company. Printed by Francis & Loutrel 45 Maiden Lane, New York. Almost Uncirculated, and perhaps a Proof. Interestingly, Russell, Majors, and Waddell organized the Central Overland California & Pikes Peak Express (known as the Pony Express) in order to demonstrate that mail could be carried year round using the Central Route to California. Once they proved the feasibility of this route they were sure that government subsidies would be forthcoming. The Pony Express proved to be an efficient mail service, but it did not turn a profit. The company grossed $90,141, but that hardly even covered the cost of the horses. While this note had been rumoured to exist, no other examples are known to the numismatic community. Neither John Ford nor Eric Newman ever managed to acquire one. This may be your only chance to add this wonderful piece of Western history to your collection, so bid accordingly.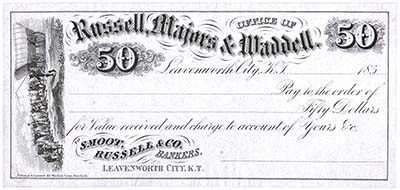 Lot 839, estimated: $5,000 - 10,000
These items and many many more will be available in this auction. For more information, please contact Greg Cole:
Tel: +1 212 262 8400 | Email: [email protected]
SPINK USA | 145 West 57th St. | 18th Floor | New York | NY 10019
About Spink
Spink is the world's leading auctioneer of stamps, coins, banknotes, medals, bonds & shares, autographs, books and wine. Since its foundation in 1666, the Spink name has become synonymous with tradition, experience and integrity. Holder of royal warrants and numerous records for prices achieved at auction, Spink offers an unparalleled range of services to collectors worldwide. Headquartered in London, with offices in New York, Hong Kong, Singapore and Switzerland, Spink holds over 70 auctions a year. Catalogues can be accessed through the Spink website (www.spink.com) or via the Spink App for iPhone and iPad.