SPINK LONDON | Yesterday, many witnessed a wonderful sight in Spink's London auction room; an entirely non-profit auction of the brand new Bank of England notes. The auction began at 5pm and continued till 8pm with a jam-packed room and voracious bidding on the phones and internet.
The auction started with the Chief Cashier of the Bank of England, Victoria Cleland, auctioneering the first lot. The lot was the lowest serial number of the new Bank of England polymer notes, the £5 ND (2016) AA01 000017. Bearing the iconic image of Winston Churchill on the reverse. The lot attracted much attention with an excited flurry of bidding. The first lot of the sale set the tone for the rest of the auction by exceeding its estimate significantly at £4,150.
Lot 1, realised: £4,150
Many more fantastic results proceeded to follow the first lot's success, highlights included:
Lot: 118. Bank of England, Victoria Cleland, £10, ND (2014), serial number LH01 000001. Realised: £3,800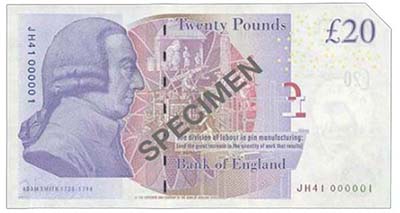 Lot 126. Bank of England, Victoria Cleland, £20, ND (2014), serial number JH41 000001. Realised: £5,200
Lot 134. Bank of England, Victoria Cleland, £50, ND (2014), serial number AJ36 000001. Realised: £8,500
Spink is thrilled with these results and the enthusiasm in the room was palpable, everyone wanted to get their hands on the lowest serial number possible! The auction was a great success, a white glove sale at that, selling every single item for above the estimated price. In total the auction realised £203,820. This money will be divided amongst the three charities chosen by the staff at the Bank of England each of which is dedicated to the support around young children. These are the Myotubular Trust, The Lilly Foundation and Bliss, the UK's leading charity for prematurely born babies.
It was an honour to be involved, and the auctioneer, Barnaby Faull commented; "It is always a very special type of excitement when compassion is combined with a collector's zeal to drive an auction, Spink very much looks forward to the next".
For more Information, please contact Andrew Pattison: Tel: +44 (0)20 7563 4044 | Email: [email protected]
About Spink
Spink is the world's leading auctioneer of stamps, coins, banknotes, medals, bonds & shares, autographs, books and wine. Since its foundation in 1666, the Spink name has become synonymous with tradition, experience and integrity. Holder of royal warrants and numerous records for prices achieved at auction, Spink offers an unparalleled range of services to collectors worldwide. Headquartered in London, with offices in New York, Hong Kong, Singapore and Switzerland, Spink holds over 70 auctions a year. Catalogues can be accessed through the Spink website (www.spink.com) or via the Spink App for iPhone and iPad.