SPINK CHINA | As we near the Spink's 350th anniversary this September, we are delighted to announce that Spink have been heavily involved in co-organising, with Stacks Bowers, Coins-in-Coins and Shouxi, what is set to be a truly fantastic and purely numismatic fair in Hong Kong. The very first Hong Kong Coin Show (HKCS), will take place on the 19th - 21st August at the Mira Hotel in one of Asia's most thriving cities. It will be a truly International show with more than 100 exhibiting dealers, mints, grading services, numismatic societies and associations not only from Asia but also the Pacific, Europe and the Americas.
The show will also have an added air of excitement and intensity as it takes place between 4 major numismatic auctions, including Spink's auction on August 17-18, 2016 (preview 14-16/8/2016). This should whet the appetite and set the mood for the show!
We look forward to welcoming many of our collector friends and trade partners from all four corners of the world on August 19th at Spink's stand A4-A5 for the grand opening of the HKCS! Come and enjoy free valuations for possible inclusion in one of our upcoming auctions. There will also be many opportunities to sell your material at the show, many companies, Spink included, will be happy to purchase material on the spot. We will also have a wide variety of coins, banknotes, rarities and delights for sale that should tempt even the most controlled collectors.
Spink and our three co-organising friends are absolutely thrilled with the amount of interest this show has amassed, nearly 100 tables have been filled with third party numismatic companies, which is very exciting as a little healthy competition never hurt anyone!
It is shaping up to be the largest purely numismatic show of the year in Hong Kong, and in honour of this, there will be many once in a lifetime opportunities not to be missed.
As many already know, 2016 is Spink's 350th year as a business rooted in integrity and the most respected specialist knowledge, and to commemorate this collectors will have the chance to buy commemorative proof 1 oz. silver and gold medals specially struck to celebrate Spink's anniversary and designed by the famous Lucky Zhao studio.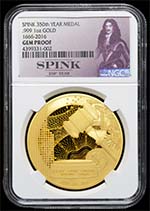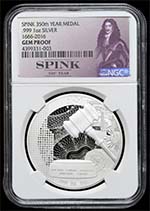 There will also be the opportunity to have your material graded onsite by the sponsors of the show: NGC/PMG and PCGS, who are well known for their world leading grading services. Thanks to the support of these sponsors, some of the most renowned experts in the world will be under the same roof for collectors to meet and talk to, such as: Mike Sargent from PCGS for world coins, Bruce Thornton from PMG for banknotes, Huaxia Grading for ancient Chinese coins and sychees and Professor Hsu Yih Tzong for Chinese banknotes and coins. Alongside this fantastic keepsake, Spink's stand will also have much information about Spink's upcoming numismatic auctions from all around the world for those eagerly awaiting news on the third instalment of Lord Stewartby's collection of English coins or the Nicholas Rhodes second sale of North East Indian coins.
Also available at the show will be the latest beautiful offering from the Singapore Mint. Many collectors will be familiar with The Royal Monetary Authority of Bhutan, who are issuing the inaugural Blessings of Happiness Lunar Coin Collection, also known as The Bhutan Lunar and Attraction series. Coins from this series are being released at various times between 2016 - 21017. Available in gold or silver, the latest coin to be issued will portray on the obverse the demeanour of an energetic, striking and abundantly masculine crowing rooster, a symbol that traditionally brings about prosperity. Similar to the artistic style employed to decorate the monkey coin, the rooster design uses an innovative combination of large circular patterns and small decorative swirls to produce an effect of timeless charm. The reverse design features the National Memorial Chorten, popularly known as the Thimphu Chorten. Spink predicts that these beautiful coins will be very popular and another fantastic keepsake for the inaugural show.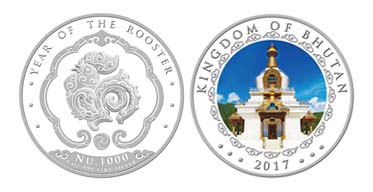 We wish our friends and colleagues from the numismatic world much enjoyment at this great new venue and welcome the chance to meet new collector friends too! Spink are confident that this show will be a smashing success and the start of a fantastic tradition of coin and banknote shows in Hong Kong!
For more information, please contact Kelvin Cheung: Tel: +852 3952 3000 | Email: [email protected]
SPINK LONDON | 69 Southampton Row | Blooms bury | London | WC1B 4ET
SPINK CHINA | 4/F Hua Fu Commercial Building | 111 Queen's Road West | Hong Kong
SPINK ASIA | 360 Orchard Road | #06-3A International Building | Singapore 238869
About Spink
Spink is the world's leading auctioneer of stamps, coins, banknotes, medals, bonds & shares, autographs, books and wine. Since its foundation in 1666, the Spink name has become synonymous with tradition, experience and integrity. Holder of royal warrants and numerous records for prices achieved at auction, Spink offers an unparalleled range of services to collectors worldwide. Headquartered in London, with offices in New York, Hong Kong, Singapore and Switzerland, Spink holds over 70 auctions a year. Catalogues can be accessed through the Spink website (www.spink.com), via the Spink App for iPhone and iPad and the Spink Wechat.