SPINK USA | Spink sees many of the finest collections of coins every year and is delighted to have the honour of preparing their catalogues and conducting their sales. This June will see two of the most spectacular coin collections to breeze in through Spink USA's front door. On June 21st Spink will be holding an auction of Ancient Coins: The Squires Collection and the Mendon Collection. A modest sale of just 138 lots, but do not be fooled by its size, there are many items in this sale which will pack quite a punch in the numismatic world.
But where to start? Containing a delightful selection of the finest items spanning from Magna Graecia, Sicily and Mainland Ancient Greece right through Asia, African and Indo-Greek coinage it is almost impossible to pick out just a few highlights in this array of stars.
Lot 8, from the Squires Collection, however, has a lot to say for itself. It is a Sicilian Syracuse 60 Litrae or Dekadrachm issued in 278 BC. It shows Persephone wearing pendant earrings on one side and Nike in a chariot on the other. Below Nike's horse's foreleg, the name EΠI IKETA has been erased from the die in the exergue. This is a very rare occurrence and thought to be the outcome of the violent power struggles and turbulence in Sicily following Maenon's assassination of Agathokles. The people of Syracuse appointed Hiketas as their general and protector. For nine years he ruled as a tyrant, but in 278 BC at the river Terias, he suffered a severe defeat at the hands of the Carthaginians. As a result, he was expelled from Syracuse by Thoinon, one of his officers. Thoinon, though, was soon after attacked by Sosistratos, the tyrant of Akragas and the city teetered on civil war. During this time, when Thoinon was faced with civil war and foreign invasion, there would likely have been no time to produce new coin dies with his own name on them. Thus, the dies prepared for Hiketas were used, with his name hastily effaced from the reverse - as in this example.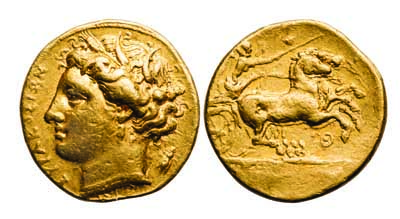 Lot 8, estimated: $4,000-5,000
Also from the Squires collection, however this time positively venerating the previous leader, lot 55 proudly stands as a testament of filial devotion. It is an Egyptian commemorative issue of a Ptolemy III Euergetes (246-222 BC) Oktadrachm (Mnaieion) struck under Ptolemy IV Philopator (221-205 BC). Everything about this coin deifies his father; it bears the bust of Ptolemy III right, wearing a radiate diadem for Helios, aegis for Zeus and trident for Poseidon. This was to show that Ptolemy III was master of the three Elements - Heaven, Earth and Sea.
While Ptolemy IV may have idolized his father, his filial affection certainly didn't extend to his mother. A drunken, vice-ridden ruler and devotee of orgiastic religious rites, Ptolemy IV ushered in his feeble reign by arranging the murder of his mother, Berenike II, and his uncle and brother.
Lot 55, estimated: $7,500-8,500
And now from the Mendon collection we have another unruly mother, or step-mother. Lot 77 is a Bruttium Stater, ca. 400-375 BC from Kroton bearing the face of the most notorious step-mother of all, Hera Lakinia. The reverse shows a youthful, nude Herakles, holding cup and club, reclining on a rock draped with lion's skin. The design of this coin celebrates Kroton's importance as guardian of the famed sanctuary of Hera Lakinia on the nearby Lakinian promontory, and marks Herakles as the city's founder. This may appear to be a somewhat quixotic juxtaposition as the jealous and vengeful Hera, Herakles' stepmother, tried to prevent Herakles' birth when he lay in the womb of his mother Alcmene. Unsuccessful, she later sent two serpents to kill the infant Herakles as he lay in his cot, which he quickly despatched. When he grew to adulthood, Herakles was dogged by Hera's intrigues, ploys and plots while he was on his many quests. Some myths, though, tell us that ultimately the two became friends after Herakles rescued Hera from being ravished by the Giant, Porphyrion.
The reverse is slightly off centre causing the head of Herakles to be lost, but this draws further attention to the level of precision and beauty in the head of Hera. It offers perhaps one of the finest known depictions of Hera, the majestic and solemn wife of Zeus. These coin types are often hampered by poor die work, wear or corrosion, however this immaculate example is of flawless metal quality and superb late Classical style.
Lot 77, estimated: $6,000-8,000
For more information, please contact Greg Cole:
Tel: +1 212 8400 | Email: [email protected]
SPINK USA | 145 W. 57th Street | New York | NY 10009
About Spink
Spink is the world's leading auctioneer of stamps, coins, banknotes, medals, bonds & shares, autographs, books and wine. Since its foundation in 1666, the Spink name has become synonymous with tradition, experience and integrity. Holder of royal warrants and numerous records for prices achieved at auction, Spink offers an unparalleled range of services to collectors worldwide. Headquartered in London, with offices in New York, Hong Kong, Singapore and Switzerland, Spink holds over 70 auctions a year. Catalogues can be accessed through the Spink website (www.spink.com) or via the Spink App for iPhone and iPad.