SPINK USA
New York, April 15, 2016
Spink USA is proud to announce that on 1 April a recovery was made of a long-lost 1918 24c Jenny air mail with center inverted when a prospective consignor, who had inherited the stamp, delivered it to their auction galleries for sale.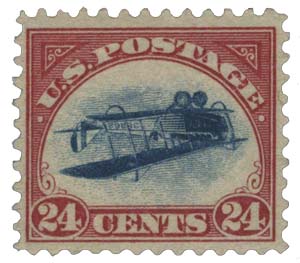 After careful expert examination the rarity was determined to be position 76 in the pane of 100 subjects. This position is the bottom right stamp from the famous McCoy block of four, which was stolen out of its exhibition frame in 1955 during the American Philatelic Society convention in Norfolk, Virginia. Ethel McCoy had purchased the block, from positions 65-66, 75-76, in 1936 from stamp dealer Spencer Anderson for $16,000 and it was her most prized possession. After the theft, the block was broken into four singles, and each copy was altered to disguise its appearance. Position 76 recovered by Spink had been reperforated at right and most of the gum was removed, so the pencil position numbers written on the gummed side had been lost, making identification a challenge.
1979 Ms. McCoy assigned all her rights to the block to the American Philatelic Research Library at the American Philatelic Society. Position 75, the top left stamp, turned up in 1958 at a Chicago stamp and coin dealer's shop and position 65, the bottom left stamp, was recovered in 1982.
George Eveleth, Head of the Philatelic Department said: "This is one of the most exciting events in my 38 year career in the stamp auction business." Once legal matters are settled Spink USA will be returning the stamp to its rightful owner, the APRL.
For more information, please contact: George Eveleth
Tel: +1-212-262-8400 | Email: [email protected]
SPINK USA | 145 W. 57th Street 18th Floor | New York, NY 10019
About Spink
Spink is the world's leading auctioneer of stamps, coins, banknotes, medals, bonds & shares, autographs, books and wine. Since its foundation in 1666, the Spink name has become synonymous with tradition, experience and integrity. Holder of royal warrants and numerous records for prices achieved at auction, Spink offers an unparalleled range of services to collectors worldwide. Headquartered in London, with offices in New York, Hong Kong, Singapore and Switzerland, Spink holds over 70 auctions a year. Catalogues can be accessed through the Spink website (www.spink.com) or via the Spink App for iPhone and iPad.