SPINK LONDON | Spink's first philatelic sale in London of 2016 is a fitting reflection of the high calibre of quality material Spink are known for; full of rarities and items for the discerning collector. In Spink's 350th year we are proud to be presenting The Philatelic Collector's Series auction of assorted stamps, covers and important pieces of postal history from around the world on the 27th - 28th January 2016 in London.
Early on in the sale is an incredible rarity: lot 420, the unique American-Style "PAID AT IRELAND ISLAND/BERMUDA" Datestamp from 1863. Found on a mourning envelope from Midshipman John Hemery Robinson, R.N. at Ireland Island to his mother on Campobello Island, New Brunswick from 22 Jan. 1863. Midshipman Robinson died late in 1870 at the tender age of 25 whilst serving as a Lieutenant on board H.M.S. "Endymion". He was buried at sea in the Sea of Japan.
This item shows a fine strike of the previously unrecorded American-style 32mm. "PAID AT IRELAND ISLAND/BERMUDA" circular datestamp and with locally made handstruck "6d" (the latest recorded date of use) at upper right, both struck in red. A remarkable cover only discovered in amongst an original family correspondence in the mid-1990s. In 2000 Geoffrey Osborn provided evidence confirming the purchase of an Ireland Island Paid datestamp in records for the year ending October 1863, the cost of the instrument being £1/19/6d.
Lot 420, estimated: £12,000 - 15,000
From the Great Britain portion of the sale are many items that pertain to the great debate between the sons of Rowland Hill and James Chalmers over who invented the postage stamp.
Rowland Hill commenced a detailed study of these documents and this led him to the publication in early 1837 of a pamphlet entitled "Post Office Reform its Importance and Practicability". He submitted a copy of this to the then Chancellor of the Exchequer, Thomas Spring-Rice, on 4 January 1837. This first edition was marked "private and confidential" and was not released to the general public but included the statement "…by using a bit of paper just large enough to bear the stamp, and covered at the back with a glutinous wash…". This was the first publication of a very clear description of an adhesive postage stamp.
The claim that James Chalmers was the inventor of the postage stamp first surfaced in 1881 when the book "The Penny Postage Scheme of 1837", written by his son, Patrick Chalmers, was published. In this book the son claims that James Chalmers first produced an essay for a stamp in August 1834 but no evidence has ever been provided to substantiate the claim. Lot 1055 is a collection of six letters, twenty-four pamphlets or tracts and a variety of notes and duplicates, including an 1883 letter from S. Moreley (M.P. and proprietor of the "Daily News") to Pearson Hill, an 1886 Letter headed 'Windsor Castle' from Henry Ponsonby (Queen Victoria's private secretary) to Pearson Hill (includes "the misstatements of Mr. Chalmers are already known here"), 1900 two letters from H.R.H. The Prince of Wales (one from Marlborough House, the other from Sandringham) written by his private secretary Francis Knollys offering support to Pearson Hill, the pamphlets. A fine and fascinating insight into the discussions between Chalmers and Hill.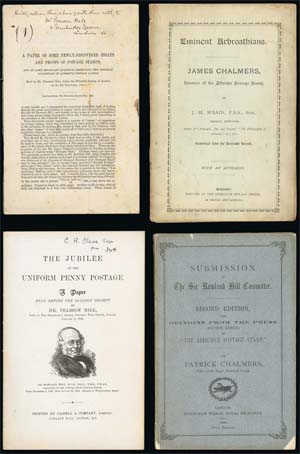 Lot 1055, estimated: £20,000 - 25,000
Last but not least, is a curious little rarity in the sale, lot 1067 was produced in 1843, and is thought to be the world's first commercially produced Christmas card. Commissioned by the Postal Reformer Sir Henry Cole, illustrated by John Callott Horsley and Published at Summerly's Home Treasury Office, 12 Old Bond St. London. The central vignette shows three generations of a family raising a toast to the cards recipient with scenes of charity on either side, addressed to "My Dear Lucy Applegathe" from "Isabel A Thompson". An exceptionally rare and attractive collector's item.
Lot 1067, estimated: £6,000 - 7,000
For more information, please contact Dominic Savastano:
Tel: +44 (0)20 7563 4094 | Email: [email protected]
SPINK LONDON | 69 Southampton Row | Bloomsbury | London | WC1B 4ET
About Spink
Spink is the world's leading auctioneer of stamps, coins, banknotes, medals, bonds & shares, autographs, books and wine. Since its foundation in 1666, the Spink name has become synonymous with tradition, experience and integrity. Holder of royal warrants and numerous records for prices achieved at auction, Spink offers an unparalleled range of services to collectors worldwide. Headquartered in London, with offices in New York, Hong Kong, Singapore and Switzerland, Spink holds over 70 auctions a year. Catalogues can be accessed through the Spink website (www.spink.com) or via the Spink App for iPhone and iPad.