SPINK USA | Spink are pleased to be able to offer for sale 'The Liberty Collection' on the 27th - 28th January 2016, a most comprehensive collection of medals, historical documents, uniforms and other artefacts relating to the 1916 Easter Rising and Ireland's subsequent Fight for Independence from England in 1917-21. Fortuitously, sale of this collection will coincide with the 100th Anniversary. The collection will be offered as part of the Numismatic Collector's Series Sale in New York.
What makes this collection so exciting and unique is that it contains medals from both sides of the conflict, and even a number of rarities not often seen. There is an impressive run of Irish 1916 Medals, including no fewer than three original named medals to casualties. Amongst this superb selection of casualty medals is one awarded to Thomas O'Reilly, Dublin Brigade, Irish Volunteers, who served during the 1916 Easter Rising with the General Post Office Garrison and was mortally wounded. This stunning example is estimated to sell for $15,000 - 20,000.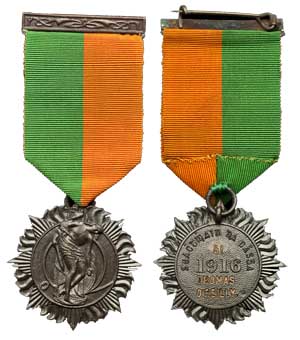 The collection also features a number of British medal groups, including the honours and awards to Brigadier-General William Lowe, C.B., who commanded the British forces in Dublin during the Easter Rising of 1916 and received the surrender of the Irish republican forces. Previously he had commanded his regiment during the Boer War, where he was twice mentioned in despatches. The estimated worth of his medal reflects the hard work and diligence at $15,000 - 20,000.
Amongst the more interesting artefacts in the sale is the original Warrant appointing Sir John French as Lord Lieutenant of Ireland; and the Presidential car pennant belonging to Sean O'Kelly, President of Ireland 1945-59, whose 1916 Medal and 1917-21 Service Medal is estimated at $12,000 - 15,000.
The catalogue for this sale will be available online, on the Spink App and in printed form from early January 2016. Spink looks forward to welcoming collectors old and new to what is guaranteed to be a very impressive sale. For more information please contact:
Greg Cole: ++1-212-262-8400 | Email: [email protected]
SPINK USA | 145 W. 57th St. | 18th Floor | New York | NY 10019
Oliver Pepys: Tel: +44 (0)20 7563 4061 | Email: [email protected]
SPINK LONDON | 69 Southampton Row | Bloomsbury | London | WC1B 4ET
About Spink
Spink is the world's leading auctioneer of stamps, coins, banknotes, medals, bonds & shares, autographs, books and wine. Since its foundation in 1666, the Spink name has become synonymous with tradition, experience and integrity. Holder of royal warrants and numerous records for prices achieved at auction, Spink offers an unparalleled range of services to collectors worldwide. Headquartered in London, with offices in New York, Hong Kong, Singapore and Switzerland, Spink holds over 70 auctions a year. Catalogues can be accessed through the Spink website (www.spink.com) or via the Spink App for iPhone and iPad.