SPINK CHINA | The festive season is a time for indulgence for many of us, however Spink will be holding an event that will make many collectors want to pace themselves. Spink's Hong Kong office will be hosting another of its celebrated Evenings of Great Whiskies and Other Spirits on the 15th January 2016 at 7pm. It will feature as the starting point for four Spink auctions, but is guarenteed not to be eclipsed.
When the senses are involved, language fails us, yet two lots from this sale could not go unmentioned. Spink is truly excited to be offering one of the first official organic whiskies ever produced; a 1992 whisky cask from the Springbank distillery. Only 15 were ever produced and this is one of only five left available on the market. Two of the previously consumed casks rated 94 pts and 95 pts by Jim Murray. This is estimated at HK$540,000.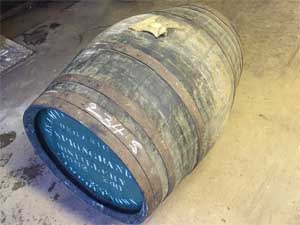 Also in this sale is the incredible 1964 'Karuizawa 48'. An extremely rare, extremely old bottling from the renowned Japanese Karuizawa distillery. Aged for just over 48 years in a Sherry Oak cask, at the time of bottling, it was the oldest expression from this distillery. Sadly the Karuizawa distillery no longer exists. Founded in 1955 at the foot of the foreboding snow-capped volcano Mount Asama, Karuizawa set itself apart with fervent individualism and unheralded ambition. Distilling in small batches aged in Spanish oak sherry casks and using the famous Golden Promise barley for its hardy, fast-maturing quality Karuizawa redefined the art of making whisky. Perhaps it is inevitable that in a world of instant gratification such persistence and attention to detail would be unsustainable and so it proved in 2001 when the distillery closed its doors for the final time.
Being a single cask whisky means that only 143 bottles are available and Spink is pleased to announce that each is individually numbered and presented in a dark wooden box featuring Polish black fossil oak detailing; estimated at HK$180,000 to HK$220,000.
For more information, please contact:
Tel: +852 3952 3000 | Email: [email protected]
SPINK CHINA | 4/F Hua Fu Commercial Building | 111 Queen's Road West | Hong Kong
About Spink
Spink is the world's leading auctioneer of stamps, coins, banknotes, medals, bonds & shares, autographs, books and wine. Since its foundation in 1666, the Spink name has become synonymous with tradition, experience and integrity. Holder of royal warrants and numerous records for prices achieved at auction, Spink offers an unparalleled range of services to collectors worldwide. Headquartered in London, with offices in New York, Hong Kong, Singapore and Switzerland, Spink holds over 70 auctions a year. Catalogues can be accessed through the Spink website (www.spink.com) or via the Spink App for iPhone and iPad