SPINK LONDON | Spink is very excited to be selling a particularly singular collection this December: Celtic Coins from the Geoff Cottam Collection. Traditionally, Celtic coins have been a mysterious and poorly understood field of numismatics. However, in recent years there has been a massive upsurge in interest as more and more literature now exists to cast light on this fascinating coinage. Year by year new records are being set and the market for Celtic coins is as healthy as it has ever been. It is in this milieu that Geoff Cottam has decided to bring his extensive collection of over 400 lots spanning almost all of the known tribes of the British Iron Age, to auction with Spink.
Geoff took the time to build relationships with detectorists and earned himself a name as a specialist in the field. As a result many coins went from the ground into his extensive collection and are now offered for the first time on the 2nd December in London. Amidst this collection are many great rarities that are among the finest specimens available.
One of the most stunning rarities within this collection is lot 124. One of the finest known gold Quarter Staters of the Atrebates and Regni peoples, minted under Tincomarus, (c.20 BC-AD 10). It is a 'Medusa' type, showing her face surmounted by great wings and serpents, and the King's abbreviated name 'TINC' on the other side. There is much debate and ambivalence about the imagery on this coin and what it means. It may seem strange that a Celtic coin could bear such Roman symbolism, however, many believe that Tincomarus was actually an 'obses', a diplomatic hostage of Rome for many years. This may be why this coin bears such a famous classical figure. Many are also thrown by the coin's very pronounced wings either side of the face, as it looks more typical of the Norse god of thunder Thor, or the Roman messenger god Mercury. However, in classical literature and art, Medusa and the Gorgons are depicted as having wings and sometimes even tusks alongside the archetypal snakes for hair. The entire coin is an elegant marriage of the two cultures, taking a fearsome effigy that happens to also use traditional Celtic symbols of life and fertility (represented by the serpent who sheds its skin continually), and incorporating it onto their coinage to encourage economic epic growth and prosperity - hopefully this will be a sale to reflect such positive symbolism!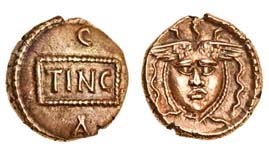 Lot 124, estimated: £1,500 - 2,000
As the Celtic tribes left very little archaeological imprint with which to understand their culture, and almost all written description of them comes from other cultures, all that remains are a few artefacts; of which this collection is a fantastic treasure trove. It is truly a stunning insight into a people very few understand, and will certainly be an unmissable sale.
For more information, please contact Jon Mann: Tel: +44 (0)20 7563 4054 | Email: [email protected]
SPINK LONDON | 69 Southampton Row | Bloomsbury | London | WC1B 4ET
About Spink
Spink is the world's leading auctioneer of stamps, coins, banknotes, medals, bonds & shares, autographs, books and wine. Since its foundation in 1666, the Spink name has become synonymous with tradition, experience and integrity. Holder of royal warrants and numerous records for prices achieved at auction, Spink offers an unparalleled range of services to collectors worldwide. Headquartered in London, with offices in New York, Hong Kong, Singapore and Switzerland, Spink holds over 70 auctions a year. Catalogues can be accessed through the Spink website (www.spink.com) or via the Spink App for iPhone and iPad.