SPINK LONDON | This December 8th, Spink will be auctioning off a very special series of banknotes during the World Banknotes sale in London. Spink is honoured and delighted to be chosen by Bank of Scotland to auction this very special limited edition polymer £5 banknote in aid of the Children in Need Foundation. Spink is very excited to be involved with such a worthy cause so close to Christmas!
There are several reasons why this issue is particularly special. First and foremost, the edition has been specially designed for the charity BBC Children in Need. The design itself was chosen from around 4000 entries during a competition held by the Bank. Out of all of the exceptional submissions, only 50 of designs will be produced, 36 of which will be auctioned by Spink. Of these, 25 notes will 'bear' (if you'll pardon the pun) the serial numbers PUDSEY01 to PUDSEY25. The next five notes in the sequence will be matched with a general issue polymer £5 (which will be released in 2016). There will also be PUDSEY88, and XX888888, where the XX can be chosen by the successful bidder. The remaining four notes will have eight character serial numbers chosen by the successful bidder (subject to the Bank's approval). This is the first polymer note to be issued by the Bank and this limited edition was hand produced. Each of the lots will come with a presentation pack including a certificate of authenticity from the Bank.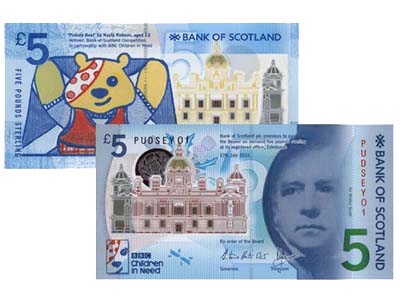 Lot 637, estimated: £1,000 - 1,200
However, that's not all this sale has to offer. Lot 3, a Reserve Bank of Australia group of presentation sets, all with numbers 000134 are also available in this sale. All in all they make up a complete 25th Anniversary Banknote Set, 1991, 30th Anniversary Banknote Set, 1994, and Polymer Presentation Set, 1996, all in their original leather folders and packaging. Each has extremely high production values, and the first is reputed to be amongst the finest presentation sets ever produced anywhere in the world, top condition, exactly as issued.
Lot 3, estimated: £5,000 - 6,000
For more information, please contact Andrew Pattison:
Tel: +44 (0)20 7563 4044 | Email: [email protected]
SPINK LONDON | 69 Southampton Row | Bloomsbury | London | WC1B 4ET
About Spink
Spink is the world's leading auctioneer of stamps, coins, banknotes, medals, bonds & shares, autographs, books and wine. Since its foundation in 1666, the Spink name has become synonymous with tradition, experience and integrity. Holder of royal warrants and numerous records for prices achieved at auction, Spink offers an unparalleled range of services to collectors worldwide. Headquartered in London, with offices in New York, Hong Kong, Singapore and Switzerland, Spink holds over 70 auctions a year. Catalogues can be accessed through the Spink website (www.spink.com) or via the Spink App for iPhone and iPad.