SPINK LONDON | Spink was particularly excited about this auction of Orders, Decorations, Campaign Medals and Militaria which took place in London on the 20th November. Within this sale there were incredible pieces with both intriguing and exciting stories of Military and even Hollywood legendary. These superb items made the auction charged with expectation and excietment.
First among these rare and exciting items was lot 69, a superb 1972 'Foreign Service' O.B.E., 1944 Special Operations Executive (SOE) Saboteur's M.M. group of ten to Captain L.P. Fernandez. Fernandez himself performed incredible feats and trained countless agents, before parachuting in to join Major Francis Cammaerts'Jockey Circuitin occupied France. Working with the Maquis and Italian partisans during the summer of 1944, Fernandez executed a series of crippling operations on the Germans, in and around the French-Italian border. After the war he was engaged by the Foreign Service for intelligence work throughout Africa and the Middle East.
Not only are his direct military actions worthy of note, but he also had a great hand in shaping one of the most interesting women of the Second World War, Violette Szabó, G.C.
'Women, in his judgement, were not commando material; they did not have the physique. But, no less important when it came to survival, he thought they had great mental stamina and excelled at slipping into a role and "living" a cover story.'
Indeed, Szabó carried out a series of successful missions in 1944, before she was captured by the Germans and then tortured and executed by the Gestapo. After the war she was posthumously awarded the George Cross. In 1958 Fernandez Was Employed as Military Advisor for the FilmCarve Her Name With PrideIn Which Virginia McKenna Portrayed Violette Szabó. Amongst the crash course in SOE tactics, Fernandez taught the actress how to fire a Sten gun.
Lot 69, estimated: £20,000 - 30,000
Hot on Fernandez' heels was lot 72, a Scarce Second War Fighter Ace's 1943 D.F.C., 1942 ' Immediate' D.F.M. Combination Group of Nine to spitfire pilot, Warrant Officer, Later Flight Lieutenant, H.W. 'Chas' Charnock, Royal Air Force. Having crashed his spitfire during the Battle of Britain, he went on to be accredited with at least 11 victories, 1 shared destroyed and 2 probables.
A Desert Ace after having shot down 5 enemy air crafts over North Africa he was an exceedingly good pilot. Two of these victories actually came on the same day, when he single-handedly engaged 30 enemy aircrafts. Charnock eventually succumbed to the overwhelming numbers and was shot down over enemy lines. He came down, scalded with oil on his head and arms, got out of his burning aircraft - and even persuaded a hostile Arab at gunpoint to guide him the 11 miles back to safety. Charnock had lost nearly 4 pints of blood during his ordeal; however, he still managed to convince a Medical Officer that he was physically capable of an almost immediate return to opperational flying. Within 13 days he was back in the cockpit. Having tricked his way passed the S.M.O. Charnock had to tie his hand to the throttle before every take off due to his still-healing injuries. Finally the truth was established - but not before he had accounted for a 'One-Handed' victory by shooting down another Me. 109 (Messerschmitt Bf 109, commonly called the Me 109, is a German World War II fighter aircraft designed by Willy Messerschmitt and Robert Lusser during the early to mid-1930s). And he was forced to take time off for his injuries.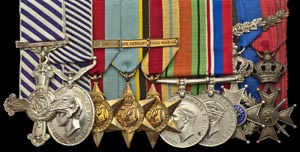 Lot 72, estimated: £15,000 - 20,000
Concluding this trio of high-value lots is lot 116, the historically important Army Large Gold Medal to Lieutenant General Sir George Prevost, a man who dedicated thirty four of his forty eight years to the British Army. He was most well-known as 'The Defender of Canada' - a title he gained during his position as The Governor General and Commander in Chief of British North America, 1811-1815. As the Commander in Chief of British North America, Prevost bore a very heavy weight of responsibility. For the first two years of war, his objective was "to hold the line" and he held it well. During this time he was inextricably linked to almost every major action of the war of 1812, and who 'Arguably, after the Duke of Wellington... held one of the most important commands in the British Empire during the Napoleonic Period... Sir George Prevost became responsible for defending a group of North American Colonies that stretched as far as Paris did from Moscow. He also came to eventually command one of the largest overseas forces employed by the British during the Napoleonic Wars'.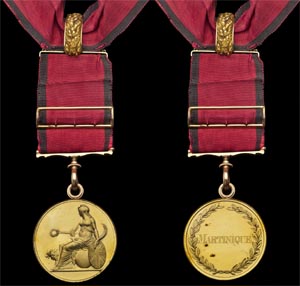 Lot 116, estimated: £35,000 - 45,000
For more information, please contact Oliver Pepys:
Tel: +44 (0)20 7563 4061 | Email: [email protected]
SPINK LONDON | 69 Southampton Row | Bloomsbury | London | WC1B 4ET
About Spink
Spink is the world's leading auctioneer of stamps, coins, banknotes, medals, bonds & shares, autographs, books and wine. Since its foundation in 1666, the Spink name has become synonymous with tradition, experience and integrity. Holder of royal warrants and numerous records for prices achieved at auction, Spink offers an unparalleled range of services to collectors worldwide. Headquartered in London, with offices in New York, Hong Kong, Singapore and Switzerland, Spink holds over 70 auctions a year. Catalogues can be accessed through the Spink website (www.spink.com) or via the Spink App for iPhone and iPad.