SPINK LONDON | Spink is proud to announce that we are the key sponsor and official auctioneer of the International World Stamp Exhibition to be held in Singapore on the 14th - 19th August 2015. Spink will be holding five sales, each containing quality material of the highest calibre; appealing to both the philatelic and numismatic market. However, Spink have a little more up their sleeve than just that.
Saturday the 15th of August will be an exciting start for the Spink events at the exhibition. The 15th will see the launch of the long-awaited Banknotes of British Malaya, The Frank Goon Collection including The Straits Settlements, Malaya, British North Borneo, Sarawak, Brunei, Malaysia and Singapore (2nd edition) by Frank Goon. Published by Spink, the 2nd edition is a masterpiece and a testament to a lifetime of banknote collecting. It is also the first volume in the Spink 'Connoisseur' Series, a must for any collector of the Straits areas and a seminal reference work.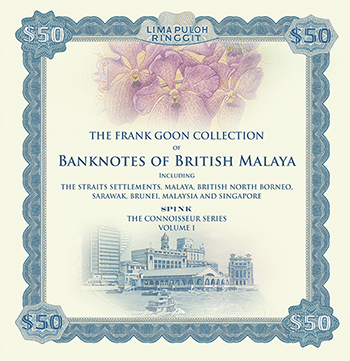 Frank Goon's love of collecting began at an early age, his curiosity piqued at the sight of older boys using Japanese Banana money as 'monopoly' money as after the Second World War these notes had very little value. When collecting, his interests began to centre around non-issued notes; in the form of colour trials, essays, partially printed or rare 'one-off' notes prepared by the orienting houses for the approval of various governments. Subsequently, his collection includes some of the most beautiful partially printed proofs, meticulously hand-executed essays, specimens and issued notes - some of which are entirely unique!
Spink is delighted to have had a hand in bringing this book to the world, and sincerely hopes that it will be a book for collectors and dealers to use as the ultimate reference work on this beautiful and historic series of banknotes. Every country needs a 'Frank Goon' to commend this hobby to the world at such a high level.
For more Information, please contact Jen Mulholland:
Tel: +44 (0)20 7563 4046| Email: [email protected]
About Spink
Spink is the world's leading auctioneer of stamps, coins, banknotes, medals, bonds & shares, autographs, books and wine. Since its foundation in 1666, the Spink name has become synonymous with tradition, experience and integrity. Holder of royal warrants and numerous records for prices achieved at auction, Spink offers an unparalleled range of services to collectors worldwide. Headquartered in London, with offices in New York, Hong Kong, Singapore and Switzerland, Spink holds over 70 auctions a year. Catalogues can be accessed through the Spink website (www.spink.com) or via the Spink App for iPhone and iPad.