SPINK LONDON | On the 15th July 2015 Spink will be offering the summer sale of Ancient, British & Foreign Coins and Commemorative Medals. The sale contains an incredible collection of Polish coins, a fantastic Russian medal commemorating the accession of Catherine II, and a fine selection of coins of ancient Cyprus and Roman coins from the Great Chesterton Hoard. However, Spink is particularly excited about the Hodgson Collection as it began right here, at Spink.
The Hodgson collection comprises of 40 pieces all put together during the mid-1970s. A young Patrick Finn was instrumental in the forming of the collection while operating from Spink's St James' offices. Formed around the Kings of Wessex and all England, an attempt was made to represent each ruler and, in the late Anglo-Saxon coinage, each type. Though the majority of the collection was sourced from Spink a proportion came from Seaby's London offices. In addition, a select group were purchased at part II of the R P Mack sale in 1977. This is the first time these pieces have been offered for sale since passing through the rooms of Glendining some 38 years ago. The cataloguer wished to be vigilant in noting provenances and it has since been possible to reunite several of these with the coins in question. The resulting provenance list includes names such as Duke of Argyll, Elmore Jones, Lockett, Mossop, and O'Hagan. Having recently been 'rediscovered' at the back of a safe the group are now offered to the wider numismatic market in this sale.
From the Hodgson Collection comes lot 324, an Alfred the Great (871-899), Penny from Wessex. Londonia monogram type, c.880- 83, a most presentable piece, bearing the portrait of one of the most iconic images of Alfred.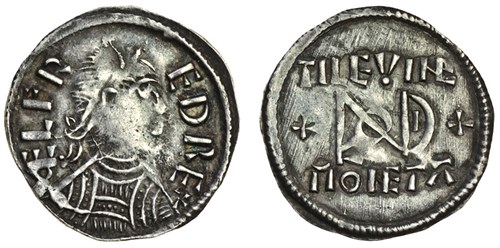 Lot 324, Estimated: £5,000-7,000.
For more Information, please contact Richard Bishop:
Tel: +44 (0)20 7563 4053 | Email: [email protected]
About Spink
Spink is the world's leading auctioneer of stamps, coins, banknotes, medals, bonds & shares, autographs, books and wine. Since its foundation in 1666, the Spink name has become synonymous with tradition, experience and integrity. Holder of royal warrants and numerous records for prices achieved at auction, Spink offers an unparalleled range of services to collectors worldwide. Headquartered in London, with offices in New York, Hong Kong, Singapore and Switzerland, Spink holds over 70 auctions a year. Catalogues can be accessed through the Spink website (www.spink.com) or via the Spink App for iPhone and iPad.