London. 19th July, 2012. Today Spink UK offered for sale the first V.C. ever awarded to a private soldier in the Great War (1914-18). The medal group sold to a private collector for £276,000, far exceeding its' pre-sale estimate of £140-180,000.
The Victoria Cross group of six was awarded to Private S.F. Godley, Royal Fusiliers, for his defence of the Nimy Bridge at Mons on the 23rd August 1914, during the first infantry attack of the Great War.
The Victoria Cross (V.C.) is the highest military decoration given for bravery and gallantry in the face of the enemy. The award is given to the armed forces in various Commonwealth countries, as well as all of the former British Empire territories. Private Godley was a worthy recipient, as although severely wounded by shrapnel and with a bullet lodged in his skull, he took over a machine-gun from his mortally wounded commanding officer and continued to hold his position, single-handedly for two hours, against a sustained heavy German assault. When the order came to withdraw, he maintained a covering fire until the entire battalion was evacuated. After much resistance he was eventually overtaken by the enemy and taken as a prisoner of war.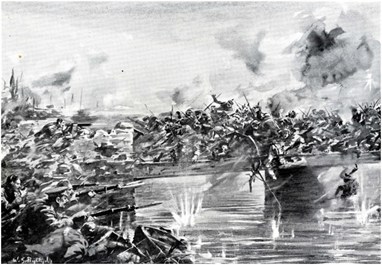 The announcement of his award was published in the London Gazetteon the 25th November, 1914 and read:'For coolness and gallantry in fighting his machine gun under a hot fire for two hours after he had been wounded at Mons on 23rd August.'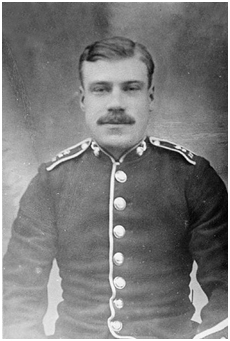 The original Recommendation, by Lieutenant F.W.A. Steele, Royal Fusiliers, states: 'In the defence of a railway bridge near Nimy, 23rd August 1914, Private Godley of 'B' Company showed particular heroism in his management of the machine guns. His Commanding Officer having been severely wounded and each machine gunner in turn shot, Private Godley was called to the firing line on the bridge and under heavy fire he had to remove three dead bodies and proceed to an advanced machine gun position under a sustained enemy fire. He carried on defending the position for two hours after he had received a severe head wound.'
Commenting on the sale, Oliver Pepys, said: "The Godley V.C. is one of the most distinguished medal groups of the Great War, so it was not surprising that it attracted much interest. I am delighted that the sale drew attention to such a valiant man, who through his actions at Mons set a standard that the British Tommy would aspire to for the rest of the War. He brought honour to his regiment and that legacy will live on, as a sign of what he endured for his country."
For further press information, or pictures, please contact: Sandie Maylor,
Email:
or Telephone:
020 7563 4009
Note to Editors
Spink holds the record for the highest price achieved at auction for a V.C. Group to a British recipient: The Victoria Cross group to Flight Lieutenant Bill Reid, Royal Air Force, which realised £348,000 in November 2009.
About Spink
Spink is the world's leading auctioneer of stamps, coins, banknotes, medals, bonds & shares, autographs books, wine. Since its foundation in 1666, the Spink name has become synonymous with tradition, experience and integrity. Holder of royal warrants and numerous records for prices achieved at auction, Spink offers an unparalleled range of services to collectors worldwide. Spink is headquartered in London and holds over 70 auctions a year around the globe. All catalogues are available on our website and through our Spink App for iPhone and iPad, and all auctions are broadcast live on our SpinkLive system.