Some highlights include the unsold items from the Amon Carter collection of South Africa, which have remained 'on ice' for the last 17 years. While they were unsold in 1997, the world and the market have changed a great deal. The rarity of these issued South African private bank notes is now truly appreciated, and we hope collectors will welcome a second chance to snatch them after being off the market for so long.
Collectors of early Commonwealth will want to take a look at lot 146, a hitherto unknown Falkland Islands £1 dated 1920. No 1920 date has ever been seen for this already rare series, so this is an important find.
Lot 146, Estimated: £6,000 - 8,000
The sale also boasts a very exciting and unusual rarity; lot 211 consists of a pair of consecutive George VI 1000 rupees (Calcutta). Both notes are in original very fine grade, making them very sought after.
Nor is the sale without something for British collectors. On the back of the two £500 notes sold in April, we have lot 733, a Peppiatt £500 Liverpool. While slightly less rare than the Leeds branch note offered a few months ago, this is nevertheless a difficult note to obtain. Also amongst the British notes is lot 709, a Bank of England J. G. Nairne, specimen £1 "Gold Note" from 1914. With the serial number A/1 000000, that fact alone commands respect, however this note is also historically inscrutable. As a specimen note, the design offered in this sale may never have actually been used by the Bank as legal tender. However it is the text in the centre of this note that gives it its nickname the "Gold Note". The text in the centre of the note reads: 'I Promise to pay the Bearer on Demand the sum of ONE POUND in Standard Gold Coin of the United Kingdom'. Due to economic pressure, it became increasingly obvious that some form of paper money of lower denomination than £5 would have to be substituted for the gold sovereign. The £1 'Gold Note' in its unissued proof form is a sought after rarity and only fifteen examples are known.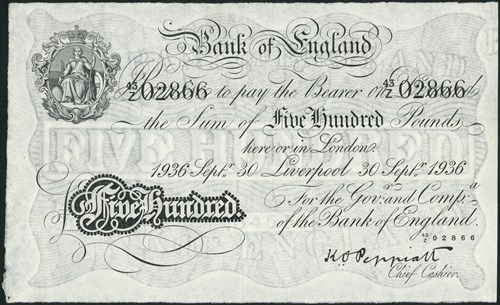 Lot 733, Estimated: £6,000 - 8,000
Lot 709, Estimated: £6,500 - 8,500
For more information, please contact Andrew Pattison:
Tel: +44 (0)20 7563 4044 | Email: [email protected]
About SpinkSpink is the world's leading auctioneer of stamps, coins, banknotes, medals, bonds & shares, autographs, books and wine. Since its foundation in 1666, the Spink name has become synonymous with tradition, experience and integrity. Holder of royal warrants and numerous records for prices achieved at auction, Spink offers an unparalleled range of services to collectors worldwide. Headquartered in London, with offices in New York, Hong Kong, Singapore and Switzerland, Spink holds over 70 auctions a year. Catalogues can be accessed through the Spink website (www.spink.com) or via the Spink App for iPhone and iPad.