Our 30th January 2015 auction of "Bonds and Share Certificates of the World", to be held in Lugano by SPINK SWITZERLAND, contains a diverse selection of 348 rare and historically important items mainly from Europe and the United States.
Amongst the early pieces you will find one of the earliest bonds available to collectors, issued in 1549 in Antwerp (Lot 105) under the Habsburg / Spanish rule of Charles V (1500-1558). During the first Golden Age of Antwerp, the city was the richest town in Europe. Its moneylenders and financiers led the world in lending money, especially to the English crown. With this bond, four noblemen of the city borrowed 800 Carolus-Guilders at 14 Guilders interest, to pay the contribution to the Prince Regent. The Town Chancellor and Secretary has notarised the bond with his original signature. The bond was repaid, so the seals of the two lay judges from Antwerp were broken. Estimate CHF 5,000-7,000.
Lot 105
Another highlight of the sale is a 5% Bond from 1701 (Lot 109) that bears the fine original signature of King William III (1650-1702), as "William R(ex)", King of England, Scotland and Ireland, Prince of Orange and Stadtholder of Holland, Zeeland, Utrecht, Gelderland and Overijssel of the Dutch Republic. As military commander he saved the United Provinces from being conquered by Louis XIV in the Franco-Dutch war (1672-79). In the Glorious Revolution (1688) he invaded England and deposed the unwanted James II and won the crowns of England, Scotland and Ireland. He ruled along with his wife, Mary II, until his death in 1694. William believed that certain areas of government were too important to delegate and took personal control of the treasury, foreign matters and the armed forces. Under his rule a National Debt, the Bank of England and the Great Recoinage were introduced. Only five months after signing this document, William III died from a riding accident in Richmond Park. The bond is in very good condition and bears the clear and unbroken seal with the coat of arms of William III and the Anglo-Norman phrase "Honi soit qui mal y pense". One of the few existing loan agreements signed by a British monarch and the only one of William III known to us. Estimate CHF 15,000-20,000.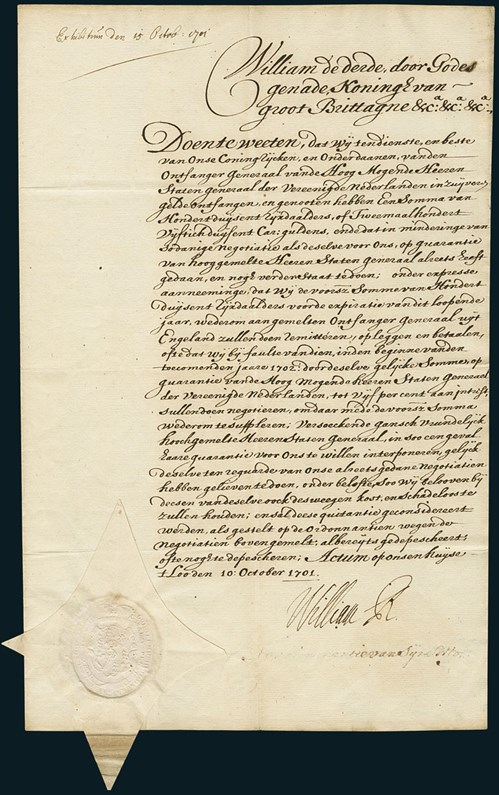 Lot 109
The third outstanding item in this section is a certificate of appointment of Frantz Joseph Toussaint as the Empress' advisor and Minister of Finance (Lot 111) from 1741 that bears a clear signature of the Habsburg Empress Maria Theresa (1717-1780). For many decades, Frantz Toussaint was advisor to Franz I, Maria Theresa's husband and Grand Duke of Tuscany, Emperor of the Holy Roman Empire. Toussaint had extraordinary talents in dealing with money, good instincts for profitable transactions and almost pedantic practices in bookkeeping. He advised Franz I and managed his investments in property, houses, jewellery, gold and foreign currencies as well as all his credit and exchange business in London, Paris, Venice, and Amsterdam. Toussaint was so successful in generating wealth that he was even accused of alchemy. Eight years after his marriage to Maria Theresa, Franz I had amassed such a considerable wealth that he was able to become the monarchy's biggest creditor. As this certificate proves, Maria Theresa also made use of Toussaint's obvious financial talents. The document bears the big and unbroken seal of the empress. Estimate CHF 4,000-6,000.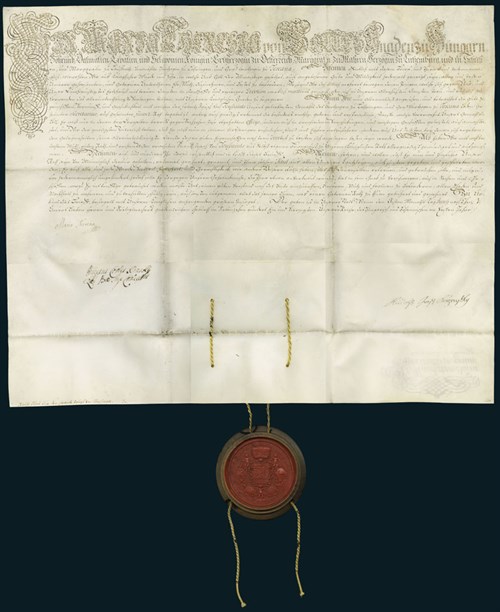 Lot 111
Bonds & Share Certificates of the World sale will take place on 30th January 2015 at 12 noon at the Hotel Lugano Dante, Piazza Cioccaro.
For more information please contact Dr. Peter Christen at [email protected]
SPINK SWITZERLAND SA, Via Motta 44, 6900 Lugano, Switzerland, tel +41 79 358 48 92
About Spink
Spink is the world's leading auctioneer of stamps, coins, banknotes, medals, bonds & shares, autographs, books and wine. Since its foundation in 1666, the Spink name has become synonymous with tradition, experience and integrity. Holder of royal warrants and numerous records for prices achieved at auction, Spink offers an unparalleled range of services to collectors worldwide. Headquartered in London, with offices in New York, Switzerland, Hong Kong and Singapore, Spink holds over 70 auctions a year. Catalogues can be accessed through the Spink website (www.spink.com) or via the Spink App for iPhone and iPad.