An exceptional collection of over 1200 Islamic coins will be offered in auction by Spink London on 2nd December 2014.
Carefully chosen for their rarity, historical importance and aesthetic quality, the collection encompasses the entire Islamic world and chart back to earliest period of Byzantine influence through to the early years of the 20th Century.
Commenting upon the rare coinage of the Umayyad, Nasrid, Fatimid, Ottoma and Qajar dynasties, Spink Specialist, Barbara Mears, said; "The auction offers collectors a rare opportunity to acquire key coins in optimum condition."
Opening the auction will be one of the earliest Islamic coin types, an Arab-Byzantine Semissis issued by the Umayyads in North Africa. From the early days of the rapidly expanding Muslim world, coinage generally followed a format familiar to the communities it served, which is clear to see Byzantine influence. Estimated £4,000 - £5,000
Lot 1
Estimate: £4,000 - £5,000
A key highlight of the collection is an early and very rare Umayyad Dinar, dated AH101 and struck in Ifriqiya, North Africa (Lot 23). Issued by the caliph Abd al-Malik (685 - 705) dinars such as these are the first to have a design entirely made from calligraphy, representing a move away from including images which are forbidden in Islam. Inscribed with the Islamic statement of faith (Kalima - translated to "There is no God but God, and Mohammed is the messenger of God") the coin is estimated £10,000 - £12,000.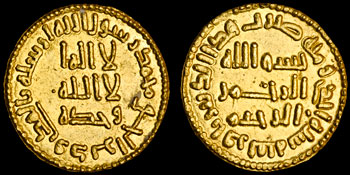 Lot 23
Estimate: £10,000 - £12,000
Other notable coins include a Dinar of the "Banu Tashfin" kings of 12th Century Cordoba, renowned throughout the medieval world for its wealth and exquisite art (Lot 162, estimated £3,500 - £4,000) and a 5-Guineas of Abd al-Aziz, demonstrating the European influence in style during early 20th Century (Lot 435, estimated £10,000 - £12,000)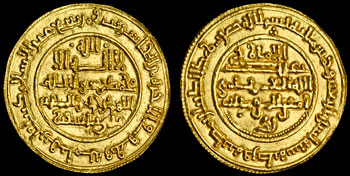 Lot 162
Estimate: £3,500 - £4,000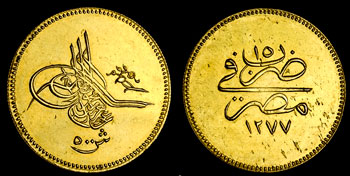 Lot 435
Estimate: £10,000 - £12,000
The collection will be on view at the Spink London showroom from 1tth - 24th November and every lot will be illustrated on our website. With live telephone bidding and Spink's own online bidding facility, Spink Live, it has never been easier to claim your share of this exciting collection.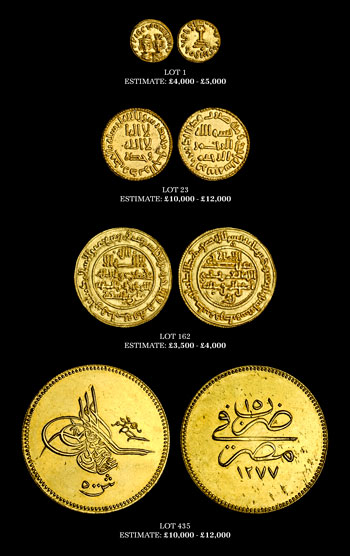 About Spink
Spink is the world's leading auctioneer of stamps, coins, banknotes, medals, bonds & shares, autographs, books and wine. Since its foundation in 1666, the Spink name has become synonymous with tradition, experience and integrity. Holder of royal warrants and numerous records for prices achieved at auction, Spink offers an unparalleled range of services to collectors worldwide. Headquartered in London, with offices in New York, Switzerland, Hong Kong and Singapore, Spink holds over 70 auctions a year. Catalogues can be accessed through the Spink website (www.spink.com) or via the Spink App for iPhone and iPad.
For more information about this auction, please contact:
Barbara Mears | Spink London | Tel:+44 (0)20 7563 4091 | Fax:+44 (0)20 7563 4066 | Email:[email protected]
For press enquiries, please contact:
Ed Rivers
Advertising, Marketing & PR